Power Rankings: Darwin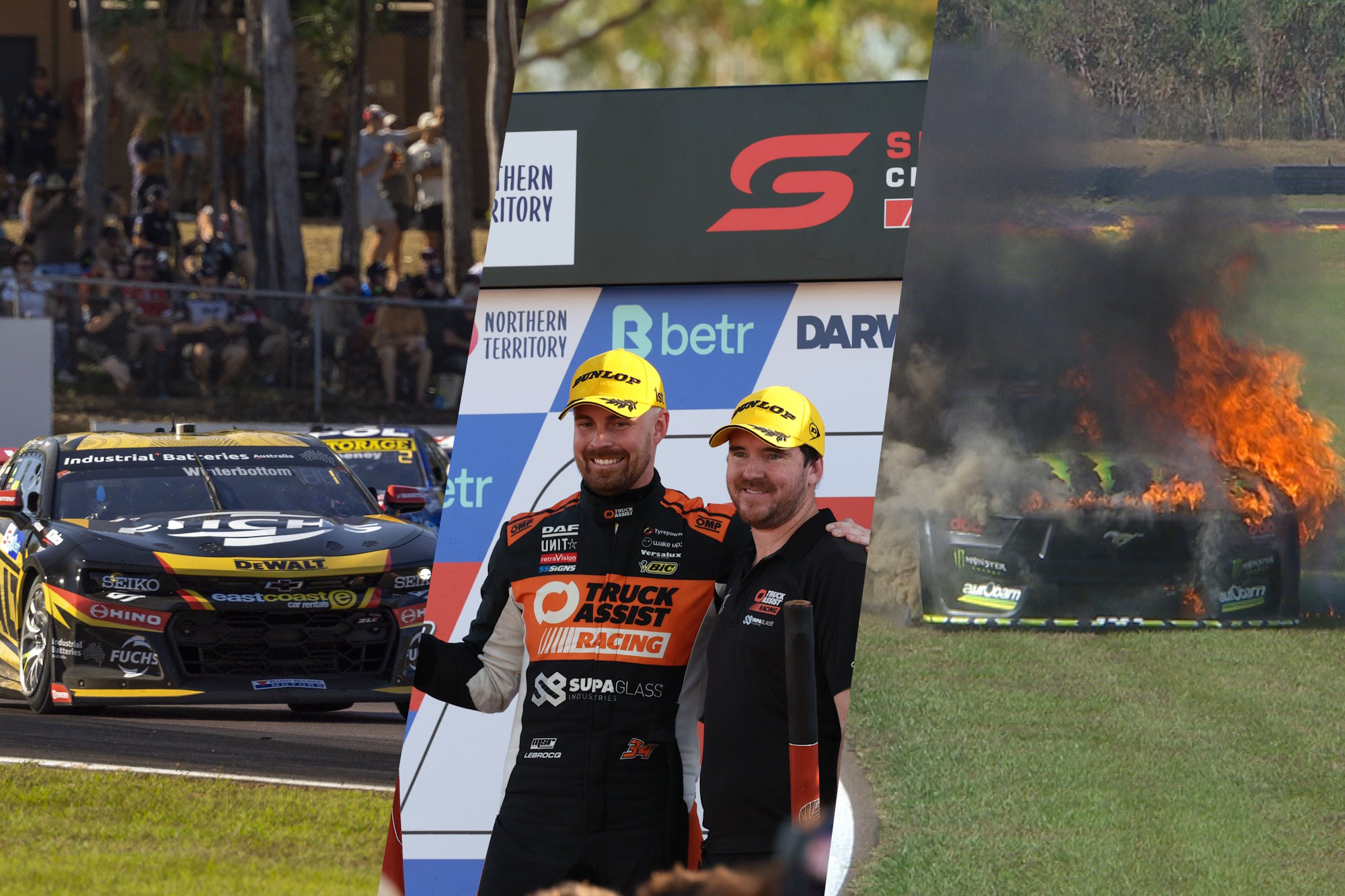 From feel-good underdog race winners to genuinely serious issues facing the sport today, these are the Hot & Nots Power Ranked from a big weekend in the NT.
Of course, we have slid some WHATS and MEMEs in there, too, for your enjoyment.
---
ABOUT THE RANKINGS: The TRT Power Rankings are compiled by your nominations from social media and edited by the TRT editorial team. They're designed to give a balanced, as fair as possible critical overview of those things that excelled and those things that struggled at each event. It's (mostly) a democracy, and what you nominate generates the order, so have your say next event via our social media channels, @theracetorque on Facebook, Twitter and Insta. Look for the call out each evening and get commenting!
---
HOT
1. Mark Winterbottom
The breakthrough win for Team 18, and the end of a seven-year drought for Mark Winterbottom, was the culmination of a big Saturday afternoon at the races for a gritty underdog squad. Being in the right place at the right time to take advantage of Waters' BBQ, Winterbottom overcame a drama-filled pit sequence and a wild restart to hold off a hard-charging Broc Feeney. A big result for the sport, and a feel-good moment for all.
---
2. Jack Le Brocq
Who had this on the bingo card? In a sign that Gen3 has levelled the playing field in one sense, Darwin produced the biggest upset since Saturday when Jack Le Brocq commanded proceedings in race three from the pole position to register his second career win. It was also the first for Matt Stone Racing in the top tier, who quickly rebuilt the Camaro after it was bashed up in the earlier Sunday race. But should we be that surprised? Twice this year JLB has finished in the top five, and he leaves Darwin eighth in the standings after the halfway point of the season. A new car, one that is clearly to the liking of the driver, and some good old Stone family magic, this is another little team that could.
---
3. Broc Feeney
Second, first and third for the weekend, pole on Sunday morning for Mr Sunday, won the weekend overall, dominated his teammate, and is third in the standings, closing fast. Everything is coming up Feeney!
---
4. Tickford Rebuild
The teams are forever the unsung heroes of motorsport, with the crew from Tickford Racing on Saturday coming to the forefront. A 3:30AM finish to resurrect the chargrilled Monster Mustang was absolutely first class. The first Ford home in the final race showed that they absolutely nailed the repair job. Five stars, would recommend.
---
5. Indigenous Round/Liveries
The second time around, it appeared that more teams embraced the concept of the Indigenous Round, with some spectacular liveries and genuine tangible involvement in engaging the Indigenous community with the sport, especially the youth. Good to see, well done.
---
6. Qualifying Closeness
It was tight on the timesheets over the weekend, with nothing the difference in splitting many of the competitors. Point in case being race two, when positions 21 through 26 read Anton De Pasqaule, David Reynolds, Mark Winterbottom (after winning race one), Chaz Mostert, Cameron Waters and James Courtney – a collective not-worthy effort from the quick end of pit lane. Race one was ultimately the least competitive qualifying session of the weekend – Waters scored pole by 0.1sec, with the field split by 0.8sec, for race two the margins were 0.0098sec/0.6712sec, and race three 0.0102sec/0.6236sec, which also provided the closest top-four qualifying margin in the history of the sport. You don't have to be off by much to be nowhere…
---
7. Carrera Cup Race 2
The second Carrera Cup race was absolute pure madness up and down the field – the three and four-wide racing that happened wasn't in the script. Well played to the Porsche caterers, who spiked the Weet-Bix with red cordial. Also, a big attaboy to Dale Wood, who donged a talent-stacked field to dominate with three race wins in a milestone weekend.
---
8. ASBK
Just bloody brilliant. After Joshua Waters cleaned up in the opener, Troy Herfoss bounced back to claim a pair of action-packed encounters. A huge result from a venue that tried to finish him in 2021. On things motorcycle powered, the Aussie Racing Car races were thoroughly enjoyable, rounding out a staunch weekend on the undercard.
---
9. TV of Things
Another quality weekend on the box, with Channel 7 distributing the pictures as well for the first time in a long time.
---
10. F35 Flyover
The best thing ever, which does not necessarily correlate with its final position in the Power Rankings…
---
MORE HOTS
Darwin
We're fans.
---
Andre Heimgartner
Third and second on Sunday was a big bounce back from some so-so races at Symmons Plains and on Saturday. Hitching his wagon to stablemate Fullwood's successful Saturday setup shows the value of having a four-car team. He leaves the NT sixth in points.
---
Will Davison
Improvement from the Shell V-Power camp. A season-first podium in race one was followed by bent steering in race two and eighth in the finale. Baby steps.
---
Cam Waters
Race one pole and looked like a winner before armageddon struck. Drove from 25th to 12th in race two, and seventh to fifth in the finale.
---
Race One Restart Racing
It was pure chaos, and here at TRT, we are all in on chaos. It's a shame that the earlier fire and off-track politics overshadowed some genuinely spicy racing from the Gen3 package over the weekend, there were lots of movers and shakers throughout the fields in the different races. There are still complaints that it is hard to overtake, but overtaking a car going the same speed as you can be tricky.
---
Drags
The annual addition of drags to the Supercar was once again a hit for those trackside. Excellent TV product too, with Chad Neylon, Matt Naulty, Wade Aunger and Briony Ingerson knocking it out of the park at the end of a massive Saturday broadcast.
---
Bryce Fullwood
Fifth in the opener, eighth and 11th, a solid outing for the local lad.
---
Macauley Jones
Seventh in race two and moved forward strongly in the other races.
---
Seeing Simona
It was ace to see Swiss Olympic Bobsled prospect Simona de Silvestro pop up on the broadcast. She says she'd be up for a Bathurst campaign, which would be a good thing for the sport – Simona engaged a portion of the audience that isn't currently being catered to.
---
WHAT
Private jet fine dining, à la Erebus.
PS. This is exactly what we would go for…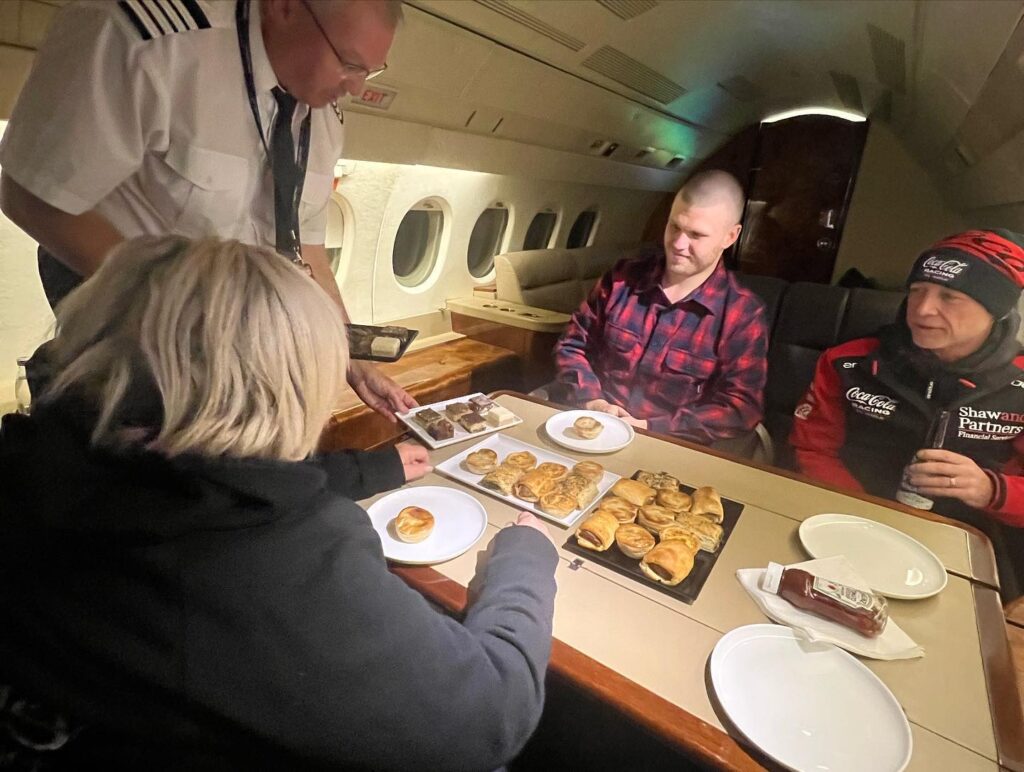 But seriously, what would dinosaur taste like? Where do dinosaur nuggets come from? How big of an industrial deep fryer would be required? So many questions…
This is a cool shot, and certainly mixes things up from the normal, but it kinda looks like a full-field shunt off a race start…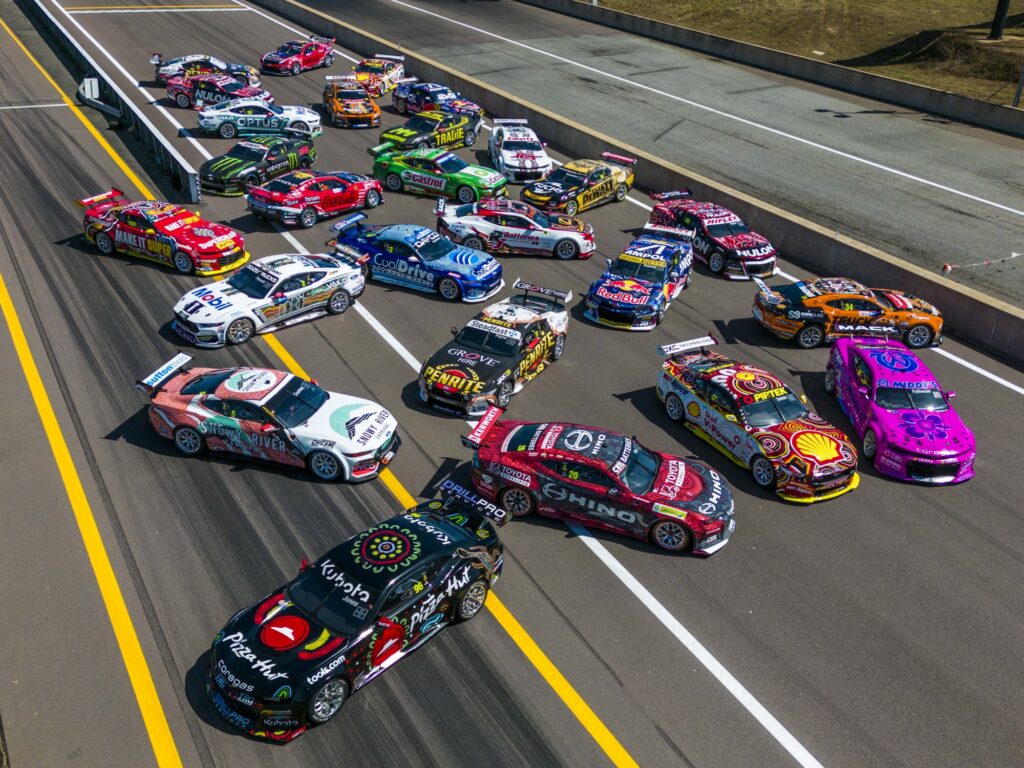 ---
NOT
1. Cam Waters Fire (plus Tickford race one)
Saturday was as bad as it could get for the Tickford crew. From the pole, the entire hopes for Ford, and frankly, that of the chiefs in charge of resolving the parity debate, rested on the results of Cameron Waters in the Monster Mustang. Leading handsomely, the crew went from hero to absolute zero, with the car a smouldering wreck on the side of the road. Well done by those to control the flames so quickly, lost brownie points to the marshal who whipped out their mobile phone to record proceedings. While that was a gut punch for the Tickford crew, the rest of their day was similarly shithouse. James Courtney spun to the rear of the field, Declan Fraser was spun off, then Courtney got more damage, while Fraser's off started a grass fire, which instigated another safety car. Thomas Randle was the best finishing Tickford car in 17th, an honour he retained when he copped a 5sec post-race-penalty and was reclassified in 21st.
---
2. Parity
How different would the world be if Waters won on Saturday and not have his car burn down? Then again, if your aunty had balls, she'd be your uncle.
In a parity formula, the 2023 scorecard to date is the antithesis of parity.
The Gen3 level playing field was showcased to an extent on the weekend with underdog squads Team 18 and Matt Stone Racing taking home chocolates, while the Ford side of the ledger remains bare, despite genuine race-winning pedigree in the form of Tickford, DJR, WAU and Grove, with proven race winning drivers Cam Waters, Chaz Mostert, David Reynolds, Will Davison, Anton De Pasqaule, James Courtney and Nick Percat in its stable.
In many instances, Ford isn't far away, especially in a formula that is closer than ever. Will the ringmasters keep the status quo, hoping that nature will sort itself out, and the Blue Oval squads start nailing the one per-centers that some Chevy teams seemingly have to date? Will Ford's cries for help be heard? Will something actually be done to one marque or both? Will the transparency that Ford has been begging for be forthcoming? Will the triggering of a parity review actually mean anything?
So many questions, so few answers.
Balancing the hopes and dreams of both manufacturers is going to make for an uncomfortable time at Supercars HQ this week. The sport needs Ford engaged as one of its biggest commercial partners, with this weekend's results not going to ease the recent grumblings emanating from North America. Ford's scathing post-event media release has only added fuel to this week's media cycle.
The white noise has turned into a scream, both from the Ford camp and the grandstands.
---
3. Grove Racing
No sugar coating it, that was a tough weekend. Race one saw Matt Payne finish P20, one spot ahead of David Reynolds. Race two somehow got worse. Payne wound up with significant damage on the first lap, while later, Reynolds was spun off via the bumper of Nick Percat. Reynolds P22, Payne P23. In the final race, Payne received a 5sec penalty for his run-in with Jack Smith, despite copping the rough end of the pineapple from the ordeal, while Reynolds registered 12th. A suboptimal outcome from a circuit he has previously excelled at.
---
4. Walkinshaw Andretti United Qualifying
Race pace, tick. Qualifying, nope. Chaz Mostert qualified 17th, 24th and 25th, but in the races, he gained a remarkable 36 places. In race one and three, Nick Percat qualified 26th and 24th, gaining 17 places in race trim. In the other race, he started seventh but was penalised for his run-in with Reynolds, and finished 19th. Now fifth and 23rd in points, once this team unlock the qualifying secret sauce, they will be on like Donkey Kong. Also, with these numbers, you can't question the raceability of the Gen3 platform…
---
5. Erebus
Still one-two in the points, not a complete disaster of a weekend, but the only time this season the dynamic ribbon duo registered zero podiums from a round. In a spooky coincidence, the pair sported Coke Zero branding for the first time. The first two races were cordial enough: fourth-fourth for Kostecki, then seventh-fifth for Brown, but race three was less than ideal. Title leader Kostecki copped the worst of the opening lap fracas to finish 26th, while Brown wore a 5sec penalty for his contact on Winterbottom, dropping his back to sixth. They maintained the rage up to this point, can it return in Townsville?
---
6. SVG's Friday
Like Erebus, this is a harsh "NOT", however, when a par score for a race weekend is three race wins, this one was somewhat below what we've expected of the reigning champ. However, delving into it, since Saturday in Perth, van Gisbergen has one second and one third place to his credit from eight races. The team lost 18 minutes in opening practice when they elected to run an experimental virtual safety car button for Supercars, but the system malfunctioned and limited the car to 120km/h. Wholesale dramas in the second practice were also costly. Shane qualified fourth, third and ninth, and raced to sixth, second and fourth. Not dire, but not ideal – what could have been with a decent Friday under his belt…
---
7. Race Two Opening Lap Biffo
---
8. Pit Lane Shenanigans
Race one, when everyone pitted under safety car, and qualifying for the last race, sure was messy.
---
9. Combined Sedan Biffo
A big, diverse field that travelled from all over Australia struggled to get past the first lap on their first and their final races.
---
10. Something Missing…
They sure danced around the subject of parity in the broadcast, didn't they?
---
MORE NOTS
Superbikes being thrown at the scenery
Fortunately, everyone was able to walk away, with multiple spills very ugly indeed.
---
Superview
Not working for international viewers on Saturday.
---
TWEET
The Editor was in Darwin this week. Righto mate…
Burn served
---
MEME
As spotted en route to the circuit…