Power Rankings: Townsville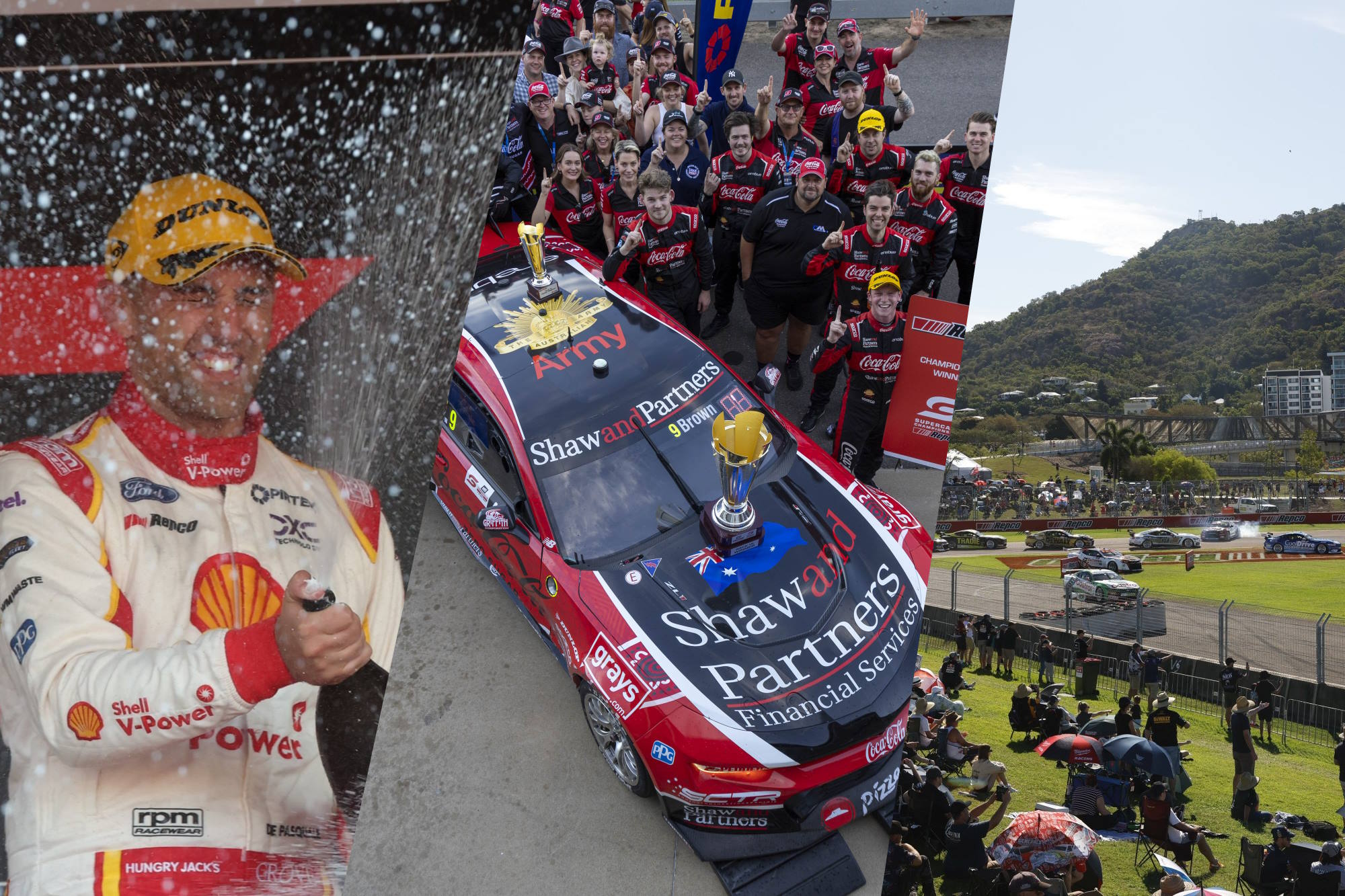 500km of racing. Almost 500 Hots, Nots & Whats.
You spoke, we copied and pasted: this is the Power Rankings from a big weekend in downtown Townsville.
---
ABOUT THE RANKINGS: The TRT Power Rankings are compiled by your nominations from social media and edited by the TRT editorial team. They're designed to give a balanced, as fair as possible critical overview of those things that excelled and those things that struggled, at each event. It's (mostly) a democracy, and what you nominate generates the order, so have your say next event via our social media channels, @theracetorque on Facebook, Twitter and Insta. Look for the call out each evening and get commenting!
---
HOT
1. Will Brown
An awesome Saturday with the win from pole position, which resulted in the championship lead. Sunday morning started out awfully, with the serpentine belt flinging off through the high-speed sweeper, robbing the Coke Camaro of its power steering. Instead of writing the car off, he got it back to the pits, where the crew performed an actual miracle to resurrect the situation. Brown returned for a sole flying lap, where he qualified tenth by a whole 0.01sec, which became ninth in the shootout. Seventh in the race, and a seven-point title lead over Brodie. How long will the Coke pals remain friendly? We're all in on these next six events…
---
2. Anton De Pasquale
At long bloody last.
Outside of a fifth and sixth at the GP, 2023 and Gen3 have provided a bitch of a season for Anton.
Clearly, the car looked after its tyres enough, and the safety car worked a treat, but he was a front-runner throughout.
Did the spare green tyres from Saturday's drama-packed race help? 100 per cent yes, and it's a topic that dominated the post-race narrative.
It will be interesting to see what happens from here – in 2020, when ADP broke through, he went on an absolute tear.
---
3. Broc Feeney
P2 race one, P4 race two, "round winner", 26 points away from the lead of the championship. Simply getting the job done.
---
4. Townsville/The Track/The Format
The crowd was up there with the pre-pandemic times, with the vibe around town still a very welcomed break from the weather in the rest of Australia. While Townsville is entirely more civilised when compared to Darwin, it is still a popular stop on the schedule. Also, how good is that layout? Across the board, there was plenty of spicy racing turned on – the hybrid street/natural road course remains a genuine winner, which was amply assisted the by 250km format, with the various tyre and fuel strategies spicing things up. There is no denying that there were many on-track passes, more please.
---
5. Andre Heimgartner
Finishes of 7th and 3rd for the weekend, and probably could have achieved better on Saturday without the Safety Car, Andre has been on the podium from four out of the last five events. This combo has some serious mojo going, and a win cannot be far away for the sixth-place driver in the standings.
---
6. Brodie Kostecki
Claimed the provisional race two pole, in a big bounce back from race one, and started 4th, finishing 2nd. Seven points off the series lead despite some tough races of late, finishing second shows that they haven't lost their competitive edge.
---
7. Shane van Gisbergen
A week on, it's still difficult to fathom how important that NASCAR win was for Shane, or the service it is going to play going forward to Supercars' standing in world motorsport. Scott McLaughlin's Indycar performances have shown that Supercars drivers are truly world-class, a fact ably backed by SvG's efforts. How in demand will Supercars drivers be now? In the weekend he notched up his 500th race he finished 4th and 4th/5th from a very long last. Other aspects of his weekend might not have been red hot, but we should probably enjoy watching a once-in-a-generation talent strut his stuff while we still can.
---
8. Cameron McLeod
Qualified in 4th outright for Super2/3 race one despite having a crash mid-session, then qualified on Super3 pole by 0.9sec for race two, which was seventh outright. After being boxed around in race one, he got the elbows out in the second, which saw the third-generation racer run as high as third outright before settling in seventh. Watch that name…
---
9. Supercars Racing
While it might not have been a knock 'em down, drag 'em out battle for the race wins, there was plenty going on with many passes and some spicy battles along the way. The opening segment of race one was red hot, while the different fuel and tyre strategies saw many comers and goers throughout the weekend.
---
10. Red Bull Ampol Team Chat
When Shane passed Broc late on Sunday, the team radio lit up with some rather awkward back and forwards… what on earth is a round win? On the finish line, Shane relented, and Broc won the round. Whatever was going down, we're entirely here for the theatre of it all. It certainly lit up social media, with it absolutely stirred the pot within the T8 fanbase. There will be doubt be some interesting conversations at Red Bull Ampol HQ this week, and unlike Sydney Motorsport Park in 2021, Jamie Whincup is now the boss…
---
FURTHER HOTS
Sunday Qualifying
---
Chaz Mostert
P3 in race one, don't talk about Sunday.
---
Bryce Fullwood
While Andre is getting the job done, Bryce isn't far behind. Results of 8th and 9th. Five of the last six races have seen the pink car in the top ten, and he now sits 11th in points as the sound backup at BJR. The promise we saw from him leading up to Supercars was clearly no fluke.
---
Toyota 86s
The Juice Ojeda made a guest appearance, and in the opener was mega in taking the win. Meanwhile, Clay Richards put on a class in race two until his exhaust got knocked off, and Ryan Casha picked up the pieces to claim the victory. Campbell Logan may have been a long way from his Tassie home, but he did a super job to hold off Casha in the finale to make it three different victors from the different races. Mega racing across the board, it's great that these kids will feature heavily on the schedule at the upcoming rounds. Clean, tight racing, it was awesome.
---
Super2
Righto, so who's going to sign up Kai Allen? He won on Saturday, registered a maiden pole on Sunday, which was converted into second place at the chequers. Where and when will he make the step up? The quasi-reverse grid race one was highly entertaining, while race two was entertaining, with things never progressing to full Super2 spec. Zak Best won the finale in a big result for the privateer Anderson Motorsport squad. Shoutouts also go to Aaron Seton, who claimed the race one pole before finishing in third, Cameron Crick, who finished second in the opener, and Zane Morse who registered a breakthrough third in the finale. Six different pole sitters, a mixed bag of winners, and some clean racing, Super2 is HOT right now…
---
Carrera Cup
Classic Carrera Cup action. There was nothing in it in qualifying, and race one was shaping up as a brilliant one until things unravelled (see NOT). Callum Hedge put in a mega drive to provisionally win the race, but he was relegated post-race for doing a burnout en route to the starting grid, gifting the win to Max Vidau, who also won the Sunday morning encounter. Alex Davison was in line for a special mention in this column for some stout performances, but then he romped away to his 28th career win and first since 2016 in the last race, winning the overall weekend honours. In a field of young aces out to prove a point, the education was dished out by a master.
---
Larko
It was nice that the TV production was allowed to talk about parity again after the subject went missing in action in Darwin, with Larko absolutely in his element…
---
JLB
Easily fastest in practice two by 0.24sec, 5th in the race 1 shootout, second in the race two shootout to give MSR front row starts at three straight events. He momentarily hit the lead of race two, and led again in the pit stop shuffle, but faded to 10th as the race wore on to remain 8th in the standings. Good heads up driving not to wear Tim Slade and his pit crew at the first stop on Sunday.
---
Cameron Waters
P5 race one, pole for race two, but faded to 15th with a multitude of issues.
---
Scott Pye
P6 race one from P25 at the end of lap one after being spun out. New lap record on Sunday.
---
Thomas Randle
Qualified third for race two and finished eighth in the race, the second place Ford. Commendable.
---
Matt Payne
Provisionally qualifying second on Saturday.
---
PARITY IN OUR LIFETIME?
Ford is finally on the scoreboard with a win earned without an asterisk.
But are we any closer to having an actual read on proper parity?
The Ford teams are still six months behind the eight-ball when it comes to tuning to this package, so you would assume there is still more to come.
At stages during the weekend, the top of the time sheets looked incredibly tight – for instance, six Mustangs in the Sunday shootout, and things were looking up when Waters wheeled his Monster version to pole.
Anton may have cruised to a 5sec win on Sunday afternoon – was that down to the Shell V-Power crew unlocking the secret sauce that makes Gen3 tick, or because of a tyre advantage after a fraught Saturday?
Looking down the scoreboard, the next nearest Ford to Anton was Thomas Randle in eighth.
Are we there yet?
We're due for another round of parity testing this week, while Sydney Motorsport Park is a very different configuration to Townsville, and it might be telling – watch this space.
Compare and contrast the below tweets from pre and post-race on Saturday to get a feeling for the emotional rollercoaster the Ford camp is currently experiencing…
---
WHAT
Getting married in the Pizza Hut pits
---
The Bulls What?
They've done it again!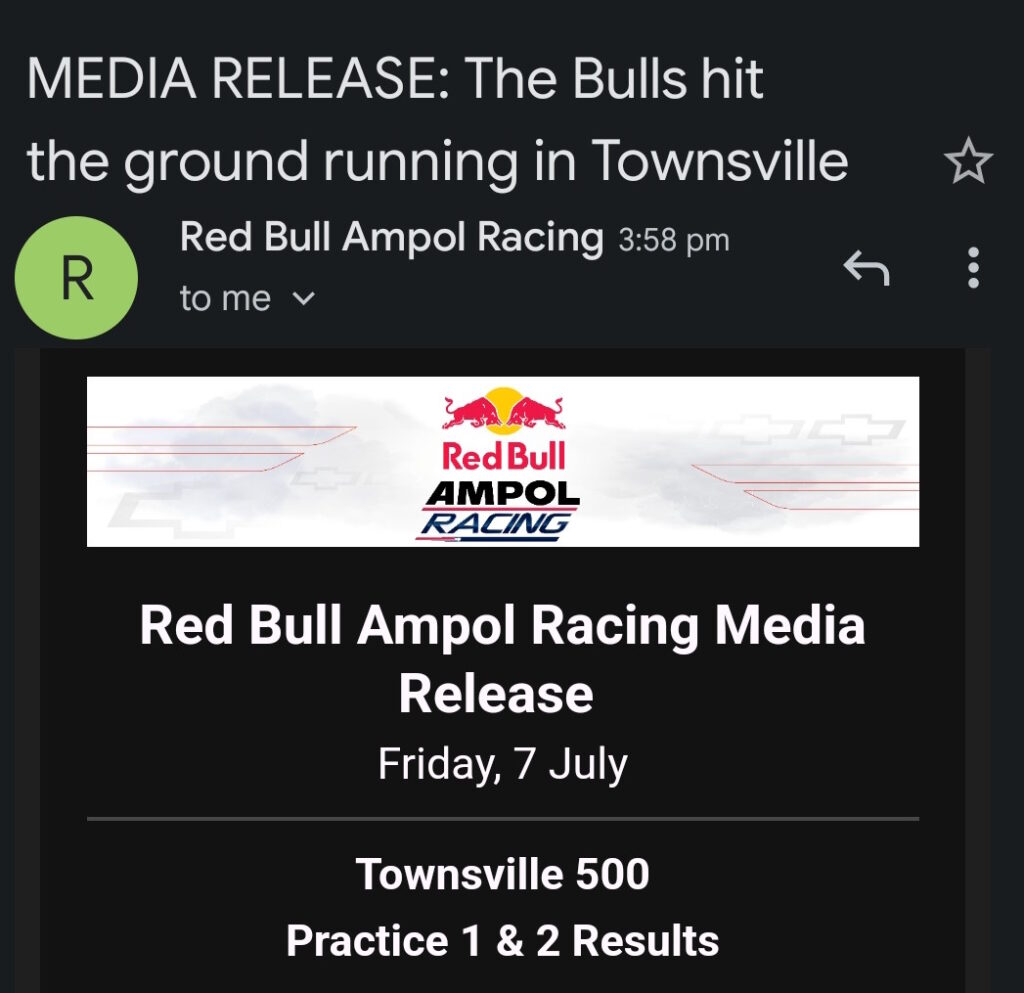 ---
Lochie Dalton's rocket sled
Wheels: Hot, Many flat tyres: Not. Here it lives in What.
---
NOT
1. Tim Slade's Push Back
What on earth was that all about? There's average, and then there is well below average…The team worse a $10k fine with $5k suspended for this.
---
2. Chaz Mostert
Smacking the left-hand fence in Sunday's shootout in scenes similar to Bathurst 2015 and Gold Coast 2019. You can never deny his commitment in a shootout. Steering dramas subsequently saw him head to the pits on lap four for retirement. The two apparently were not connected, but it's immaterial; it was a costly day and true to the inconsistency much of the field is experiencing this year.
---
3. Brodie Kostecki
A broken second gear in the opener dropped him from the championship lead, with it being the second time in two races he suffered a blotto on the scoreboard. You can't do that regularly if you have your eyes on the ultimate prize.
---
4. SvG
A week is a very long time in motorsport. Qualified last for race two after exiting the car mid-session with a continuation of his Darwin steering woes, before ultimately returning to the track and finishing his hot lap down an escape road. He tangled with Declan Fraser and spun to a long last on the opening lap of the race, before working his way back in tre SVG style to fourth or fifth, as he moved over on the finishing line. The headshaking post-race matched the qualifying headshaking. If everything were equal, this field wouldn't know which way he went, but the lack of qualifying success is continuing to hamper his scorecard.
PS. How awkward was that 500-race cake photo op? You get the feeling that speculation over his future will lead the media narrative for the next little bit…
---
5. Trackside Life
It was a weird one if you were sitting trackside…
Supercars need to work out what they want to do with their on-track TV product, because at the moment, it's all over the shop. While recent years have seen the full Fox Sports TV product piped out over the big screens and PA, Townsville saw a strange hybrid setup that was mixed with a DJ set at times. It changed from TV commentary to sudden bursts of random songs playing (we're not complaining about the song selection though), to local commentary for the Shootouts only and hosting from (the excellent pair of) Charlie Bullis and Benny Bishop. Coupled with some strange graphics that still hang around too long and random cutting in and out of the commentary, it was a very strange package in Townsville. Supercars are a bit half-pregnant with their on-track offering, and they can't seem to work out if it's a DJ show for music, informed commentary or something in between. It was noticeable at various times on the broadcast from home, especially during the grid walk when the interviews were properly drowned out.
---
6. Rad Skidz, Everyone Upset
Matt Mingay and co got an early finish on Sunday for doing too many rad skids, and upsetting all and sundry involved in the Sunday shootout, with lap times massively blowing out due to the tyre litter on the circuit…
---
7. Brad Vaughan wobbling into Jack Perkins
Ugly, expensive and needless, with Jacko sidelined for the weekend by the damage caused.
---
8. Mason Kelly knocking down the Pizza Hut Fence
A tough break for a young kid gaining experience a long way from home. Also, TV camerafolk are not paid enough.
---
9. Gen3 Teething Issues
At the halfway point, round-wise, there continue to be a number of issues afflicting various teams. Like the steering problems, which have spread beyond SVG, should steering racks be a disposable commodity? Meanwhile, it appears that some teams didn't quite practice with their new fuel filler mechanisms enough, with multiple teams not taking on board a full fill of fuel from the opening Saturday service.
---
10. Graphic Grumbles
Keep in mind, this is the sixth round of the year…
---
OTHER NOTS
Carrera Cup Carnage
The opening race was shaping up to be an absolute corker, with the leaders all lined up in an agitated conga line, until things went full Super2 between David Wall and David Russell, which saw Russell's car significantly shortened, multiple others find the fence and the outfield, and Wall on the receiving end of a points penalty. The shenanigans in race two focussed on Dale Wood, who got into his employee Thomas Maxwell at the final turn, while Maxwell later absolutely returned serve later, with both being issued 15sec penalties. The start of the third race was also somewhat scrappy.
---
Aussie Racing Carnage
There were some unfortunate incidents amongst the leaders, especially in the last race, while it was sad to see Tony Quinn's third race finish in the fence not far from the wall that tried to end him 12 months ago…
---
Nulon friendly fire
Well, that's awkward. Tim Slade later apologised for his part in the incident.
---
Anton De Pasquale
Electrical dramas in race one, which ultimately paved the way to race two success.
---
Macca on Reynolds
A tough end for Reynolds from a weekend that showed promise, but netted finishes of 21st and 17th.
---
Nick Percat
Copping the rough end of the pineapple. Again.
---
Todd Hazelwood
Oh no, not again: FIRE! But this time it was a strange tyre fire race one that eliminated him from race one, while mechanical dramas sidelined him from the second.
---
Aaron Love
Title contender in Super3, fenced through the high-speed sweeper after coming together with Cooper Murray, who was penalised post-race.
---
Twitter Melting Down
PS. We are now on Threads, which will soon have hashtags, chronological order and more.
---
Early Super2/3 Practice Carnage
Chris Smerdon found the fence at turn 5 right at the start of practice 1, also, James Masterton backed it into the wall.
---
TWEET
Does Bert get cleaning goods from Big W?
Race 1 didn't end well for Anton…
Get the man on the truck…
That's an issue
Purple sectors for Macca
---
MEME

Yoinked from Andrew Van Leeuwen
Yoinked from Marcus Garth
SVG: the NASCAR race winner