SVGs triumph: The Pros and Cons for Supercars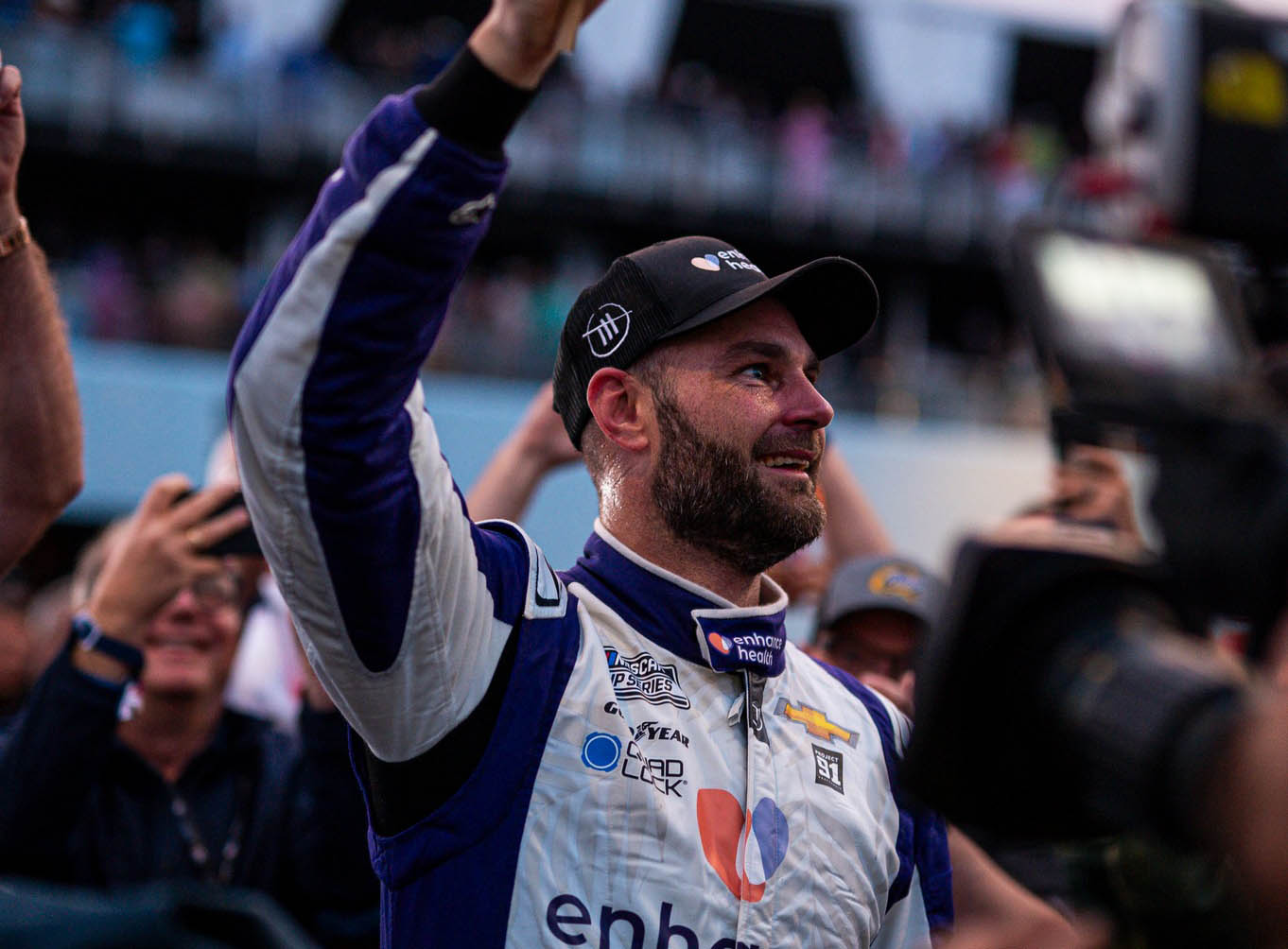 ON FACE value alone Shane van Gisbergen's remarkable win in Chicago is only good for the Repco Supercars Championship.
But there's more to the story that will have ramifications for the championship in the short and longer-term future that are worth considering.
Lead Image: Courtesy Trackhouse Racing
---
THE GOOD
MUCH as it was a few years back when Scott McLaughlin claimed his maiden IndyCar win, van Gisbergen's instant NASCAR success shows just how good the pointy end of the Supercars pack is.
We're prone to rolling out the 'most competitive Touring Car championship in the world line' perhaps once too often so it's nice when that actually gets put to the test in something equally – if not more so – fierce.
Sure it was a street race and sure it's not the bread-and-butter of the Cup Series regulars but they're no duffers.
Don't let old cliché's tell you otherwise; The engineering brains and level of talent in the NASCAR paddock is as good as it is anywhere (some of them, like James Small, have come from here in the first place) so if you can beat them, you're going OK.
So, it's another remainder – as if McLaughlin wasn't enough – that the talent level here is good enough to compete anywhere.
(The fact Chaz Mostert's late-race stint in the Spa 24 Hour was a significant factor in dragging his car into class-winning contention has been somewhat buried among the SVG hype, but it too is another indicator).
And remember, in Darwin the entire field was covered by 0.6 seconds in ultimate lap speed in qualifying so as Shane himself said following his win, there's at least 10 guys who could do the same thing he did.
Possibly and probably more.
People like Chaz Mostert already know they've got the ability to compete on the world stage, because they've done it but if you're Brodie Kostecki or Cam Waters sitting there on Monday morning watching a bloke you've (on occasion) beaten do what he did, surely it makes you feel pretty good about your own ability to do the same.
It's also a great shopfront for Supercars as a place where high-level talent, both on and off track, exists.
As it was when Ambrose went there more than a decade ago, it's proof that our unique, bespoke and quirky little domestic Touring Car series several thousand miles from anywhere else is properly good and, indeed, world class.
Supercars remains a destination category locally and a place where drivers' can earn a career, however there's nothing wrong at all with it being a place that can project the very best into something beyond, should they so desire.
I think that's good for the sport here and good for Supercars, too.
The series should be proud that as what is (at the moment, anyway) a mainly domestic category, it's respected enough around the world that someone like Justin Marks can grab the current champion and put him in a top-level NASCAR Cup Car with the confidence that he could do the job.
Shane's win is a boost for the category not only in profile, but in global respect.
And those international plans that the ownership keep chatting about? It'll do them no harm either.
I'd bet money that as a result of the weekend – and Scott McLaughlin's sustained success, of course – more people are aware of Supercars stateside now than they were when the series raced there a decade ago.
And I'd wager further that they all reckon it's pretty impressive that these guys came from it, too.
Frankly, that's awesome for Supercars racing here.
---
---
THE BAD
SHANE van Gisbergen won't be in Supercars beyond 2024, if not sooner.
That much is abundantly clear and if it wasn't a sure thing before last weekend, it must be now.
That one performance will open enough doors in the 'States that he could sell them all at a door shop and live on the proceeds alone.
The problem here is that once again, Supercars will lose its headliner.
Love him or hate him – and there's no middle ground with Shane, it seems – he is currently the biggest drawcard the series' has.
If he's dominating, it's because he's beating a super-strong field and it's stunning to watch.
If he's behind, people tune in because there's every likelihood that something remarkable will happen (hello, Pukekohe 2022) to deliver him another win.
And if he's not racing at all there'll be a moment, a comment, a media conference exchange or something else that will keep him in the headlines. Polarising drivers are good for business because they generate chat when it might otherwise not exist.
So, as a result of Shane's win and his potential shift to chase the NASCAR dream, it seems likely that for the second time in basically five years Supercars will lose their biggest drawcard.
The sport can cop Shane leaving in the same way that it coped when Scotty went to IndyCar.. there's generally always another Superstar to fill the void.
But when the two biggest names of the last decade are gone in quick succession, it will be hard work to fill the hole.
Worse is that it's surely going to bring more fire to the bellies of those looking to emulate Shane, or at least those looking to spread their wings beyond these shores.
So, Shane goes. Lets say Brodie Kostecki follows in a year or two. Then Chaz Mostert gets a plum GT drive or a seat in a United Autosport Hypercar program, or something with Zak Brown's broader empire. Cam Waters is another to have made no secret of his desire to go and try other things.
Big names, big personalities and drivers with lots of local fans all with the potential to walk out the door and it could, just possibly, happen in a relatively short space of time.
I don't mean to fearmonger here – after all, motorsport has a knack of reinvention when it comes to the household names.
But it is a change in the way of thinking for Supercars, which for so long has been the destination and not part of the journey for drivers.
I think Marcos Ambrose's decision to leave for NASCAR was a shock as much for the fact that he wouldn't be spending 15 years in the category before retiring a multiple champion.
It's been a gradual change of psyche in the category over the years that, in an increasingly globalised world, is becoming ever present.
The key is adaptation and Supercars making sure they do a good job of pushing the next generation – which is why Super2 is important and why issues like the Joey Mawson scenario has been such a bad look for the sport.
He's exactly the kind of talent the series' needs to grab hold of and build rather thank making life difficult for him to race – even if now they are making strides to get him on track.
Mawson, Jayden Ojeda, Ryan Wood, Zac Bates or the host of other young stars coming through the ranks are the future – but they might be closer to the fact than ever.
Supercars needs to make sure they step up their support and promotion of these kids to ensure they have some recognition with fans when they do inevitably hit the track in the main game.
Because in a few years, if more follow the Shane van Gisbergen and Scotty Mac pathway, it could be their faces on the marketing material, selling tickets and drawing TV viewers in.
Change could be coming, and the sport needs to make sure it adapts now, not later.