Kenny Times Three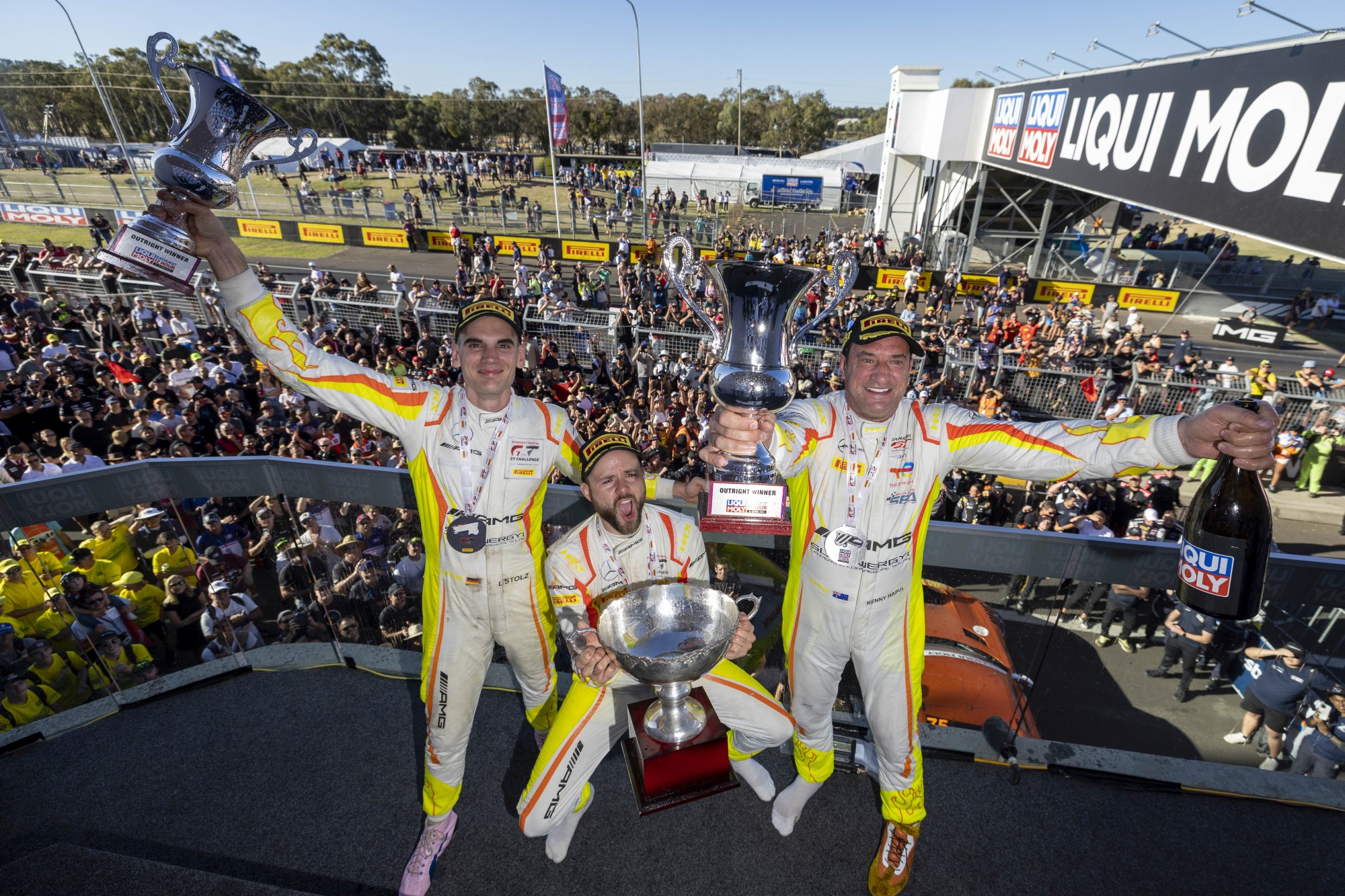 US-based Australian GT ace Kenny Habul has confirmed a three-peat attack on the Bathurst 12 Hour at Mt Panorama in February with his SunEnergy1 Mercedes-AMG GT3 team.
Habul has wasted no time confirming his involvement in next year's race and was the first official entry for the endurance classic when registrations opened.
Habul, who is still recovering from a broken back he received at the Spa 24 hour in June, realised a life-long dream when he won the 2022 Bathurst 12 Hour with Jules Gounon, Luca Stolz and Martin Konrad.
Earlier this year Habul got a matching trophy for his 2022 silverware when he teamed with Gounon and Stolz again to clinch back-to-back wins in one of the most thrilling finishes in the race's history.
After an impressive early stint on old tyres, Habul and team boss Markus Rohrich managed the team's strategy from the garage as his teammates kept their entry at the front to beat home the Porsche of Matt Campbell and the fellow Mercedes of Maro Engel – just 1.4 seconds splitting the top three cars after 323 laps and 2006kms of racing.
The SunEnergy1 Mercedes-AMG GT3 team created one of the stories of the year when it won the Pro-Am class of the recent Spa 24 Hour with Habul watching on from a Belgium hospital.
The charismatic Australian ordered a brand new car from his hospital bed after being involved in a high-speed accident in qualifying on the Thursday of the event.
The new car was prepared through the night so fellow Australian Chaz Mostert, Dutchman Nicky Catsburg, Austrian Martin Konrad and replacement driver, German Adam Osieka could drive it to victory on July 1.
"It has been a tough couple of months for me, but now back in the gym every day and making great progress, signing the entry form for next year's Bathurst 12 hour brought a smile to my face," said Habul.
"I will be back in the car sometime this year, so I will definitely be fit and ready to go by February and we are coming to win three in a row.
"We would love to give Mercedes-AMG a three-peat, something that has not been done by a manufacturer at the Bathurst 12-hour since Mazda dominated the race in the early 90s."
Habul has a passionate affinity with Mt Panorama, so much so that he brought an adjacent property to the world famous track which he uses as his base when he is back in Australia.
He will confirm his final driver line-up and what operation will prepare his car in coming weeks.
Habul is aiming to become just the third driver behind veteran Australian touring car ace John Bowe (1995, 2010, 2014) and Gounon (2020, 2022 and 2023) to win three outright Bathurst 12 hour winner's trophies.
"To win our first 12-hour a couple of years ago was a dream come true, but to go back-to-back earlier this year in such an amazing finish was something else," said Habul.
"Mt Panorama is such a magical place and I am proud to call it my home race of the year.
"We have sprayed and drunk the champagne at Bathurst the last couple of years and we have enjoyed the taste of it."
Bathurst 12 Hour Director, Shane Rudzis, welcomed Habul's early entry for the 2024 event.
"What Kenny (Habul) and the SunEnergy1 team have achieved the last two years has been nothing short of incredible," said Rudzis.
"Kenny is such a passionate competitor and continually goes out of his way to do what he can for our event and the sport in general. What he did at this year's Spa 24 Hour event is proof of that.
"While Kenny's entry is the first, it certainly won't be the last and we are expecting one of our strongest fields for many years."
The 2024 Bathurst 12 Hour will be held from February 16-18 with tickets on sale now.