Bowser Bean, Coke and Caltex to back Astuti at Sandown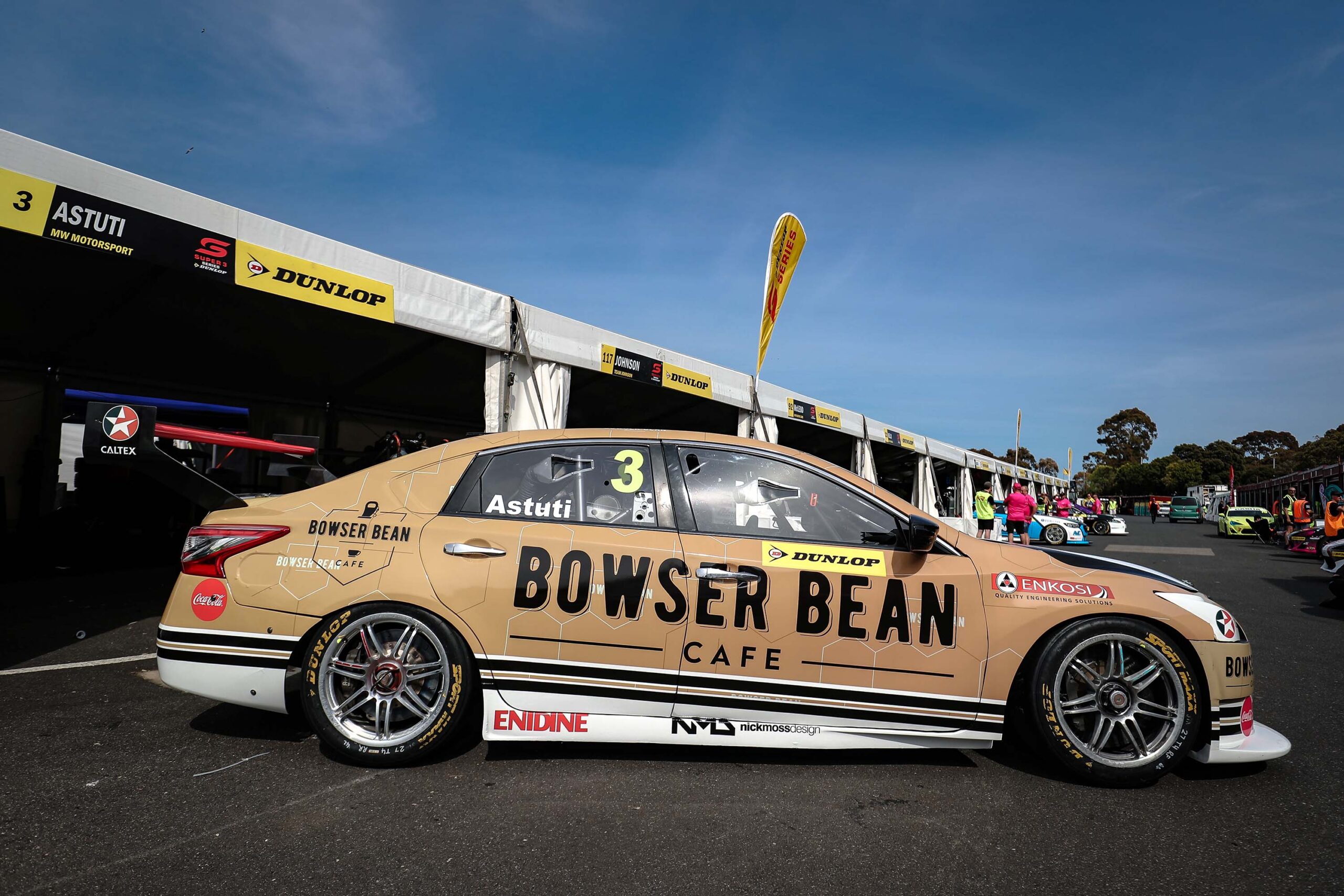 BOWSER BEAN Café, Coca-Cola and Caltex will support Valentino Astuti's debut in the Dunlop Series this weekend at Sandown Raceway in Melbourne.  
Astuti, the 2022 Australian Formula Ford Champion, will drive a Nissan Altima Supercar for Matt White Racing in the Dunlop Super3 Series, in what is his Supercars competition debut.
The young Victorian star tested a Dick Johnson Racing Mustang earlier this year as part of his prize for winning the Formula Ford title, before testing his MW Motorsport Altima at Winton recently.
Bowser Bean Café and Coca-Cola were linked to Astuti and the MW Motorsport team by Chris Pither, who raced with the team in the 2015 Dunlop Series.
Caltex are one of Australian Motorsports most longstanding backers and return to Supercars having supported the Caltex Young Stars in the Repco Bathurst 1000 last year.
The Dunlop Series field will race twice across the Sandown 500 weekend with both races live on Channel 7, Fox Sports 506 and Kayo Sport this weekend.
"It's really exciting to take the covers off the Bowser Bean Café, Coca-Cola and Caltex MW Motorsport Nissan at Sandown," Valentino Astuti said.  
"The car looks great and I'm thankful to everyone for coming on board for my Supercars debut this weekend. It an exciting opportunity and I'm going to make the absolute most of it.
"Thanks to Matt White for all the work he's put into putting this program together. It's great to be on the grid with such an experienced and professional team and I'm looking forward to seeing what we can make of the weekend."
Added team owner, Matt White: "It's great to have the support of Bowser Bean Café, Coca-Cola and Caltex this weekend on our return to the Dunlop Series.
"We've been watching on the sidelines all season so we're all excited to be back on track this weekend with a great, young talent like Valentino Astuti.
"We had a very positive test at Winton so we're in good shape for the weekend. Valentino will be up to speed quickly and we're looking forward to seeing how the weekend plays out."
Carrera Cup racer Chris Pither, who helped engineer the deal, was positive about the relationship for Sandown this weekend.
"I'm fortunate that I have some great sponsors in Coca-Cola and Bowser Bean but unfortunately, I was unable to find a Porsche to race for the weekend.
"It's great that we have been able to get Coke and the team at Bowser Bean on track by supporting a young up and comer in Valentino.
"Caltex have always been a great supporter of young talent and it's great that they have jumped on board with Valentino as well."