TRT-supported team to enter Aussie Racing Cars in 2024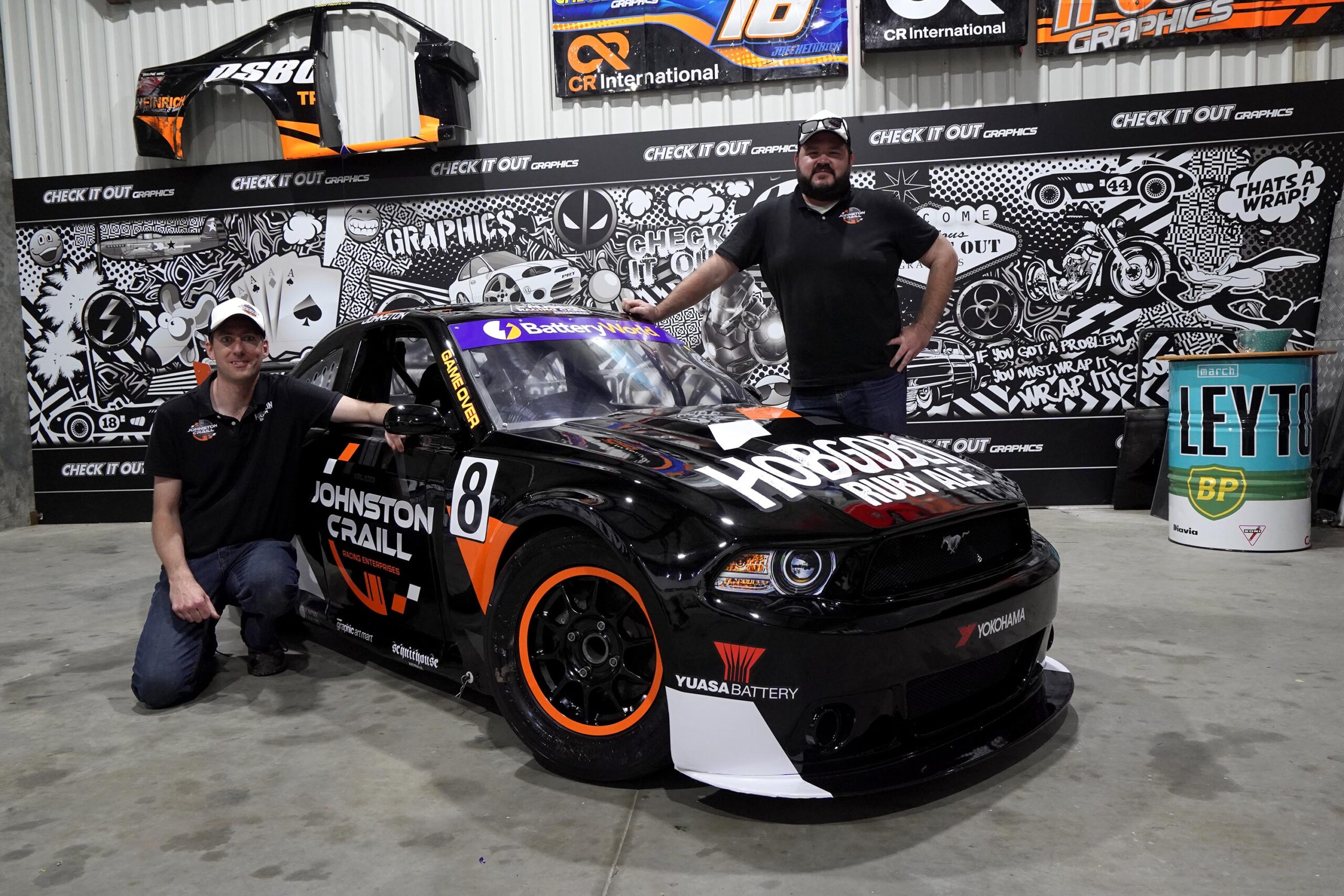 NINE-TIME South Australian State Champion Asher Johnston will make a return to National level competition in 2024 via entry in the Battery World Aussie Racing Cars Series.
In partnership with long-time Media guy Richard Craill, a new team – Johnston Craill Racing Enterprises (JCRE) – will field a Ford Mustang-bodied Aussie Car in the 2024 series.
The squad was launched in Adelaide on Thursday night in front of existing supporters, friends and family with an interim 'testing' livery featuring the team's branding, plus prominent signage from Check it Out Graphics and The Race Torque, the businesses of the two owners.
(It's like Newman Haas Racing or Walkinshaw Andretti United – just without the owners having quite the same level of prior F1 or Indianapolis 500 success and subsequent bank balance that comes with it!)
A long-time supporter of Asher's racing, Hobgoblin Ruby Ale – distributed by Empire Liquor – appears on the bonnet while a raft of key supporters have also added their ongoing support moving into the new era.
JCRE has purchased a well-sorted car and has confirmed plans to tackle at least several key rounds of the 2024 series to get up top speed – with a full season budget permitting – before launching a title tilt in 2025.
The team carries over all the key personnel who have worked with Johnston throughout his successful career in South Australia to date.
Former Supercars technician and experienced fabricator Chris Pana will serve as Chief Mechanic for JCRE, with two-time Australian Drivers Champion Simon Wills supporting the engineering and driver coaching.
Asher will park the Excel for the next season, however will retain ownership of the car – one of the most successful in the category anywhere in Australia.
Johnston, 37, raced national Formula Fords in 2004-05 before focusing on the growth of his signwriting business, Check it Out Graphics, and competing at a state level, first in Formula Vee and then in Hyundai Excel competition.
As well as state-level success, Johnston won the 2019 Excel Nationals and the 2019 Bathurst Excel Challenge, where he still holds the lap record.
Johnston and Craill have been mates for 20 years, with 'The Race Torque' appearing on Asher's racing cars since 2005.
Richard is a motorsport broadcaster and calls the Australian Grand Prix for Channel 10 and is known as the voice of the Bathurst 12 Hour and Porsche Motorsport in Australia on Fox Sports and Channel 7.
The team will test for the first time later in October before the car is refreshed prior to a more extensive testing program ahead of the 2024 season.
ASHER JOHNSTON
"We have achieved everything we wanted to achieve in Excel competition. I've got to know Aussie Racing Cars really well. Series champion Joel Heinrich is a mate and we wrap his car and several others based in Adelaide.
"Their advice has been invaluable getting to this point where we committed to buying the car and making the step across.
"They're great cars, awesome to drive and very affordable and they tick a lot of boxes for what I want to get out of my racing.
"It's been a fun project to put this new identity together this year and get to a point where we can get it out in the public and finally get on track!
"Craill and I have worked together for 20 years and it was the easiest thing in the world to put together. He gets the stressful job of watching from the sidelines while I get the fun job of driving it.
"We have a great team of people, both in the race team and our supporters, around us to build on and take this to the next level.
"We have a plan in place to get up to speed with some testing and then go racing next year.
"I can't wait to get started."
RICHARD CRAILL
"I have worked with an array of fantastic, experienced and incredibly smart team owners and business people at all levels of our sport for 20 years and to a tee they have all told me how silly owning a racing team and racing cars can be.
"So naturally we have jumped at the chance – As our mutual racing hero Peter Brock once said, 'bite off more than you can chew and then chew like hell.'
"From the moment AJ started talking about Aussie Racing Cars it just seemed like the right thing to get more involved than just waving the flag from the sidelines, so here we are owning a car and setting up an entity to run it.
"Ours is a passion-driven sport and I have always looked for ways to have more skin in the game – beyond what is literally my dream job calling and writing about car racing – without needing to win the lottery to do it.
"Aussie Racing Cars are an affordable platform, they give the driver the right kind of feels which is important so Ash can have fun while I rid myself of what little hair I have left watching on.
"Seriously though, Aussie Racing Cars generate solid exposure and has a great fanbase which in turn means it can be commercialized so we can work on funding to complete the full season in 2024.
"I have broader ambitions down the road to use this platform to support and nurture young racing talent in South Australia, however in the meantime we want to go car racing at the highest possible level we can and give Asher a shot at a national level while having what I suspect will be a ridiculously enjoyable along the way.
"AJ and I have been mates for two decades and going down this road seemed like the most natural possible thing.
"The people I see enjoying our incredible sport the most of all are the ones who go racing with their mates. Who knows, in a few decades perhaps 'Johnston Craill' will roll off the tongue like Newman Haas does, just without the Oscars, the salad dressing or the Cigars."