Porsche Blockbuster on the GC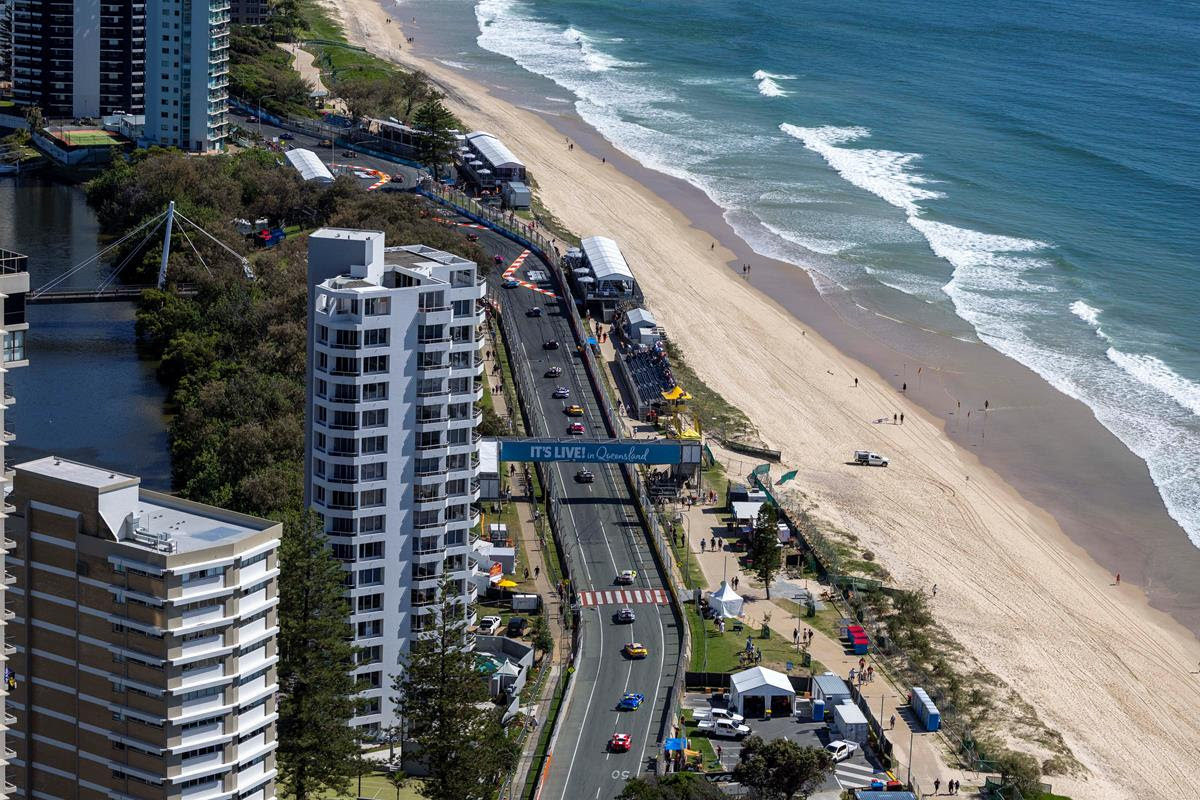 NEW and returning faces will join a Porsche Paynter Dixon Carrera Cup Australia grid heading towards a title showdown, this weekend on the Gold Coast City streets. 
As leader Callum Hedge and closest rival Jackson Walls resume their battle for the 2023 championship, the Surfers grid gets an injection of new and existing talent for the Boost Mobile Gold Coast 500 this weekend.
The Gold Coast has traditionally hosted the series' finale, the title being decided on the challenging street track every year except for the Covid-affected 2021 season, however, with two rounds remaining in 2023, this weekend offers the prospect of being critical for both the Equity One Pro and SP Tools Pro-Am class title fights.
The 28-strong field includes Porsche expert Luke Youlden, who will deputise for Danny Stutterd aboard the #23 TekworkX Motorsport entry this weekend.
With the SP Tools Pro-Am regular away with family commitments, Youlden – a three-time Carrera Cup race winner – will drive this weekend with support from long-time team backer, MDE Communications and Electrical.
Youlden finished eighth in last year's championship in a season that included a race win in Townsville.
"I'm excited to get back behind the wheel, my last race was the Gold Coast in 2022 and I thought I drove pretty well at that one, even if the results didn't particularly reflect it," said Youlden.
"It's hopefully a positive for Max and Thomas as well, having a third pro driver, to help them out a bit. Three heads are better than one, looking at data and trying different things to find the speed. I've got a fair amount of experience with lots of co-drives around there, so I don't expect the year out of the seat will affect me to much."
While the experienced Youlden returns, a Carrera Cup rookie will make his Gold Coast debut in a step up from regular competition in Porsche Michelin Sprint Challenge Australia.
17-year-old Marcos Flack will make his Carrera Cup debut this weekend driving for regular team, Sonic Motor Racing.
The son of former Pro-Am class contender Damien and nephew of current contender Adrian Flack, Marcos currently sits sixth in the Sprint Challenge standings with a round to go.
After qualifying on pole in the opening round, Flack has finished third in five of the last six races against one of the strongest Sprint Challenge field the series has seen.
"It will be a good experience. I'm really looking forward to it," said Flack.
"It's all in preparation for next year. My aim is to do Carrera Cup in 2024. There are a few details to lock away, but this will give me a good head start for next year.
"The circuit will be difficult. It's my first time at a street track, so my main aim will be to learn the track, enjoy the experience and keep the car straight."
Meanwhile, defending champion Harri Jones returns to the scene of his title win last year in the second of two planned outings aboard his Jones Motorsport entry, having finished second to European rival Harry King at Mount Panorama two weeks ago.
The Porsche Paynter Dixon Carrera Cup Australia field heads to the Gold Coast with the Pro and Pro-Am title battles on a knife's edge with two rounds and just six races remaining.
Having missed Bathurst, Callum Hedge leads Jackson Walls by just six points with 360 still up for grabs across the final two rounds.
The fight for third is equally intense with third-placed Dale Wood just nine points in front of Max Vidau, and only 37 in front of Sandown winner, Dylan O'Keeffe.
Six different drivers have won the six rounds contested this year, one short of equalling an all-time Carrera Cup record.
In the SP Tools Pro-Am fight, Sam Shahin holds a narrow 28 point lead over Adrian Flack with two rounds remaining.
Dean Cook sits third and is only 44 points from the series lead – less than one full race.
Flack (Grand Prix), Cook (Darwin, Sandown) Shahin (Townsville, The Bend) and Liam Talbot (Bathurst) have shared the wins in the Pro-Am class this year.
Talbot will return to the championship aboard the Moutai car for Wall Racing once again this weekend.
Last year, Callum Hedge claimed the Gold Coast round in what served as a climactic final round of the championship.
Harri Jones sealed his title with a consistent performance, however the star was arguably his nearest title rival Aaron Love, who proved you can overtake on the tight street circuit.
Starting 15th after getting caught out in qualifying, Love scythed his way through the field in race one and then took just a few laps to race his way to the lead in the second on Sunday morning, before winning convincingly.
Meanwhile, Dean Cook claimed Pro-Am honours last year in a title finale that saw three different drivers lead the title after each of the three races, Geoff Emery ultimately claiming the crown.
Practice 2, TAG Heuer Qualifying and all three races will be broadcast live on Fox Sports 506, Kayo and Sky Sports NZ this weekend.
Races 1 and 3 will also be broadcast on free-to-air via the Seven Network around Australia.
ENTRY LIST – ROUND 7
Boost Mobile Gold Coast 500, Queensland
| | | | | | | | |
| --- | --- | --- | --- | --- | --- | --- | --- |
| No. | Class | Car # | Sponsor Name | Driver First Name | Driver Second Name | State | Colour |
| 1 | Pro | 3 | Porsche Centre Melbourne / BWT | Fabian | Coulthard | QLD | Pink/White |
| 2 | Pro | 5 | TekworkX Motorsport | Thomas | Maxwell | VIC | Silver |
| 3 | Pro-Am | 7 | Miles Advisory Partners | Tim | Miles | NSW | Red/White |
| 4 | Pro | 8 | Porsche Centre Melbourne / BWT | Nick | McBride | VIC | Pink/White |
| 5 | Pro-Am | 9 | Hallmarc | Marc | Cini | VIC | Red |
| 6 | Pro | 11 | Objective Racing | Jackson | Walls | NSW | Black |
| 7 | Pro | 12 | Jones Motorsport | Harri | Jones | QLD | Sliver/Black/ Yellow |
| 8 | Pro-Am | 13 | The Bend Motorsport Park | Sam | Shahin | SA | White/Blue/Red |
| 9 | Pro-Am | 14 | ID Land / Porsche Centre Melbourne | Matthew | Belford | VIC | Black / Orange |
| 10 | Pro | 17 | Team Porsche New Zealand / EBM | Callum | Hedge | QLD | White / Black / Red |
| 11 | Pro-Am | 20 | Agas National | Adrian | Flack | QLD | Black/Blue/Orange |
| 12 | Pro-Am | 22 | Dexion / RAM Motorsport | Dean | Cook | VIC | Grey / Red |
| 13 | Pro | 23 | TekworkX Motorsport / MDE Group | Luke | Youlden | QLD | Black / Yellow |
| 14 | Pro-Am | 27 | Wall Racing / MOUTAI | Liam | Talbot | QLD | Silver |
| 15 | Pro | 28 | Hall Finance / Insurance Solutions | Bayley | Hall | QLD | Silver / Green |
| 16 | Pro | 32 | Porsche Centre Melbourne / BWT | Courtney | Prince | VIC | Pink/White |
| 17 | Pro | 38 | Wall Racing | David | Wall | NSW | Black / Red |
| 18 | Pro | 72 | TekworkX Motorsport / Tyrepower | Max | Vidau | SA | Blue / Red / White |
| 19 | Pro | 76 | VCM Performance / HP Tuners | Christian | Pancione | VIC | Red |
| 20 | Pro-Am | 77 | Sonic Motor Racing Services / Bob Jane T Marts | Rodney | Jane | VIC | Yellow / Blue |
| 21 | Pro | 78 | Sonic / Supa Straw | Marcos | Flack | VIC | Blue / Pink |
| 22 | Pro | 88 | Dexion / RAM Motorsport | Dylan | O'Keeffe | VIC | Grey / Red |
| 23 | Pro | 99 | Earl Bamber Motorsport | TBC | TBC | QLD | Yellow |
| 24 | Pro | 101 | Game Over | Ryder | Quinn | QLD | Yellow |
| 25 | Pro | 222 | Scott Taylor Motorsport | Alex | Davison | QLD | Black/Green/Red |
| 26 | Pro | 777 | Sonic Motor Racing Services / Bob Jane T Marts / Bremtech | Simon | Fallon | VIC | Yellow / Blue |
| 27 | Pro | 992 | Porsche Centre Brighton Motorsport / EBM | Dale | Wood | VIC | Blue / White |
| 28 | Pro | 999 | Sonic Motor Racing Services / Bob Jane T Marts / Pitbox | Angelo | Mouzouris | VIC | Yellow / Blue |