AU Vs NZ ADL TCM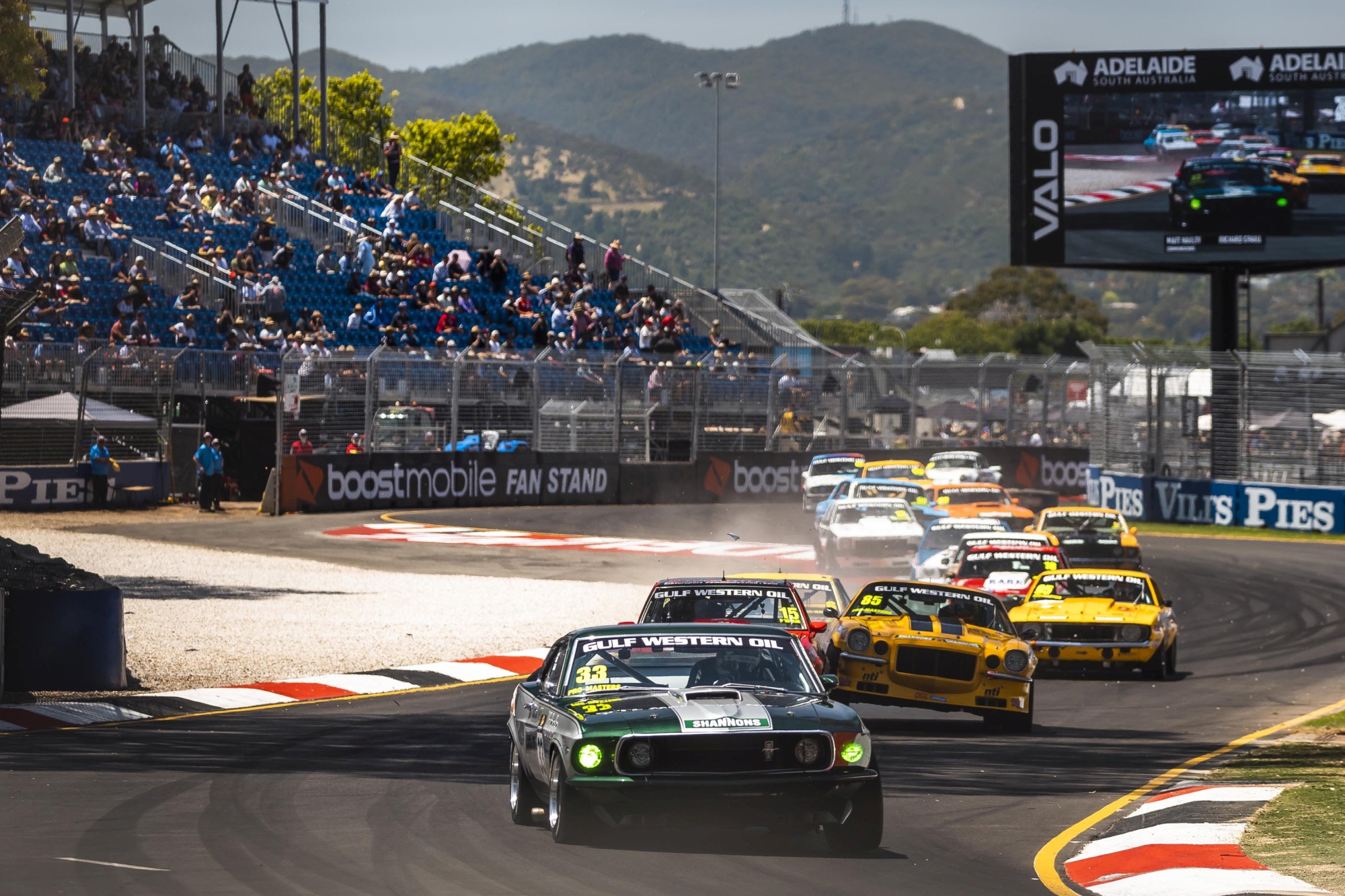 A MUSCLE CAR title bout as if from the history books awaits when the Gulf Western Oils Touring Car Masters Series heads for a championship showdown at the VAILO Adelaide 500 this week. 
Two famous surnames, owned by the sons of two Aussie motorsport legends, will battle for the title and they'll do it with one in a Holden and one in a Ford.
It will be the key storyline among many as a strong 27-car field line up on the Adelaide streets this weekend.
Three-time TCM champion Steven Johnson will look to add a fourth title aboard his 1969 Ford Mustang Trans Am, while Ryan Hansford will aim to stop him and go back-to-back aboard his Holden Torana A9X.
The pair are split by just 75 points with 200 up for grabs across three championship races and the inverted grid Trophy Race this week in Adelaide.
Johnson was in conservative mode at Bathurst recently, while Hansford nibbled away at the Mustang drivers' championship lead with a series of strong performances.
The pair shared the front row in Adelaide twelve months ago and while Johnson swept the weekend's championship races, Hansford did enough to seal his maiden TCM title on the Adelaide streets.
Meanwhile, a titanic scrap for third in the championship is set to unfold this weekend with Marcus Zukanovic (Ford Falcon), Cameron Tilley (Valiant Pacer), Andrew Fisher (Holden Torana) and the legendary John Bowe all split by just 28 points in third, fourth, fifth and sixth, respectively.
Zukanovic is coming off a career weekend in TCM at Mount Panorama, while Tilley's strong recent form also saw him leap Fisher in the standings heading into the finale'.
Bowe, meanwhile, will be looking to cap off his year-long 'ciao for now' tour as he enters his final Touring Car Masters weekend as a full-time driver in the category.
The key title protagonists may find them looking at the Chevrolet Camaro tail-lights of the local squad Whiteline Racing, who will return with their two-car team this weekend.
South Australian and recently crowned Aussie Racing Cars champion Joel Heinrich will once again drive the team's #95 entry, having swept the round at The Bend Motorsport Park in August, while Geoff Fane will drive the sister car.
The Adelaide team have a strong track record of success at their home venue and will look to add to that this weekend off the back of Heinrich's form at the permanent circuit three months ago.
The superb Adelaide grid is bolstered by several invitational category drivers from Adelaide, plus the six cars visiting Australia from the Touring Car Masters New Zealand Series.
The TCM grid will be the first cars on track at this year's VAILO Adelaide 500 with their practice session set for 8:00am on Thursday morning, to be followed by Qualifying later that morning.
That will be followed on Friday by the Trophy Race at 9:25am and the first championship race of the weekend at 4:15pm.
Race 2 (11:30am Saturday) and Race 3 (11:25am Sunday) then complete the weekend, with coverage across Friday, Saturday and Sunday on Fox Sports 506 and Kayo Sports.
ENTRY LIST – Gulf Western Oil Touring Car Masters Series
| | | | | | | | | | |
| --- | --- | --- | --- | --- | --- | --- | --- | --- | --- |
| 2 | Pro Am | Garwood Racing | Adam | Garwood | VIC | Holden | VB Commodore | 6000 | White/Blue/Red |
| 3 | Pro Am | Western General Body works | Danny | Buzadzic | VIC | Holden | Torana A9X | 6000 | White |
| 4 | Pro Sport | Northside Taxis | Allan | Hughes | QLD | Holden | Torana | 5000 | White |
| 6 | Pro Master | Multispares Racing | Ryan | Hansford | QLD | Holden | Torana A9X | 5000 | Yellow/Blue |
| 7 | Pro Am | MoCOMM Motorsport Comms | Jim | Pollicina | NSW | Holden | Torana A9X | 5000 | White/Black/Red |
| 09 | Pro Master | Jesus Racing | Andrew | Fisher | NSW | Holden | Torana A9X | 5800 | Red |
| 12 | Pro Sport | Depulu Wheel Reconditioners Gold Coast | Peter | Burnitt | QLD | Holden | Torana A9X | 5000 | White |
| 17 | Invitational Aus | Dennis Transport | Hagen | Zerk | SA | Ford | XA GT Coupe | 5800 | Black |
| 18 | Pro Master | Rare Spares /PAYNTER DIXON | John | Bowe | VIC | Holden | Torana SL/R 5000 | 5000 | Black/White |
| 30 | Invitational Aus | Team Quartz Motorsport | Chris | Meulengraaf | SA | Porsche | IROC | 3600 | White |
| 33 | Pro Master | Hancock Racing | Steven | Johnson | NSW | Ford | Mustang Trans Am | 5800 | Silver/Green |
| 55 | Pro Sport | Bullet Trailers Racing Team | John | Adams | VIC | Ford | Falcon XY GT | 5800 | White |
| 60 | Pro Am | Anglomoil Superior Lubricants | Cameron | Tilley | NSW | Valiant | Pacer | 6000 | Blue |
| 62 | Invitational Aus | Palmers Sales and Marketing | Jason | Palmer | SA | BMW | E30 | 3250 | |
| 70 | Invitational Aus | High Performance Motorsport | Ian | Price | NSW | Ford | Escort Mk II | 2000 | White /Blue |
| 71 | Pro Master | Action Motor Industries | Marcus | Zukanovic | VIC | Ford | Falcon XD | 5800 | White/Blue |
| 77 | Pro Sport | SNB Berryman Racing | Warren | Trewin | VIC | Holden | HQ Monaro | 5810 | Blue |
| 85 | Pro Am | Daimler Trucks Adelaide/Ausblue/NTI Insurance | Geoff | Fane | QLD | Chevrolet | Camaro SS | 5800 | Yellow |
| 88 | Pro Am | TIFS Third Party Logistics | Tony | Karanfilovski | NSW | Ford | Mustang Trans Am | 5800 | Orange |
| 95 | Pro Master | Daimler Trucks Adelaide/Ausblue/NTI Insurance | Joel | Heinrich | SA | Chevrolet | Camaro RS | 5800 | Yellow |
| 99 | Pro Am | RedAss Burrito / Bespoke Financial Advisory | Ben | Dunn | NSW | Chevrolet | Monza | 6000 | White |
| 104 | Invitational NZ | Life Sciences NZ | Colin | Meadows | NZ | Chevrolet | Camaro | | White |
| 110 | Invitational NZ | NZTCM | Sean | McCaughan | NZ | Ford | Falcon XY GTHO | 5800 | White |
| 117 | Invitational NZ | NZTCM | Greg | Cuttance | NZ | Ford | Falcon XE | 6555 | Blue |
| 133 | Invitational NZ | NZTCM | Dennis | Lovegrove | NZ | Pontiac | Firebird | 7000 | |
| 143 | Invitational NZ | Fluidex Transport / Engine Dynamics | Tony | Galbraith | NZ | Valiant | Charger | 6000 | Orange |
| 184 | Invitational NZ | Hamilton Asphalts | Lance | Hughes | NZ | Holden | Torana SLR5000 | 6700 | Red |