FANCY a racing-themed beer with your mates? Or a feed in between a treasure trove of racing memorabilia and cars? GARRY O'BRIEN, who was there, remembers a US-based restaurant chain that offered just that and more.
WORDS: Garry O'Brien
ONE OF the great pleasures of reporting/spectating race meetings is the catch-up at the end of the day with colleagues, race drivers and crew members.
Cowes on Phillip Island springs to mind as a town with a small business centre that puts a lot of the interested parties in a smallish locale. There is no centralised theme just a couple of great venues for food, drinks and chat.
Imagine if there was a specific race-minded establishment within easy reach of all our popular racing venues.
Let me give you an example – back in the '90s there was Race Rock. It was created by a consortium that included Richard Petty, Kyle Petty, Jeff Gordon, Geoff Bodine, Rusty Wallace, Bobby Moore, John Force and Mario and Michael Andretti, and plans were to turn it into a chain of race-themed restaurants.
The first opened in Detroit in 1992 and another, briefly in Las Vegas. The Orlando operation was the flagship and opened in February 1996. For eleven years it was hard not to notice the gigantic blue Bigfoot monster truck parked between the fence bordering the expressway and the chequered-flag-roofed restaurant.
It was aimed more at race fans and tourists in much the same way that Planet Hollywood worked for fans of the cinema. Generally tourists would be travelling along Interstate 4, either chaperoned in large buses or in their rented RVs, either coming or going from Walt Disney World, Universal Studios or Sea World.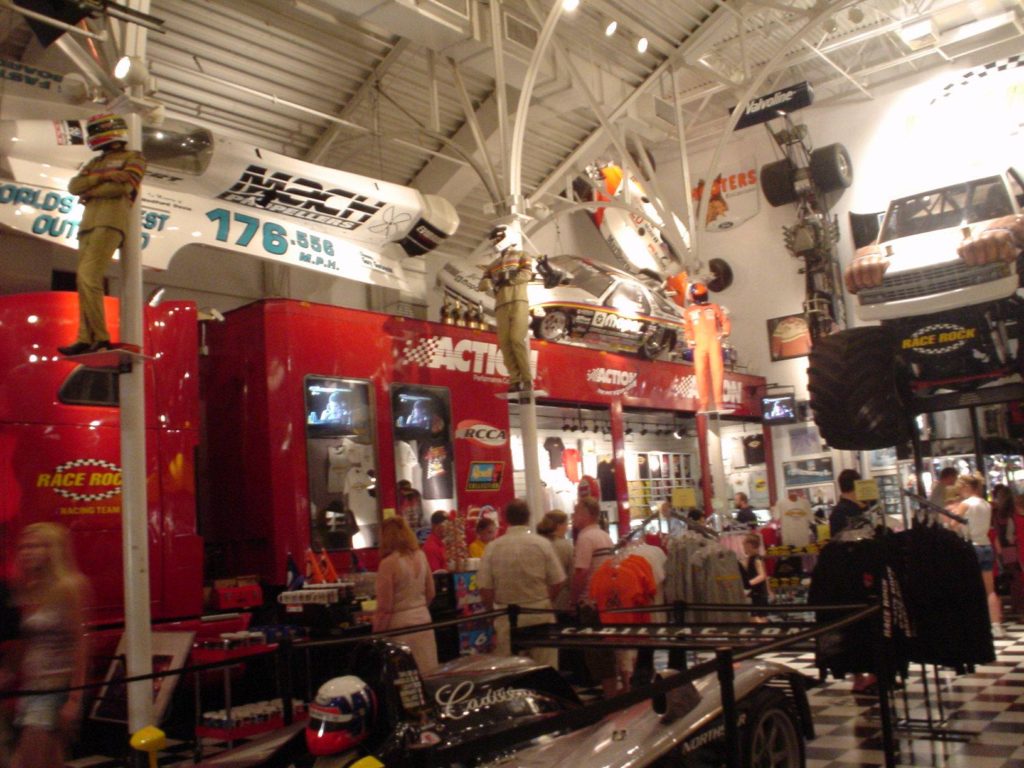 In my case, I just happened to be travelling by in August of that opening year and figured I just had to check it out.
The Bigfoot is a story in itself. It's one of three that creator Bob Chandler built to be the world's largest monster truck, with 3.0-metre tall tyres and wheels so large an adult could stand inside one and thousands did, posing for photos.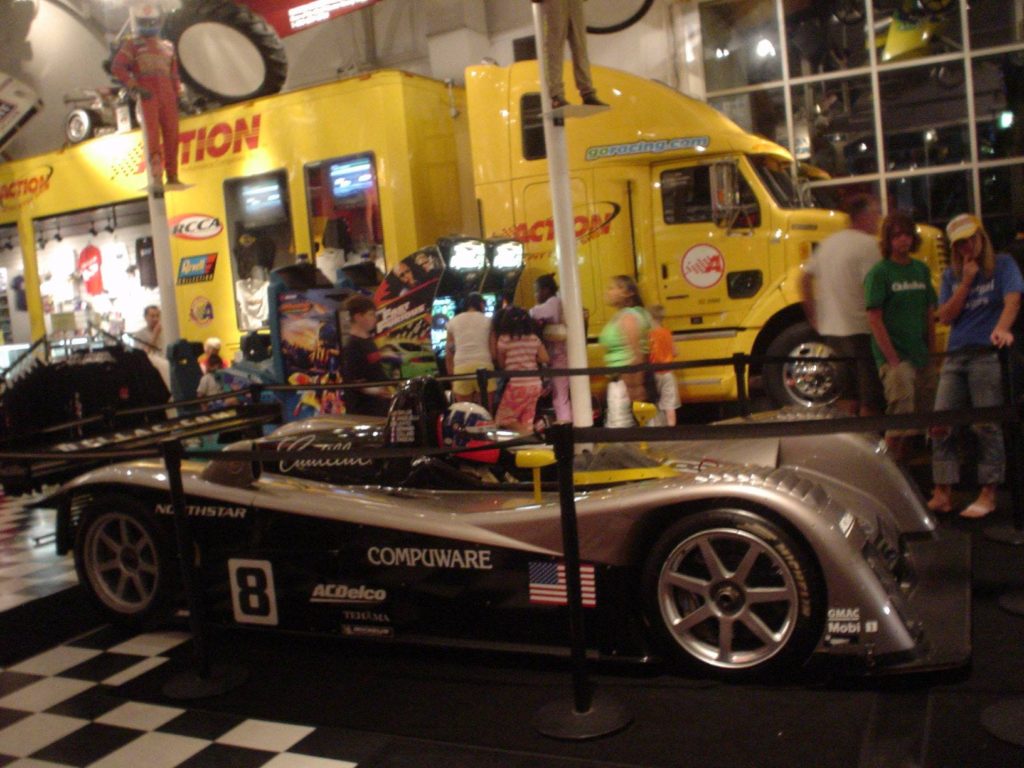 The restaurant quickly became one of the US's best-known race-themed eateries. The menu began with "Start Your Engines" and progressed through "Qualifying Laps", "The Main Event" and "Victory Lap". There were lots of other groups too, serving breakfast, students etc and themed-named accordingly.
It served such delicacies as the Brute Force Burger and the Gordon Double Pepperoni Pizza. Of course there was also The King – a certified Angus New York strip steak with balsamic glaze caramelized onions, presented with "crashed" garlic potatoes and fresh vegetables.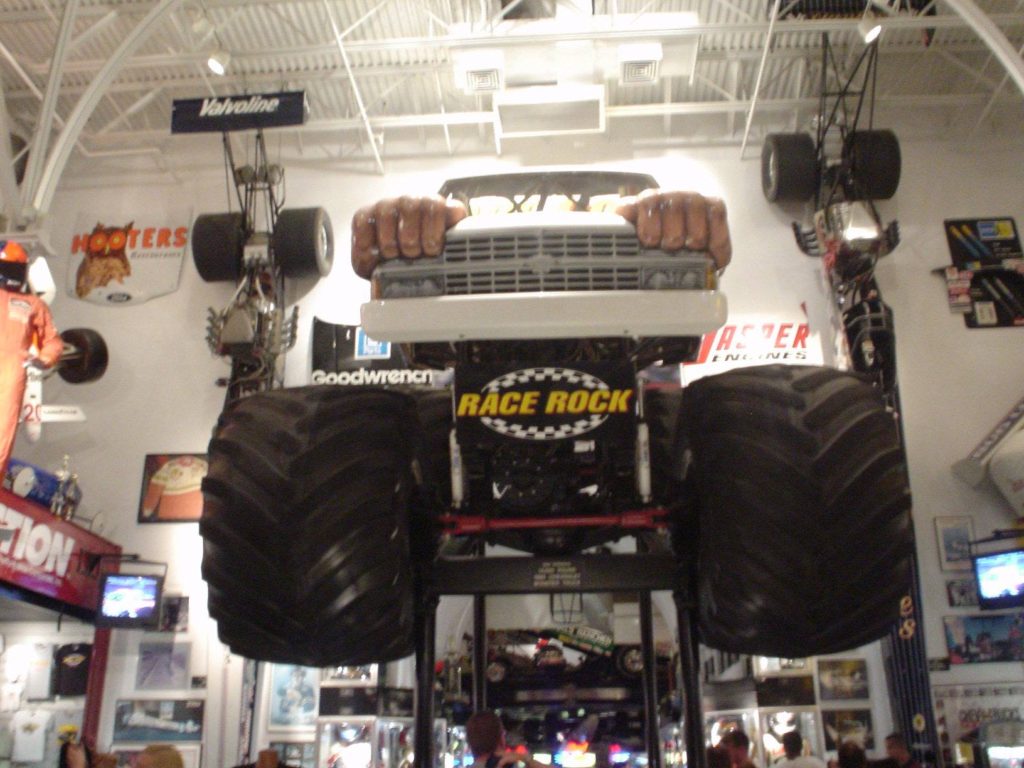 On the drinks side, there were the choices that came from the Racing Fuels selections, sub-divided into No Octane, Low Octane and Top Alcohol Mixtures. Some of beverages come via the fuel churns that sat on the bars while some of the high octane creations would floor an elephant (We imagine Garry, however, consumed them all without nary a stumble. Elephants remain in awe of Garry's ability to be not floored. – Ed).
Naturally the staff members were in pit crew attire, sans the grease and while waiting, drinking and or eating, there was plenty to keep patrons amused. They were surrounded by dozens of televisions playing nonstop racing, demolition derbies and monster-truck races.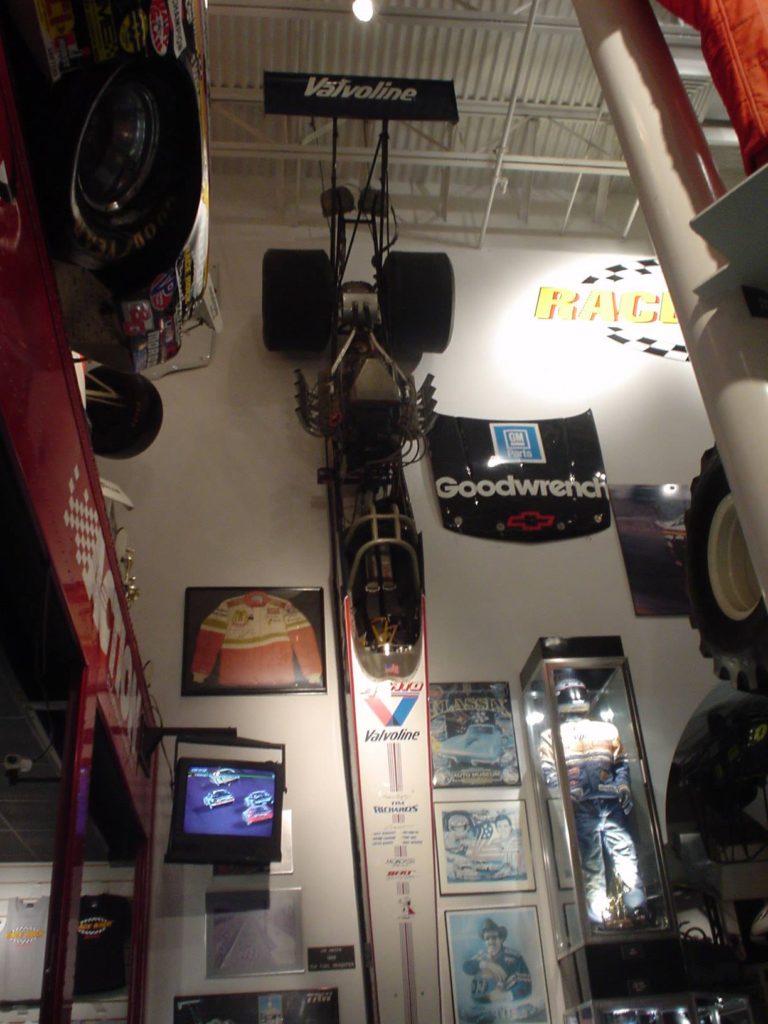 The place had numerous authentic racing cars on the floor, hanging from the ceiling and lining the entrance. Inside the foyer were two full-sized trailers, each stocked with souvenir hats and T-shirts for sale.
Race Rock closed when the location was sold to an investment group for $US7.5 million – the property had become more valuable than the restaurant. The business did well, selling burgers and T-shirts, but the building needed a new roof and the air conditioning needed an overall—it was either spend or sell.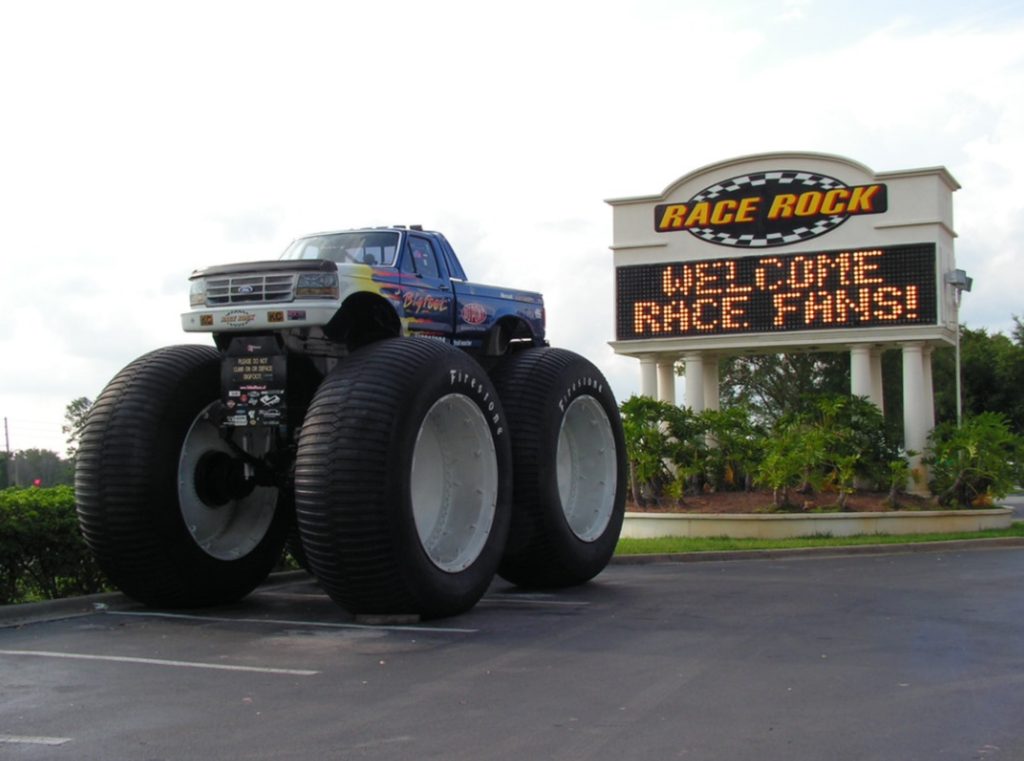 It was quite a garage sale! Besides the items within, there was enormous stock that had been stored from the other locations. That included more than 40 bonnets from race cars, 200 driver suits, dozens of paintings, photos and trophies . . . and numerous race cars.
The Miss Budweiser hydroplane went back to the original owners and the original Dale Earnhardt #3 Chevy NASCAR was in advance. It all went – chairs, display cases and even the mannequins that were draped with driving suits.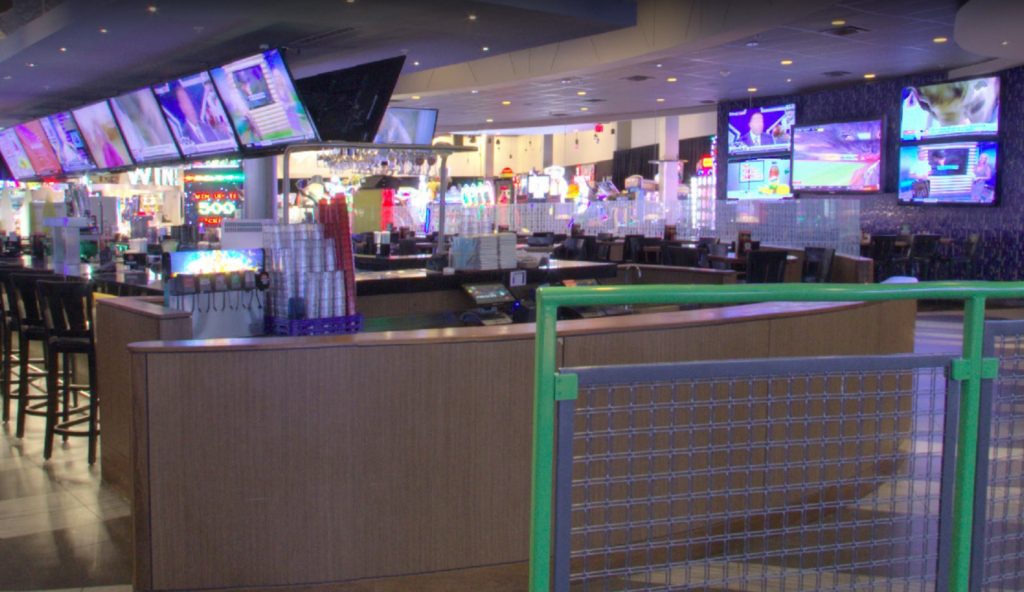 Others displays that went, included a John Force Funny Car dragster body singed in an on-track explosion, and 1992 Pontiac Grand Prix STP #43 driven by Richard Petty in his last year of racing for just $9,000.
There was Superflow Chevy Monte Carlo driven by Tom Cruise (as Cole Trickle) in Days of Thunder for 15 grand, and a Sir Jack Brabham Formula One helmet for $1,500, just to name a couple.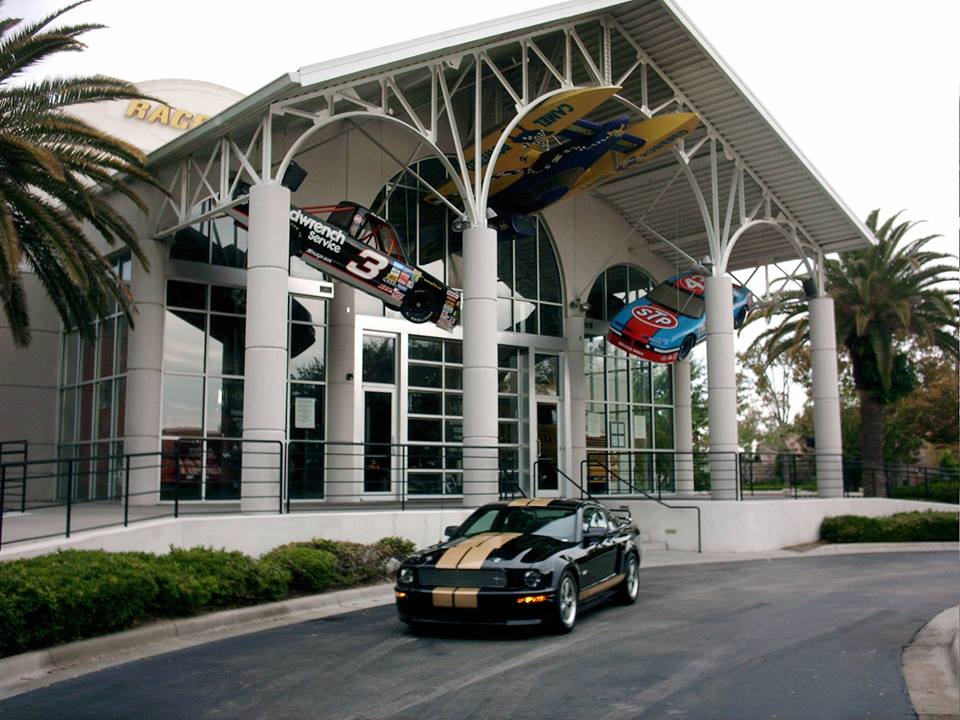 I know it wouldn't get the patronage to work here in Australia, but I like the idea. I reckon after working trackside all day, I could settle in for a red bull steak, medium to well, and washed down with a v-power bitter while reviewing the day's proceedings.
Mmmm… if I take the laptop, I could start with breakfast and stay all day…