WELCOME TO the next edition of the TRT Power Rankings, powered by Yellow Cover. This week, instead of the usual 'Hot / Not', we present the 'Yeah / Nah' rankings. Seemed appropriate.
WORDS: Richard Craill, Dale Rodgers, Mark Walker, Tony Schibeci, social contributors
IMAGES: Clive Rose / Getty Images
YEAH
1. THE RIVALRY
SVG versus Anton is shaping up into something truly excellent, with a series of growing last-lap exchanges.
2. THE TITLE BATTLE
We're not sure anyone really cares that much, but the battle for the eSeries title is heating up nicely, with McLaughlin having had a few quiet rounds and van Gisbergen flying.
3. YEAH NAH NAH YEAH
The new 'Multi 21'? Nah Yeah.

🎮 #VASC #L4NDO pic.twitter.com/0fEpcIwuEC

— #L4NDO (@TeamL4NDO) May 13, 2020
That is one hell of a strategy @LandoNorris 😂😜#VASC pic.twitter.com/BnKMNrlI9W

— Supercars (@supercars) May 13, 2020
Who taught @LandoNorris to say "Yeah Nah" haha? #ALandoDownunder 🇦🇺

— Chad Neylon 🇦🇺 (@chadneylon) May 13, 2020
Yeah nah, nah yeah mate @LandoNorris #landodownunder #VASC

— Will (@blackhatWilly) May 13, 2020
How to complete a post-race interview 101 @LandoNorris 😂#VASC pic.twitter.com/v9AsWEVj13

— Supercars (@supercars) May 13, 2020
Yeah, nah, lets take a look at the Hino Hub for Race 20 of the BP Supercars All Stars Eseries #VASC pic.twitter.com/R69hpWDsxx

— Supercars (@supercars) May 13, 2020
What about that for a spicy first lap 😬

🎮 #VASC #L4NDO pic.twitter.com/QdN91uNHeX

— #L4NDO (@TeamL4NDO) May 13, 2020
4. JESS YATES
She's doing a superb job tying it all together before, in between and after the races. Underrated host talent.
5. AUSTIN CINDRIC'S JUKEBOX
Up there with Rick Kelly's portrait of Kramer and Nelson the dog for 'best backdrop' in the eSeries so far.
6. LANDO + McLAREN
Has added genuine star power to the championship and having the races streamed through McLaren's facebook page and it's fifteen billion fans has been undoubtedly very good for the exposure of the eSeries.
7. McLAUGHLIN TWITCH
Teed off properly after the reverse-grid race and it was great. This eSeries is supposed to provide a deeper insight into the drivers and their personalities and Scotty's has done that. It's real, raw, unfiltered and excellent. Check it out here.
8. HAZELWOOD v LANDO SCRAP
Not sure Todd would have ever thought he'd be up against Lando in a scrap, but a terrific, clean battle and the smiles on their faces were proof both enjoyed it.
9. NELSON (AGAIN)
Nelson having a drive. Yes, the new hero of the Supercars eSeries was up and about – for a few minutes – and showed us his driving prowess with a little help from proud dad Nick Percat. More dogs please. 'That strategy's got fleas!' just a bit of gold from Crompo.
NAH
1. COTA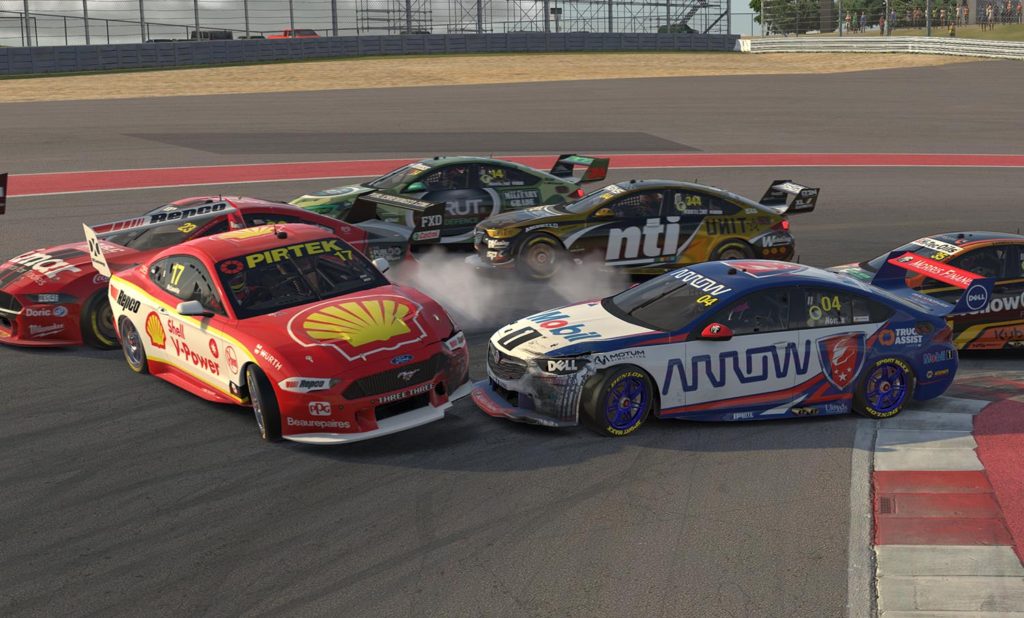 We think they should have had a crack at full GP track. The races would have been shorter but at least there would have been places to overtake. Eseries really showing up the classic circuits such as Bathurst, PI, Silverstone and Spa against the modern tracks like COTA and highly modified Spain.
Too many corners, too many long loaded corners makes for a circuit that didn't suit Supercars in the real world and didn't do it in the virtual one either. eSeries should be about playing to the strengths and trying new stuff – this particular week didn't work.
2. ROUND 6
Team TRT unanimously voted Round 6 as a hard 'Nah'. Felt flat. Racing was average. Not enough comedy (intentional or otherwise). Move on.
3. INTERNET
Should we just give this a perpetual Not? Facebook stream failed after 15 minutes and had to be rebooted. Has to be the NBNs fault, surely.
4. NO VIRTUAL DUST UPS?
The last time Supercars went to Texas there were several altercations pre and post-event that have become lore in the paddock. None of that went on this week – that we know of – and we are for the lesser.
5. SPORTS BET MIA?
Those who have seen this column for the last few weeks will have noticed it was full of tweets from SportsBet, who are excellent at Twitter. They were MIA on Wednesday night and while that's good for gambling (see last week's column) it's not good for our content.
6. VIRTUAL PIT CREWS
Just stand there, slightly moving. Do some work lads!
7. NON EVENT WILD CARDS?
OUCH 💥😬 @redbullholden#VASC pic.twitter.com/iJrqdINWEt

— Supercars (@supercars) May 13, 2020
8. REVERSE GRID START
Reverse grid racing is underway at @COTA, and it's shunts galore! 💥 #VASC pic.twitter.com/sDItCTcNse

— Supercars (@supercars) May 13, 2020
9. FABIAN'S STICKY ISSUES
@FabianCoulthard is struggling with some hardware issues. He's brake petal is sticking at random times. #VASC

— Shell V-Power Racing (@DJRTeamPenske) May 13, 2020
NAHYEAH / YEAHNAH
(otherwise known as 'What')
Did you know Dale Jr has been a spectator at every eSeries round.. indeed, every iRacing event, ever staged?
True story. A mystery artist has done this for 10+ years. Sometimes we are in very creative locations. Try flying out to the yacht in the bay off the coast of Philip Island!

— Steve Myers (@iRacingMyers) May 10, 2020
THE TWEETS
This is fine @iRacing #VASC pic.twitter.com/SKGPfPwrOf

— Povilas M (@itsSirCoin) May 13, 2020
Too good not to😂 #VASC #AustinPower pic.twitter.com/CprPGgYZb3

— Shell V-Power Racing (@DJRTeamPenske) May 13, 2020
@KellyRacingAus #vasc
Rick Kelly's Sim 'sprayed for white ants'!! 🤣🤣

— KasG 💙💛 (@HarlieZola) May 13, 2020
When are we going to see Brad Jones drive in the #VASC #Eseries?

He was the man who was leading the sim nation in the 90s pic.twitter.com/YYFwFm80RT

— Nicholas Kutnjak (@nkutnjak) May 13, 2020
MEME