THE (LAP) RECORD BREAKERS: PHILLIP ISLAND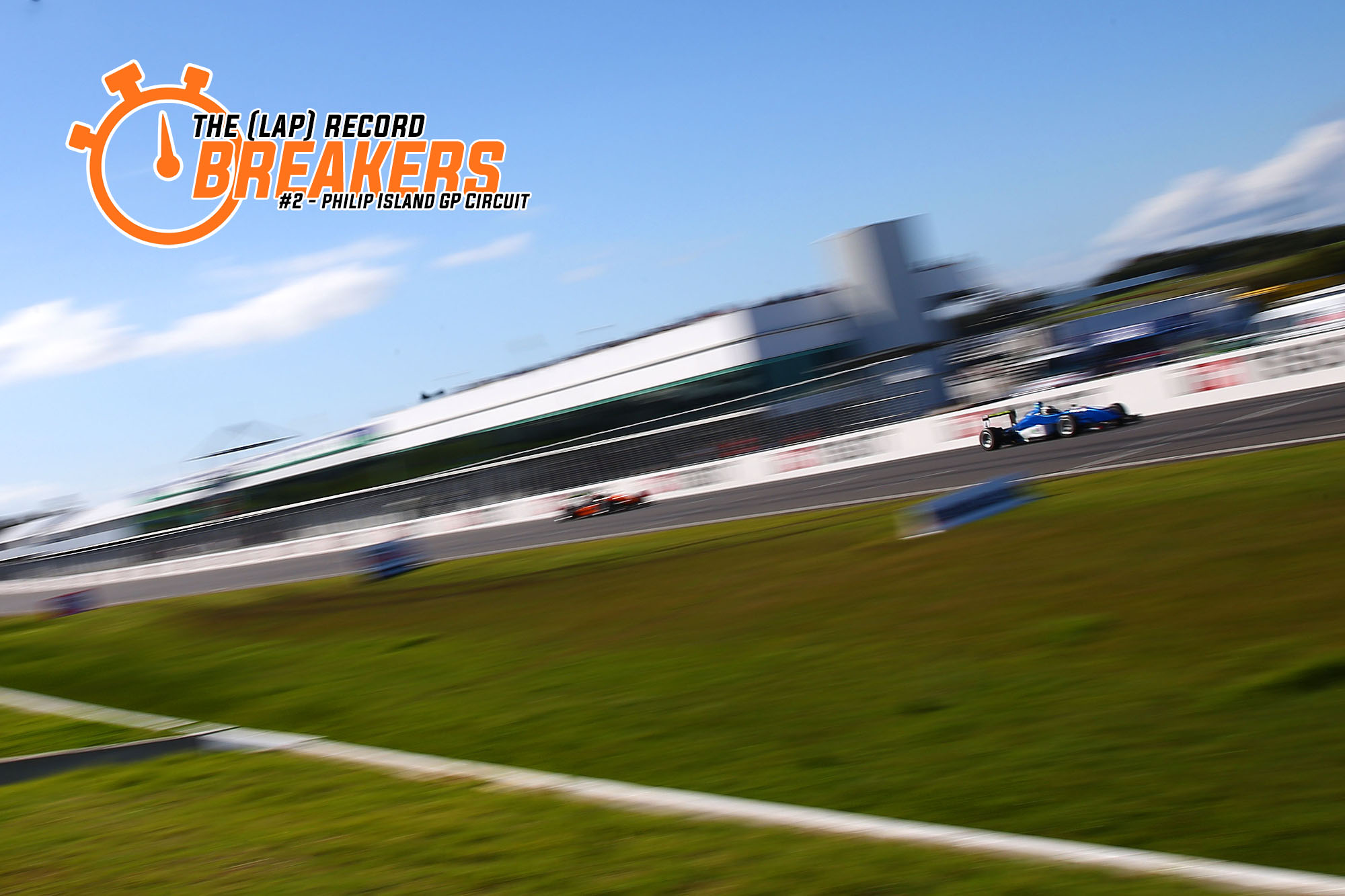 EVERYONE loves a lap record – it is a fact. Look at the frenzy of emotion any time someone nudges the Supercars or outright benchmark at Mount Panorama as evidence. Having a lap record, being the fastest ever person at any given circuit, has a kind of cachet that only winning can match.
WORDS: Richard Craill
BATHURST's benchmark is the most famous but there are some remarkable record-breaking feats logged in the history books of most Australian circuits.
We thought it was worth bringing people up to speed with who currently holds the outright benchmark at each track around this wide brown land, and who has come close to matching or bettering it.
Then, just for fun, there will be some prognosticating about who or what will be the next to set a new one in the future.
Last week we looked at Symmons Plains and the bid to beat Alfie Costanzo's longstanding 1980 Lap Record.
This week we're just across Bass Straight to a circuit with more renown than just about any other in the country, and certainly more speed.
That's right – it's the fastest circuit in Australia: Phillip Island.
PHILLIP ISLAND GRAND PRIX CIRCUIT
CURRENT RECORD:
Simon Wills, Reynard 94D Formula Holden. 1m24.2214 – 13 February, 2000.
FORMULA HOLDEN at its peak offered up the fastest domestic racing cars Australia has yet seen and at many circuits they still hold the outright benchmark; including at Australia's fastest track.
Simon Wills still holds what is now a 20-year-old record, having punched out his stunning 1m24.2214s as he beat Matt Halliday home in the first round of the 2000 Formula Holden Australian Drivers Championship.
With an average speed on the high side of 195km/hr, it's the fastest lap in terms of average speed of any circuit in Australia to this day.
Formula Holden was at its peak in the late 1990s and early 2000s, Wills beating out the likes of Halliday, Christian Murchison, Tim Leahey, Paul Dumbrell and others en route to his second Gold Star title in a row.
As well as being hugely quick and experienced by this point, Wills was also armed with the best gear: by the year 2000, Birrana Racing's Renyard 94D chassis' were probably the most developed open wheel cars around.
Formula Holden cars had the perfect overall balance of horsepower – to give them the straight line speed required along Gardner Straight – and downforce for all of the medium-to-high speed corners that has for 20 years ensured they remain the fastest ever cars on the Island.
THE CLOSEST CONTENDER:
Tim Macrow, Dallara F307 Mercedes Benz. 1m24.5146s – 21 September, 2013.
PHILLIP ISLAND was resurfaced in 2013 and with that came a renewed push to chase Wills' old benchmark.
When the Australian Formula 3 championship arrived at the circuit in 2013 the existing F3 record (a 1m26.90s) was a way off Wills' benchmark – but times would quickly tumble thanks to the new surface and a competitive, if small, grid.
In Qualifying, Tim Macrow smashed the existing record at the Island, grabbing pole with a time under Wills' benchmark – his 1m24.1297s a stunning lap, but the task would be to repeat it in the race.
Repeat it he did. In a tense battle with BRM teammate John Magro, who led from the start of the race, Macrow chased his teammate hard and on the seventh of nine laps punched out a 1m24.5146s best; a new F3 lap record by 2.3 seconds.
Remarkably, the entire field lapped under the existing F3 benchmark.. but still failed to beat the Formula Holden benchmark.
Less ideal conditions on the Sunday of that event saw times half a second slower, leaving Wills' best safe for another year.
THE BEST BET TO BREAK IT:
S5000 has the best chance to knock Formula Holden and Simon Wills off the Phillip Island perch.
The cars are rapid in a straight line (they nudged 300km/hr) which makes up for their relative paucity in aerodynamic downforce and at the pre-season test earlier this year reportedly lapped in the low 1m24s, putting them within striking distance of Wills' benchmark.
With further development and the competition of a racing scenario there's a very good chance they will be the first cars to delve beneath the twenty fours in racing conditions at Phillip Island.
Sports Cars could also have a chance: British gun James Winslow has been in the 1m25s at Phillip Island in a V8-powered Radical. If he, or someone of his talent, was let loose in a Prototype Series Wolf CN car – one freed of any Balance of Performance measures – then that would shape as an outright record contender for sure as the Wolf has more grunt and much more aero than the Radical benchmark.
But the S5000 theory is a stronger chance.
Other possibilities? Well, if Matt Radisich can find a category that will allow his Dallara IndyCar to race then he would be assured of a new benchmark – but keeping in mind the recent changes to the manual of Australian Motorsport that official records can only be established In a race, he'd have to find a category willing to take him!
It's worth noting: a lap time of 1m22.8 seconds at Phillip Island would see an average lap speed of 200km/hr – a feat never yet achieved on an Australian road course.
To achieve that record at Bathurst, a race lap would have to be completed in 1m51.5 seconds.