ESeries: "..it got a little out of hand!"
With the latest lockdowns across numerous states in the country, most motor racing has been put on hold.
However, to ensure everyone has their racing fix, in its place is the returning Supercars Eseries on the iRacing platform.
The competition has 2 championships; the All-Stars which consists of Supercars and Super2 drivers and the Pro Series which is for the elite gamers.
The series will run over six weekly rounds from August 25th to September 29th and is broadcast live across Fox Sports, Kayo, 7Plus and Supercars Facebook, Twitch and YouTube pages.
The series has a large fan base with the first of six weekly rounds on Wednesday August 25th, attracting more than 20,000 viewers on Supercars YouTube channel alone.
On this week's podcast we spoke to Scott Pye about the new Eseries season and how successful it has been since its introduction last year.
"I actually really enjoyed it last year and embraced it and gave everything my best shot. I'm not a gamer and I am not someone who has spent a lot of time on simulation," he said.
"So, it was a bit of a rude awakening first race, and I was towards the back of the pack."
But of course, Scott and the other Supercars drivers still have that competitive edge even in virtual racing.
"We all entered it with the mentality of its just a game we will have some fun, but you know what we are all like with a steering wheel and pedals in front of us, we are all trying to prove we are better than the other guy."
2021 marks the second year running that Supercars has run the Eseries competition after a hugely successful season last year.
The Team 18 driver believes that it has been a great lockdown hobby for motor racing fans and drivers.
"Fans, they want to switch off from the real world when they watch sport."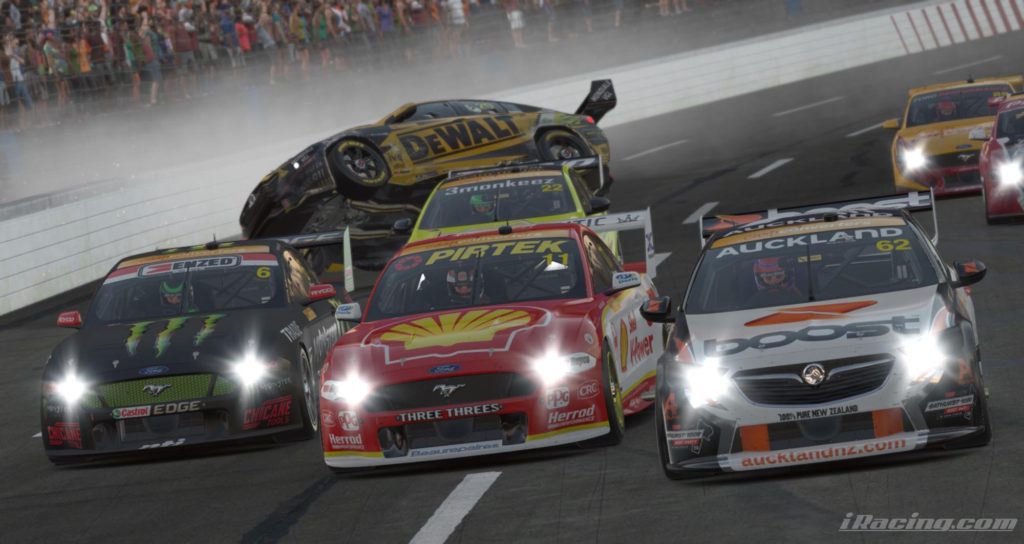 "They want to enjoy themselves and not have to worry about real-world problems. And I think that's what the Eseries did last year, we gave everyone a reason to smile again and have a laugh."
ESeries has brought the racing community closer together allowing fans and drivers to connect beyond only the real race days.
Scott was taken back by how big the fanbase was.
"I could not believe how quick the community grew. And the chat was so friendly, and everyone was there for the same reason."
Gaming can be quite addictive, and it is no different for the professional drivers.
"It kind of got a little out of hand, I was streaming like 12 hours some days, sometimes until 3 o'clock in the morning," he joked.
One of the major attractions of the virtual racing for fans and drivers alike is getting to try out things that you can't in real racing.
"That's the cool thing with online," Scott said.
"We have all wondered what it would be like to drive a Supercar around a place like Spa or to have a go on an oval. And I've never raced on one before, so I was pretty excited to get the opportunity to do it."
"To be thrown in there with all the Supercars drivers and go and race each other on an oval was really cool."
There is an upside to keeping it virtual though.
"I would not want to do it if the crashes were as big as what we had, that's for sure," he joked.
"I think I got stuck all but one time, but it was cool. And I think that's why we are doing the ovals this time because it was probably the most exciting race."
During Round 5 of this season's ESeries the drivers and professional gamers will team up for a co-driver race at Mount Panorama.
Scott is looking forward to it but does not want to let his team down.
"I'm not sure how much freedom we get in strategy for pitting, but to be honest if there was not a driver minimum, I would probably pit at the end of the first lap and hopefully we win the race," he joked.
"But I think they are going to put a minimum for us drivers. Because we know that the pro gamers are going to be so fast, and Bathurst is tough," he said.
"I need to start practicing there because that track is where I got my nickname last year, the 'Outlap King'."
"It was because I kept crashing on the outlap. Bathurst is so difficult in real life, but it's ten times more difficult in the game."
It is great to see the rise of the Eseries and how well the drivers have taken to it during the pandemic.
But of course, we want to see them back out on the real track.
We got Scott's take on his season so far.
"We have had some big chunks of points disappear on us. I think for me that is the disappointing part of the season."
"We have not been slow we have just had some bad luck," he said.
"I'm disappointed because I think we should already be in the top 10, but its motorsport, you can't say we should be there because if you're not there, you're not."
For the remainder of the season Scott is optimistic.
"We need to make the best of what we can in the last part of this year," He said.
"I need to improve on all those little things and make sure when I am sitting in third or even better that we make the most it and come home with points that day."
"If I can do that we can certainly get back up and well into the top 10 of the championship. And that is my goal."
"And of course, we all say if your championship has not gone to plan there is still Bathurst, my heart is set on that big time."