Old meets new as Caltex history put on show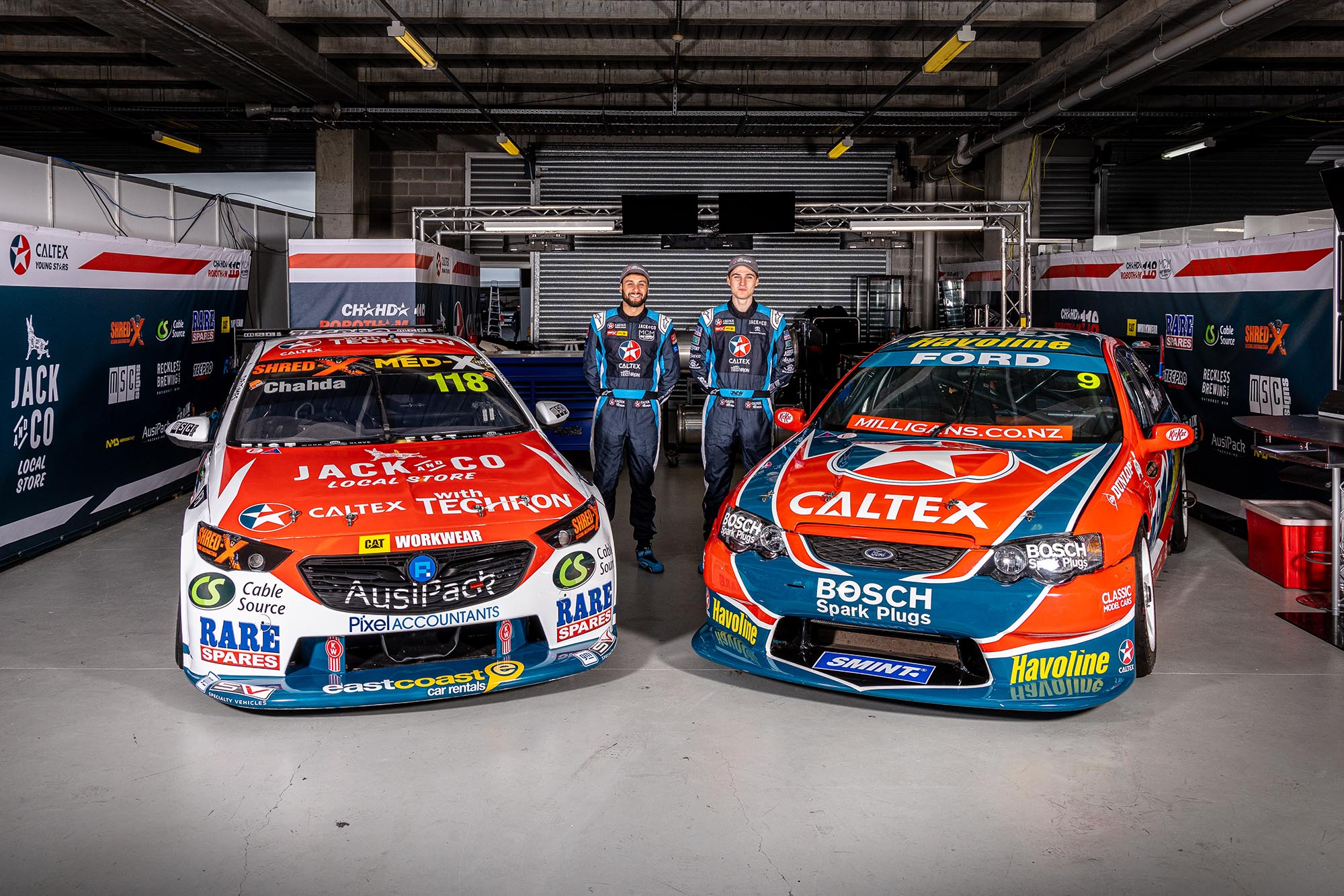 Old has met new as two generations of Caltex-supported Supercars met head on today at Mount Panorama ahead of the Repco Bathurst 1000 this weekend.
The Caltex Young Stars ZB Holden Commodore to be driven by Matt Chahda and Jaylyn Robotham lined up alongside the 2003 BA Ford Falcon entered in the Great Race by legendary team, Stone Brothers Racing.
The pair were on display in the Caltex Young Stars garage in pit lane and both will take prominence across the weekend – the Caltex Young Stars cars on track and the Caltex Stone Brothers Racing Falcon in Bathurst's iconic National Motor Racing Museum.
The pair of cars showcase two decades of the more than 30-year history of the Caltex brand competing at Bathurst, which commenced in 1987 with a Caltex-backed Alfa Romeo driven by Touring Car legend, Colin Bond.
The 2003 Caltex Falcon was raced that year by two-time Bathurst winner and former Supercars champion, Russell Ingall. The car was infamously involved in the confrontation with Mark Skaife at Eastern Creek that year and was also a race winner in Ingall's hands.
Ingall would field Caltex colours at SBR for several seasons, culminating in him winning the 2005 championship with the brand on his car.
The Caltex Young Stars hit the track at Mount Panorama on Thursday morning for the first practice session of the 2022 Repco Bathurst 1000, with Thursday action to be broadcast live on Fox Sports.
Action continues through Friday, Saturday and Sunday with coverage across Fox Sports and the Seven Network.
MATT CHAHDA
"It's special to be bringing a company like this back into Supercars, they're showing how committed they are to it and how committed they were back in the day as well.
"The old car looks great, but I think this one looks better! It looks faster for sure.
"It's all come together really well. We've got a really good team put together, especially given it's been quite a last minute thing. It's come together well, probably better than I had expected.
"I'm not nervous yet, we haven't been on track. I just keep thinking about thew next little thing we have to do and then it's all about getting in the car.
"At the moment there's always people around you and people talking to you all the time – so it will be nice to get my helmet on and get in the car on my own."
JAYLYN ROBOTHAM
"It's awesome to see them together and the history of the car and Caltex at Mount Panorama.
"It's a great way to reintroduce the Caltex brand in the biggest race of the year. It's really cool to be part of it this year.
"It's still pretty surreal, especially knowing all the fans are out there already waiting for us to get on track. It will all change tomorrow, but until the time comes to get in the car there's so much to do. When it comes time to get the helmet on it will be unreal.
"I haven't really thought too much about taking part in the Bathurst 1000 yet, to be honest. With all the rain around it's hard to know what to expect.
"We'll see how we go, keep it off the walls and keep it straight and we'll be good."