The Bathurst lap records that aren't lap records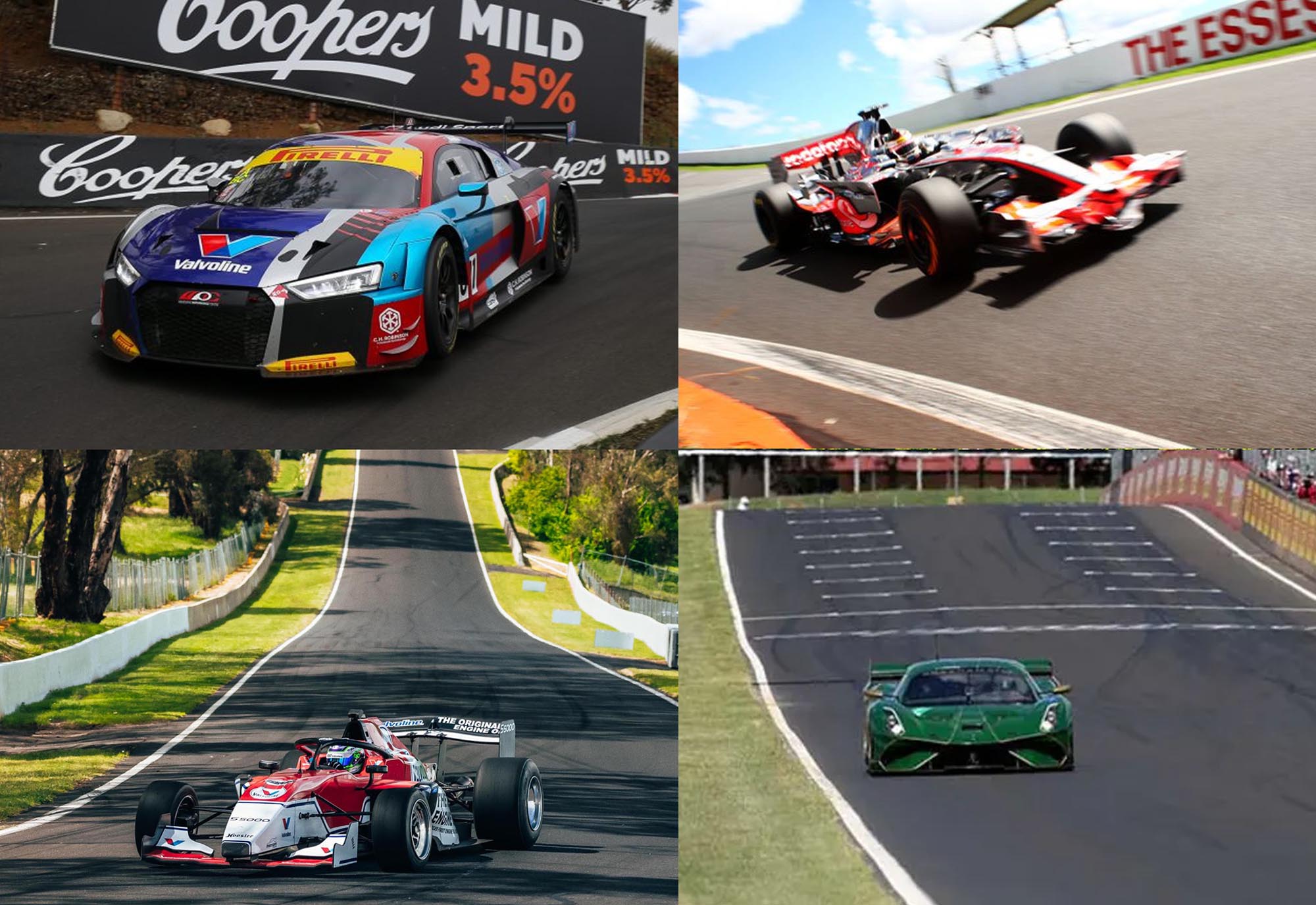 NO CIRCUIT in Australia has a lap time so passionately chased and coveted as Mount Panorama.
The lap record at the iconic circuit has long been a target for individuals, brands, corporations and more as the ultimate arbiter of what is quick in Australian Motorsport.
Bathurst is the one circuit where just about anyone can remember off the top of their head what a decent lap time is – mostly because of Greg Murphy's 'Lap of the Gods' heroics.
Go quicker than that and you're impressive. Get close to two minutes and you're a hero. Go slower? Come back next time.
It's a topic that has again come to light following S5000s stated ambition to 'break the Bathurst lap record' at last weekend's Bathurst International event.
In the hands of James Golding, an S5000 did indeed go quicker than Christopher Mies' current benchmark – but it won't stand as a 'Lap Record' per se.
How come?
Well, it's complicated.
Who actually holds Bathurst's 'outright' lap record has always been a murky topic, mainly because of effort like Murph's stunner in 2003.
It's very easy for commentators, the media and everyone else to slap a 'lap record' tag on a qualy special.
Murphy and Scott McLaughlin are the two main reasons for that, in recent history anyway,
Then there's the demonstration runs; unofficial and sometimes untimed efforts that may well indeed go quicker than the fastest ever lap times set on the Mountain – but don't really count for anything other than pride and PR value.
The real lap records, of course, can only be set in a race – the competition between the green lights going out and the chequered flag falling a certain amount of time or laps later.
Or can they?
A former quirk in the Motorsport Australia National Competition Rules – the bible on which all motorsport is managed in this country – left open a loophole that offered up wording that allowed for records to be counted in sprint events, as well as actual competitive races.
Because sprint events were against the clock and because they were considered competitive events (which they are), it was regulated that if that was the case, lap records could be established in such competitions.
This author was one of the first to discover that quirk in 2012, when Formula 3 made their debut at the Mountain at the Easter Long Weekend Bathurst Motor Festival event.
A year earlier, Maranello Motorsport and the late Allan Simonsen arrived at the 'Sprint Bathurst' event with a tuned-up Ferrari 458 GT3 and sliced more than 3.5 seconds out of the existing outright record; held at the time by Jamie Whincup.
Simonsen's 2m04.9560s best was, at the time, uncharted territory at the Mountain and the first time in history anyone had gone quicker than 2 minutes 6 seconds there. It was a special lap.
But was it a record? Surely it wasn't – given it had been set in a sprint event and not in the crucible of racing competition..
When a year later Formula 3 returned proper 'wings and slicks' competition to Bathurst for the first time in two decades, expectations were high that the high grip, high-speed cars would ensure what was thought to be the outright record tumbled.
At the time, most understood Simonsen's Bathurst 12-hour lap record (Allan Simonsen was very good at Bathurst lap records, in case you had not already noticed) set earlier that year at a 2m06.3311s was the outright benchmark they were chasing.
And as such, British driver James Winslow's 2m05.3502s best in the first race of the weekend was initially claimed as the new benchmark – right up to the officials argued the point that, in fact, it wasn't.
This didn't go down well with Team F3, however after some spirited arguing of the point, clarification came from the secretary of the meeting that it was, in fact, Simonsen's 2m04.95s lap set at the Sprint event that was the correct marker to target.
All thanks to the quirky quirk in the racing rules that said you could do the time in a sprint and it would stand.
Fortunately, the storm in a teacup lasted a day as Chris Gilmour thankfully went quicker than big Al in Sunday's race, ending the discussion point.
At least for a few years, anyway. At least until Audi Sport rocked up to 2018's Challenge Bathurst with a juiced-up, Balance of Performance-free Audi R8, some Pirelli qualifiers, Bathurst hero Garth Tander and gun German ace Christopher Mies to have a crack at not just beating the outright record, but being the first to crack the two-minute barrier, too.
Like Simonsen's event years earlier, this was a Sprint Event, competitively run, meaning records could be set. The rules said they could do it so they accepted the challenge.
Of course the rest is history, with Garth Tander the first into the sub two-minute barrier earlier in the event before Mies stunned everyone with his 1m59.2s flyer.
Good luck beating that.
A year later, CAMS – now Motorsport Australia – changed the wording of NCR 122 which now emphatically states that a Lap Record can only be established during a race.
So while James Golding's S5000 lap was correctly timed and took part at a legitimate event, because it does not occur during a competitive race it does not stand as an official lap record.
Impressive? Absolutely. Official? Negative.
---
What can break the Bathurst lap record now?
SHOULD S5000 be allowed by Motorsport Australia to race at Mount Panorama again, they are clearly the most obvious candidates; Golding's efforts at the weekend – unofficial or otherwise – are proof of that.
GT3 cars continue to evolve, but the track surface evolution at Bathurst, the lack of a tyre war and the fact Balance of Performance keeps things at an even keel among brands means that it's rare to see anything sub 2m02 at the 12-Hour these days.
Outside of that, it's hard to see anyone troubling the two-minute barrier in any competitive race there soon.
The Bathurst Outright Lap Record History
| | | | | |
| --- | --- | --- | --- | --- |
| Time | Year | Driver | Car | Event |
| 2:09.70s | 1970 | Niel Allen | McLaren M10-B F5000 | Easter Bathurst (Pre-Chase) |
| 2:09.5705s | 2002 | John Bowe | Ford Falcon AU | Bathurst 1000 |
| 2:08.6726s | 2003 | Garth Tander | Holden Commodore VX | Bathurst 1000 |
| 2:08.6515s | 2005 | Mark Skaife | Holden Commodore VZ | Bathurst 1000 |
| 2:08.4651s | 2008 | Jamie Whincup | Ford BF Falcon | Bathurst 1000 |
| 2:04.9560s | 2011 | Allan Simonsen | Ferrari 458 GT3 | Sprint Bathurst |
| 2:04.6187s | 2012 | Chris Gilmour | Dallara F307 Mercedes | Bathurst Motor Festival |
| 2:03.8245s | 2014 | Chris Anthony | Dallara F307 Mercedes | Bathurst Motor Festival (Saturday) |
| 2:02.6710s | 2014 | Simon Hodge | Mygale M11 Mercedes | Bathurst Motor Festival (Sunday) |
| 2:01.5670s | 2016 | Shane van Gisbergen | McLaren 650S GT3 | Bathurst 12 Hour |
| 1:59.2910s | 2018 | Christopher Mies | Audi R8 LMS | Challenge Bathurst |
Unofficial Bathurst lap records
| | | | | |
| --- | --- | --- | --- | --- |
| Time | Year | Driver | Car | Event |
| 1m48.88s | 2011 | Jenson Button | McLaren MP4/23 – Mercedes Benz | Vodafone demonstration |
| 1m49.80s | 2011 | Craig Lowndes | McLaren MP4/23 – Mercedes Benz | Vodafone demonstration |
| 1m58.6940s | 2019 | Luke Youlden | Brabham BT62 | Bathurst 12 Hour demonstration session |
| 1m59.2640s | 2022 | James Golding | Rogers AF01/V8 S5000 | Bathurst International demonstration |
| 2:01.2860s | 2016 | Shane van Gisbergen | McLaren 650S GT3 | Bathurst 12 Hour Qualifying – quickest ever 'official' GT3 lap |
| 2:03.3736s | 2021 | Chaz Mostert | Holden ZB Commodore | Bathurst 1000 Shootout – Quickest ever Supercars lap |