Power Rankings: Tassie SpeedSeries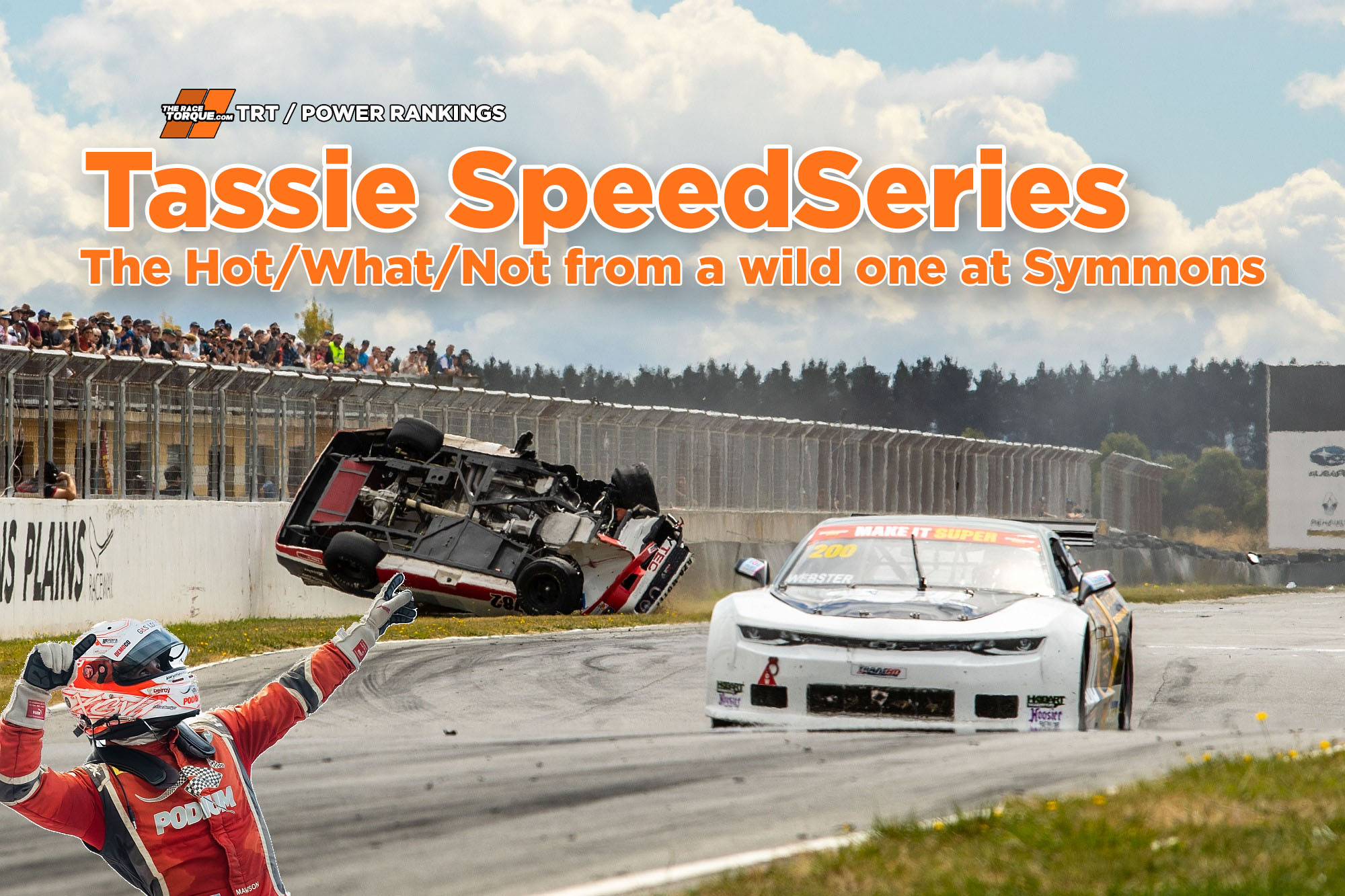 The SpeedSeries kicked off the 2023 season (at times) with a literal bang at Symmons Plains over the weekend, with ample talking points to keep our patented Power Rankings ticking over for another year.
So thanks to you, the readers of TRT for your continued patronage and suggestions. This carries on because of you…
---
HOT
1. Trans Am
The biggest field on the weekend, which featured the most on-track drama and talking points, plus some bloody excellent racing. More of this please. 2023 is going to be another corker season…
---
2. James Moffat
Three wins from as many races. A stacked field with some Trans Am specialists, but post-full-time Supercars Moff continues to show that he is an absolute pro.
---
3. Tasmania
A great place to visit, and a motorsport mad part of the world…
---
4. S5000
The Joey Mawson show rolled on to Symmons Plains, where he picked up a rare Gold Star three-peat. He really had to work hard for it in the finale after being jumped by Cooper Webster off the line, but persistence and awesome pace saw the champ pull through. The last race was the pick of the litter, with others like James Golding, Aaron Cameron, and Roberto Mehri turning on a show.
---
5. TCR
Bailey Sweeney, come on down! He might not have been the hot favourite coming into the weekend, however, he converted his front-row qualifying effort into a pair of strong wins. Tony D'Alberto did Tony D'Alberto things by accumulating the second-highest points tally for the weekend (and was in line for a race three W if not for a glitch), with Aaron Cameron, Jordan Cox and import Tom Oliphant scoring well. The reverse grid race two was a highlight, including the battle between ultimate victor Cameron and Lachlan Mineeff. Overlooking the small grid, much brighter things appear on the horizon with more new machines destined for these shores…
---
6. A cohesive SpeedSeries universe
After a 2022 season where the marriage between Motorsport Australia with the Shannons Motorsport Australia Championships, and the ARG with the SpeedSeries, outwardly seemed awkward, it's great that there appears to be some cohesiveness between the parties to work together for the common good. Improved use of resources and promotional activities can only be for the betterment of the unified Shannons SpeedSeries brand.
---
7. Local support
The problem with long-haul overseas journeys, such as those to Tasmania, is that nearby help might not necessarily be close to hand. However, some very useful locals absolutely came to the party and saved the weekend for multiple competitors.
Firstly was the hero that whipped up a replacement windscreen for the Cameron Tilley Valiant Pacer, and then the local motorsport specialists who came through to try to fix the driveline issue on the two new Audis in TCR (see NOTS).
---
8. Ambrose at Symmons Plains
Daughter of Tassie motorsport royalty Marcos Ambrose, Tabitha, made her tin-top debut on home soil in the Hyundai Excel. Clearly, she is a very quick learner, finishing the finale in sixth place. A very promising start. Watch this space…
---
9. TV Things
It was another enjoyable weekend at home on the box/computer/phone/tablet. The drone shot was great, and some of the slightly tweaked angles around the track were interesting. A Stan tip for rookie players – each race is nicely cut up to stand on their own, with several of the key races edited for the time-poor. If you have been out living your best life on the weekend, playing post-race catch-up is really quite easy. A very solid companion to the weekend – bring on the Six Hour.
---
10. 2023 is going to be a good year for motorsport…
---
WHAT
Stubbsy out there proving just how dangerous ballpoint pens really are
Excellent
Dude, where's your car?
You can tell this really hurt Naults…
Media misses?
While the media coverage in the motorsport press was broadly very good all weekend – SpeedSeries owned the Wide World of Sports homepage all weekend, for example – there was a notable omission on one of the major outlets, who seemingly at random decided S5000 didn't exist in Tassie.
This seemed strange, given – aside from the fact the racing was pretty good – it featured a current Supercars full-timer, a Supercars co-driver, a gun driver currently in the mix for a Supercars co-drive, an Aussie off to race in Europe this year and a guy who not long ago was in F1. Anyway…
---
NOT
1. Trans Am Crash
When Ben Grice slowed on the track from the race lead, he was clouted at full speed by the car of James Simpson. Ugly scenes, massive damage, you hate to see it…
---
2. Grid sizes
It's hard to get competitors to rev up for a ride on the boat to start the season in Tasmania, a point proven over the weekend. Nine Touring Car Masters entries, ten S5000s, and 13 TCR cars is suboptimal. Even though most of the key players were there, and there was plenty of action, you always want to put your best foot forward for event one of the new year, and commit teams to the entire season.
---
3. Failures for key stars
Saturday was a tough day if you were one of the star attractions. John Bowe was sidelined from the TCM race while his old race engine was installed as a precaution. At the same time, Will Brown and Zac Soutar could only have a handful of racing laps on Sunday, with driveshaft issues plaguing the new Audis. Finally, James Golding and Roberto Mehri had pit lane starts in the S5000 opener after being late out of the gate.
---
4. TCM
The crowd favourite class was simply lacking a bit on the weekend, but it's nothing that can't be fixed with a few more entries in the mix.
---
5. Too hot becomes a not
You never want to see fire at a race track, and the action started pre-meeting and carried onto Saturday. Ugh.
---
6. Steven Johnson's knob abuse
Stubbsy was right not to add comment to this…
---
7. Tim Slade's weekend
Last-lap contact with Owen Kelly in race one saw the Supercar star relegated to 13th on the results sheet. Charging through the pack, he was comprehensively fenced on the first Sunday race on the run into the Hairpin. Ugly.
---
8. Andrew Fischer's weekend
We're not sure what Andrew did to wrong motorsport, but he deserved better than that. A strong second in race one was followed by a puncture in race two, then a mechanical non-finish in the finale after he stormed through to the head of the field.
---
9. The long wait begins…
The middle of May at Phillip Island seems like a long way away for TCR, S5000 and Trans Am…
---
TWEET
This photo
Welcome back
Good news for TCR & GRM
Cool initiative
---
MEME