Timeless F1 Dominates Australian Summer Motorsport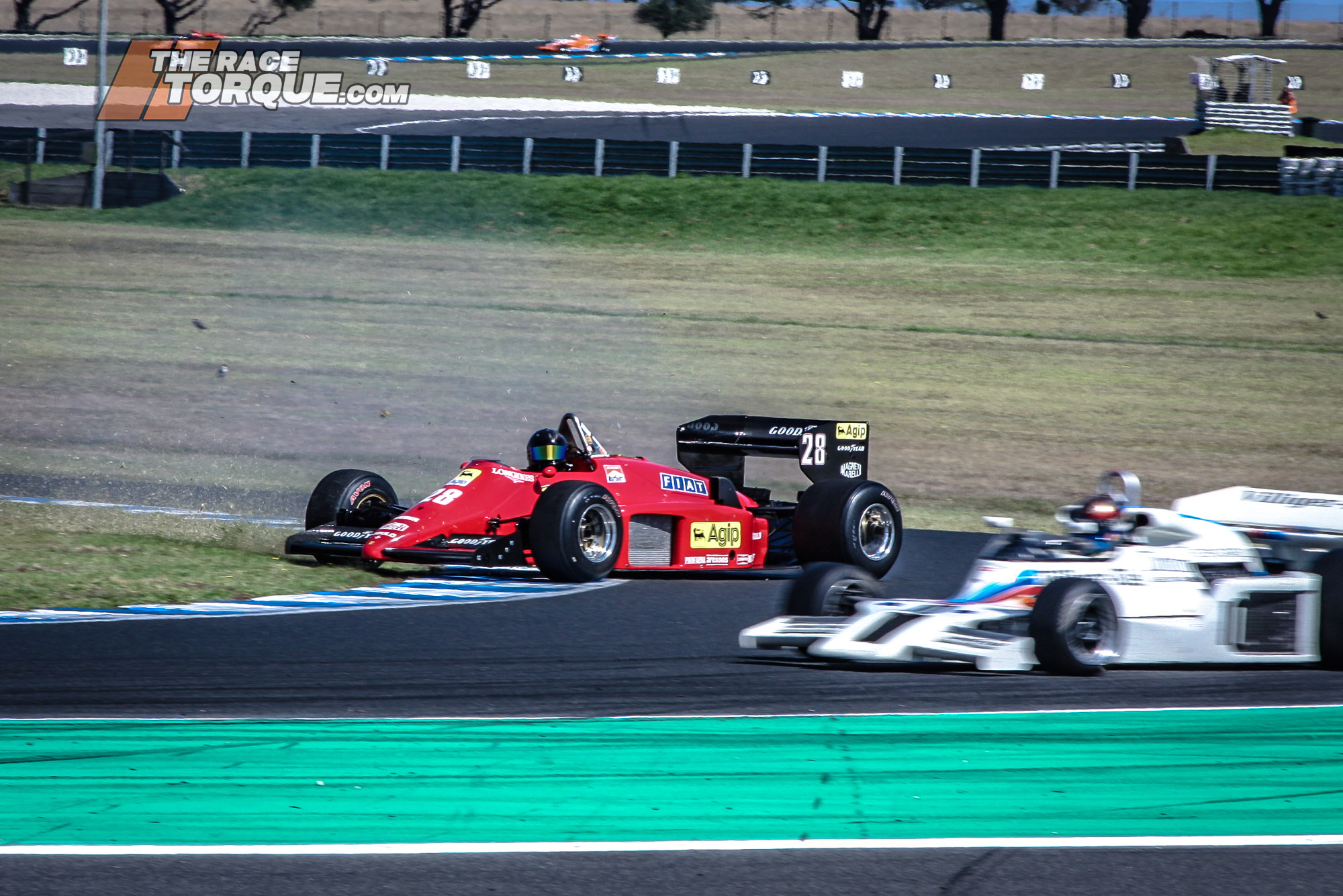 Not since the Tasman Series in the 1960s and early 70s has open-wheel racing had such a focus in Australia.
In just over a four-week period, historic and modern Formula 1 cars have raced at Phillip Island, run demonstration laps at the Adelaide Motorsport Festival and wowed a monster crowd at the Australian Grand Prix at Albert Park.
After the dust had settled with all FIA Formula categories at Albert Park, we thought it was a good idea to look back at the first of these events, the Phillip Island Classic.
Here at TRT, we are unashamed open-wheel fans, so it was not hard to find a bunch of things to write about!
The historic motorsport movement continues to grow from strength to strength not only on our shores but around the globe.
The jewel in Australia is the VHRR-run Phillip Island Classic, this year branded 'The Festival of Motorsport.' And it was aptly named – this meeting at the beautiful Phillip Island venue truly is a festival.
An amazing entry of racing cars from the 1930s up until the late 1980s fronted, but don't be fooled, that it is a batch of old clunkers tooling around, this is a serious race meeting with owners and drivers of the exotic machinery racing as hard as ever.
There is a lovely mystique about wandering through the paddock area, the garages packed with an array of stunning race cars, or just meandering through the multitude of displays and vendors on hand.
One such festival touch is a full-colour Phillip Island Classic Race Program. Remember those?
Over 100 pages beautifully produced with a multitude of features and generously supported by advertisers.
Ok, enough waffle, what about the cars?
Each year the PI Classic features a category or marque of car, and this year it was an ambitious task to feature Formula 1, and it did so with outstanding results.
A look at the cars that arrived here to compete will demonstrate how important this meeting is on a global stage.
1980 Formula 1 World Champion, our own Alan Jones, had a number of cars he had driven present at the event.
We have seen the Beatrice Lola THL-1 and the superb Williams FW07 on many occasions, but Englishman Martin O'Connell shipped the Shadow DN8 to our shores.
This was the car AJ won his first Grand Prix in Austria in 1977.
---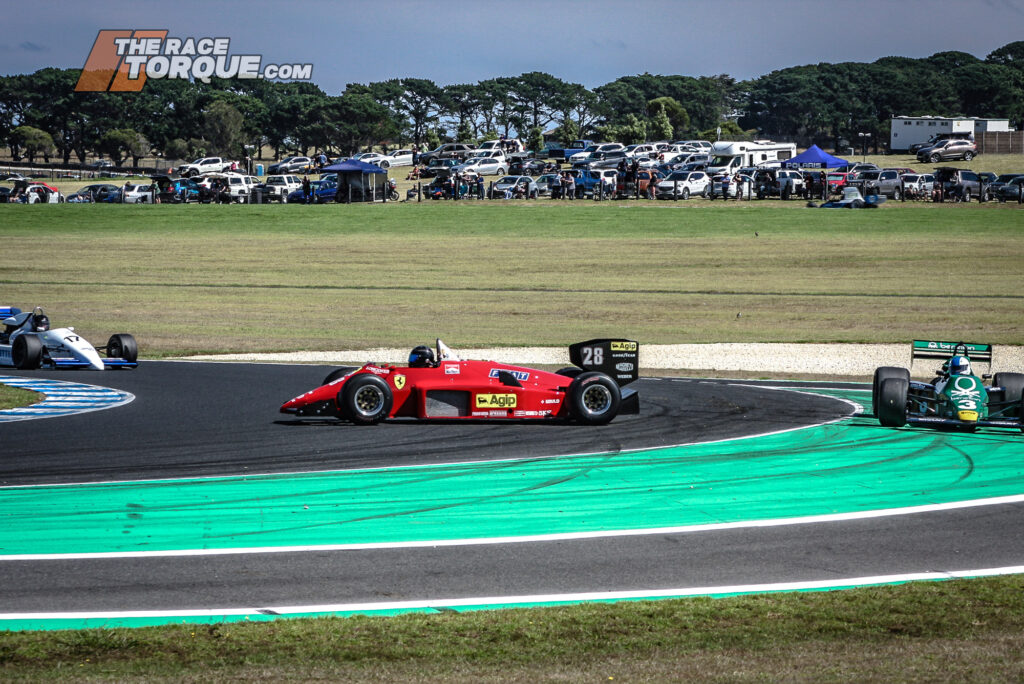 ---
Famous for not only AJ's first Grand Prix win but the promoter not having the Australian National Anthem for the podium and playing Happy Birthday instead.
Also arriving to build this eclectic grid was James Hagan (UK) in the Hesketh 308//1 of James Hunt fame, Marc Davis in a 1974 Surtees TS16, Ian Simmonds with a 1983 Tyrrell 012, plus a Lotus 81, an Ensign MN09 mixed with the local contingent.
In all, nine cars were freighted to Australia to bolster this amazing lineup.
Australian-domiciled F1 cars included the fabulous Ferrari 156/85 Guido Belgiorno-Nettis, and Adelaide's' Josh Kean in the familiar Benneton.
Bolster the grid with some of our quickest F5000s and a wonderful mix of F2, Formula Pacific/Atlantic and even Formula Holden cars, and this was open-wheeler heaven.
Phillip Island was rocking to the sound of the Cosworth V8, and the crowd lapped it up.
What they did see is these F1 cars racing. And many tripped up, like the Ferrari of Belgiorno-Nettis arriving backwards at Honda corner, twice, during the Saturday race.
The Shadow was also taking it right up to the local F5000s as Brit O'Connell came to grips with the Island layout.
But Sunday's feature was a Formula 1 race only, with the Hesketh of James Hogan taking the win.
The ex-James Hunt car was carrying some hasty front wing repairs after an altercation with the notorious Phillip Island wildlife earlier in the weekend. This is a point that should not be lost on the endeavours of teams competing in the PI Classic.
A stroll down the line of garages presents such a different picture from that which we normally see in modern motorsport.
There were no banks of computers with engineers and drivers studying squiggly lines, but rather there were mechanics and engineers undertaking repairs or modifications on the run.
Heating an errant exhaust header to position back on an engine block, a front wing having resin and fibreglass applied after some damage, drivers trying to pad out seats to ensure more comfort and friends, wives, mates and girlfriends serving food, coffee and other treats.
A far cry from the intensity of a Supercars paddock.
But this was only a sample.
---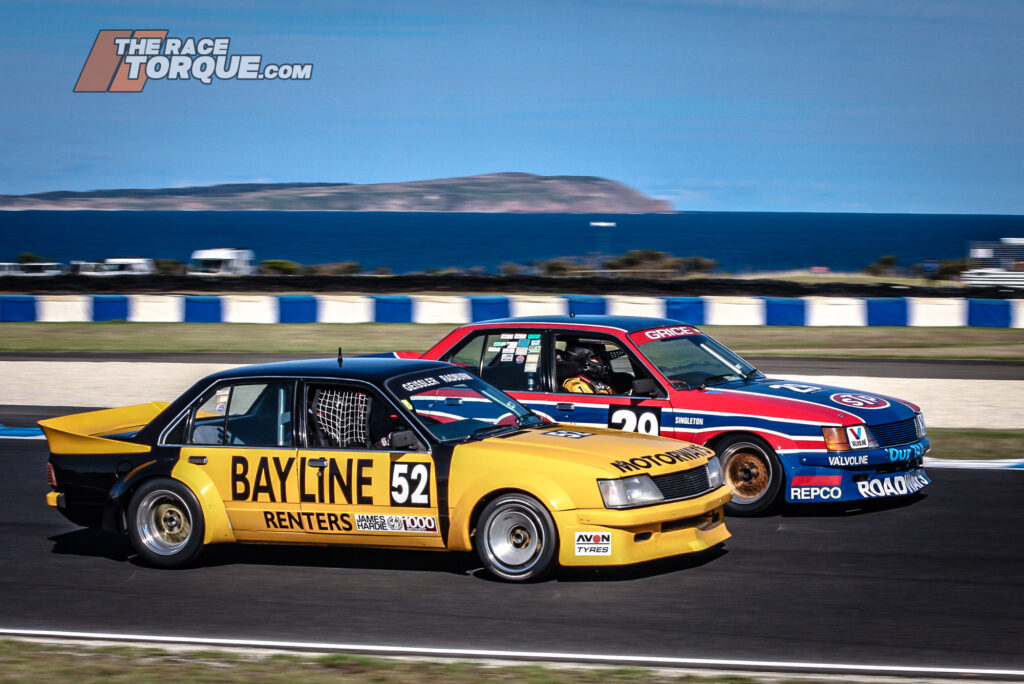 To bring it back to an Oz focus, a booming field of over 28 Group A and Group C Touring Cars were another crowd favourite.
A highlight was seeing Steve Richards driving his father's Nissan Skyline HR31 along with Greg Murphy, who was also aboard an ex-factory HR31.
A wonderful collection of BMW M3s, Ford Sierras, and the ubiquitous Holden Commodore in many guises were just a few of the Touring Cars to take to the track.
Greg Murphy was enthusiastic about the meeting.
"I feel very privileged to drive the Nissan. This is a time and an era where I was immersed in Touring Car racing in Australia," said Murphy.
"I couldn't get enough of it, so to be driving a car that was part of the championship, I feel very honoured.
"It is a joy, it really is.
"Ok, we are 50 now, but we just love cars, we love historic racing, and what makes it better is just how many people feel the same way.
"We are just privileged that we can take part on the racetrack," he added.
For weekend 'teammate' Steve Richards, the meeting was also special driving the Nissan now owned by his dad Jim.
"A big part of dad's history in Australian Motor Sport, taking him to a 1990 Touring Car Championship win," said Richards.
"Finally, he has thrown the keys my way to have a drive – it has only taken 30 years!
"These events mean so much to a lot of people, and it is good to see a lot of young people as well.
"My wife got stuck in a traffic jam getting in, and that rarely happens even at a Supercar meeting at Phillip Island."
The two former Supercar stars did not disappoint with the ex-factory Nissans at the front of the field in each Group A and C event.
Add into the mix huge fields of Group S sports cars, Group N Touring cars and other assorted Historic Classes, and there was something for every taste.
And, of course, those Formula 1 cars… roll on 2024.