Power Rankings: Perth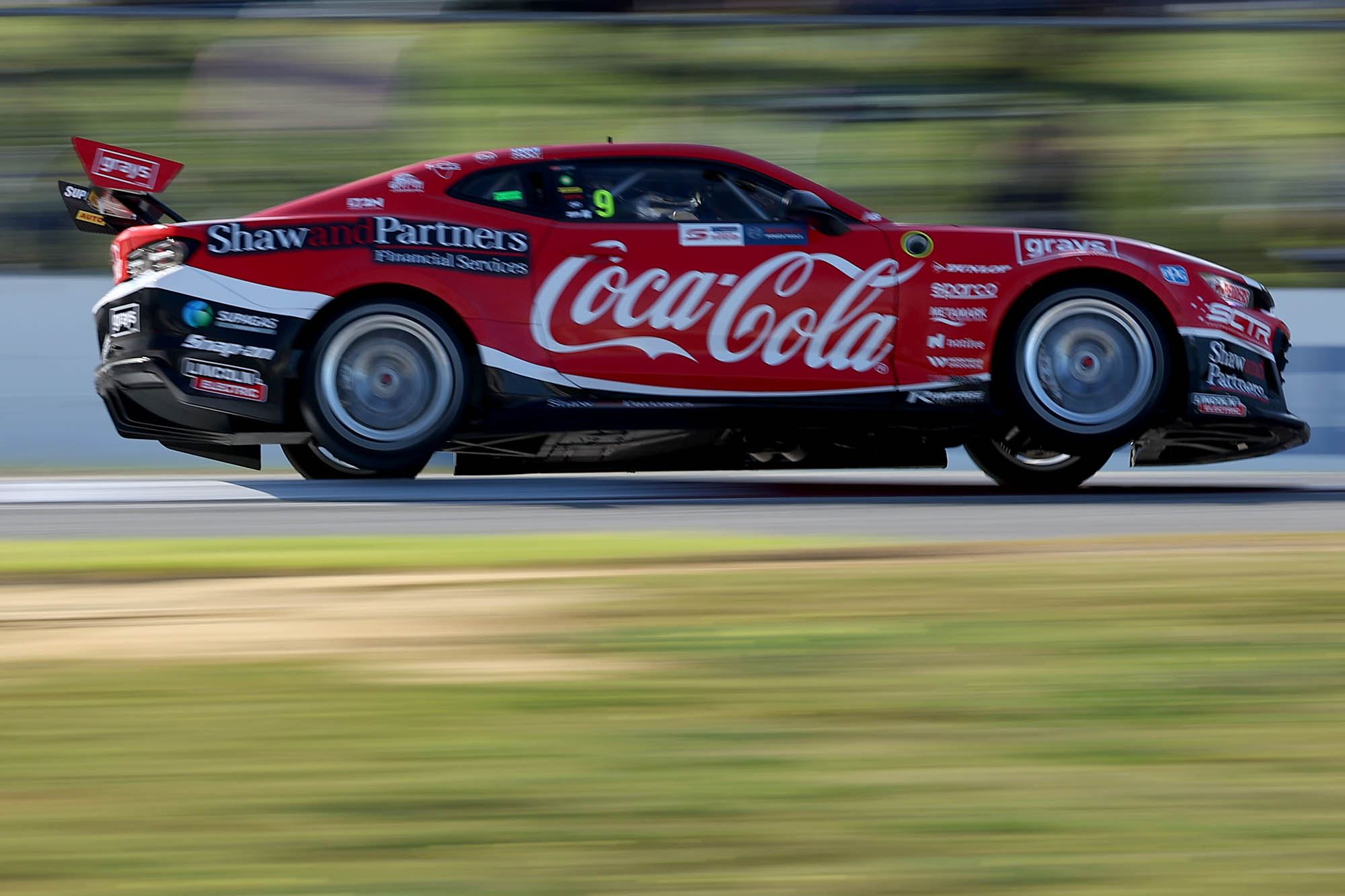 FIVE different race winners from the first nine races and a Saturday battle for the ages – this new era of Supercars is starting to deliver.. especially if you like Camaro's.
And while we're not willing to put parity under NOT yet – we'll wait for Ford's friendly fire to cease first – there's a lot to take away from the third event on the Repco Supercars Championship tour this year.
As such, here's the HOT, the NOT and (perhaps most importantly) the WHAT from a weekend in the West.
Don't agree? Even the score (politely) via our social media channels now.
---
ABOUT THE RANKINGS: The TRT Power Rankings are compiled by your nominations from social media and edited by the TRT editorial team. They're designed to give a balanced, as fair as possible critical overview of those things that excelled and those things that struggled, at each event. It's (mostly) a democracy, and what you nominate generates the order, so have your say next event via our social media channels, @theracetorque on Facebook, Twitter and Insta. Look for the call out each evening and get commenting!
---
HOT
1. Coca-Cola Racing
IF you thought that Erebus would be leading the drivers' and teams championship three rounds and nine races into the season, you'd have been relatively unique, and yet for the third round in a row this team has consistently delivered, consistently.
Furthermore, more often than not they've done it with both cars – especially in Perth. The way Will Brown rebounded from his Saturday dramas was incredible and Kostecki's reputation as a hard racer is now being matched by his reputation for consistency. There's a minor asterisk alongside this – see NOT – but this has been the best story of the season so far.
---
2. Red Bull Ampol Racing
BROC FEENEY is a contender. This is now a fact. Anyone who thought Adelaide last year was a one-off was proven wrong in Melbourne and then again in the final Perth race. Honestly, Feeney's ability to step up this year was probably (Gen 3 concerns aside) the only real question mark we had over T8's ability to continue to dominate Supercars entering the new era. That has been firmly quashed.
SVG's Sunday form was a surprise, but he maximised both races after poor qualifying which is how championships are won, so in an unpredictable time when the operating window for the cars seems to be tiny, it's hard to criticise – and for the team, when Shane isn't winning, Feeney is. Much as it always has been in T8 land.
---
3. Coke Vs Red Bull Race One
FINALLY someone raced Shane van Gisbergen the same way he's raced everyone else. And, shock horror, it was great.
---
4. Qualifying Closeness
IT is literally as close, if not closer, than it has ever been. Qualifying in Perth was incredible and Tassie is likely to be no different.
---
5. James Courtney
FINALLY JC strings a shunt or fire-free weekend together and ends up the best of the Tickford bunch, as he has done regularly this season. Race 2 podium was a great result and finally he started every race in a weekend, for the first time this year.
---
6. Todd Hazelwood
REALLY solid weekend for Todd and BRT with his run through the field to 4th on Saturday a clear highlight – though perhaps 7th in the first race on Sunday was even more impressive given it was done on a more similar strategy to everyone else around him. Team needed this weekend and are starting to deliver performances that match the looks of the Cooldrive 'stang.
---
7. David Reynolds, Matt Payne and Penrite Racing
A great weekend for Reynolds and the Grove squad with a Saturday podium backed up by strong pace on Sunday too. Punted by Anton in Race 2 – after an oddly meek start where he momentarily forgot to defend – but otherwise had great pace. Qualifying form also important and Dave has plenty. Good stuff.
LIKE his teammate, this was a very solid performance by Matt Payne and his best yet in Supercars. Two top-10s were great and like Reynolds, his qualy pace was impressive across most of the weekend.
---
8. Wanneroo Raceway
THE first 'real' circuit of the season didn't disappoint. Solid crowd – not enormous, but solid – and perfect weather all weekend, despite a wet lead-up. Presents really well and the high-deg surface offers plenty of challenges and mistake-creasting moments throughout a weekend.
---
9. Ryan Wood
WHAT a huge weekend this was for the fast young Kiwi. Start 'yips' aside, this was a complete performance; good in Qualifying and excellent racecraft that saw him pass multiple cars in both races to actually race his way into the lead on both occasions. Mistake-free from there and suddenly he's in the conversation for a full-time seat in 2024. If he does that again, it will be justifiably so.
---
10. GT World Challenge Australia
GT World Challenge is having a very strong start to the year and the racing has been pretty compelling across two rounds so far. Wanneroo is a perhaps surprisingly good GT circuit, with the mix of fast and flowing corners and a big stop or two creating great racing and playing to the relative strengths and weaknesses of each type of car configuration. Good show.
---
OTHER HOTS
V8 SuperUtes
The biggest field in the history in the class, and some of the competitive mongrel from Ute.racing.v1 was back in play. Some spirited mirror driving, bump, plus grind, made it a solid day / weekend out.
---
Macca's Golden Pizza Hut
We were hoping that this rather striking golden shine was in recognition of the return of the Pizza Hut all-you-can-eat buffet extravaganza, but alas, that special livery will have to wait until later in the year.
---
Penthouse Podium
A change is as good as a holiday – it's good to bring the podium to the people.
---
Parity
While there will most likely continue to be minor technical tweaks (rather than massive kitchen sink swings), the field is pretty bloody close. Ignore what some disgruntled would-be team owners say.. barring the Coke Chevs and one T8 car at a time, the Fords aren't far from breaking through…
---
Paul Stubber
Fair.
---
Only one practice session
Who needs three practice sessions when you can consolidate them into one? Also see: NOT.
---
HOT – THANK YOU
Big attaboy to Foxtel for pushing the barrow in promoting our On the Grid Podcast.
We appreciate it – you can tune in here.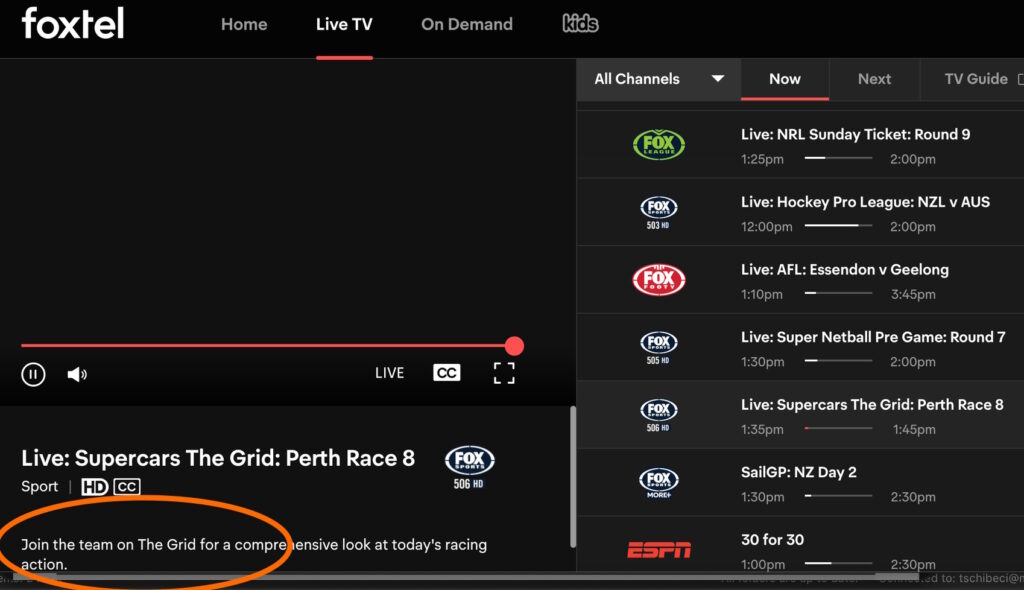 Larko
A national institution.
---
WHAT
As far as terrible bets go, this one was a shocker…
---
How?
This happened a couple of times over the weekend – can you spot the issue?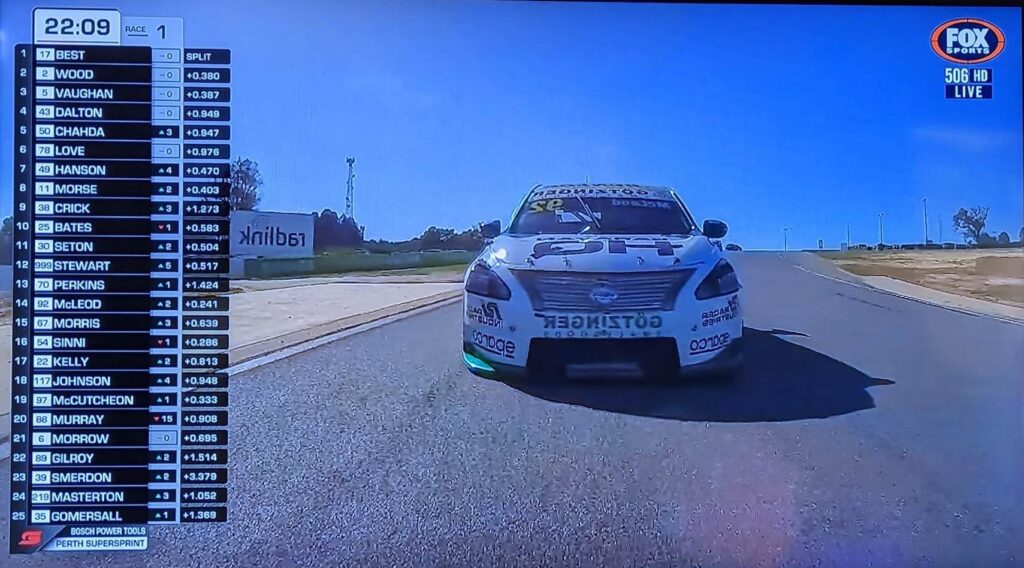 ---
Should you say that out loud?
During the Friday broadcast, did a Super2 team manager admit that their driver had COVID when they raced in WA last year? What did Mark McGowan say about that?
---
Larko
Tries to do an interview with a driver sitting in their car. Forgets to use Mic. Takes the p!ss out of himself for doing so.
---
NOT
1. Trying to intervene on Saturday
PRETTY MUCH everyone, save for the people the sport is rigged to favour SVG (Hint: It isn't), walked away from Saturday's race feeling good about life.
The drivers both loved the fight, the teams were excited about the battle (T8 about winning and Erebus about taking the fight up to the champion) and every was pumped about a great race.
Even the race control call to warn Kostecki about blocking – but not actually do anything else – was probably fine.
So why the subsequent protest?
Sure, Erebus lost and no one likes to lose. But only after an epic fight down to the final lap, against the best driver in the modern era who, by the way, had much better rubber under him too. Kostecki defended resolutely and SVG offered the same in offense.
The protest was strange and took the shine out of what was a great show.
If it really was done to define the rules of engagement going forward, then fine.. though race control have been quite clear that they assess more than just the point of contact when it comes to assessing things like this. Regardless, it was strange and slightly took the gloss off an otherwise brilliant show on Saturday afternoon.
---
2. Brad Jones Racing
SO FAR, so good for BJR coming into Perth and then it all unravelled. Fullwood had moments of pace in qualifying and Heimgartner was the best of them in the end but one top-10 finish does not a good weekend make.
After such a strong start to the Gen 3 era we can only hope this is a blip in their form so far.
---
3. Anton De Pasqaule
THINGS are not going well in the Shell V-Power camp and especially so on the 11 side of the garage. 12th, 22nd and 15th for Anton in Perth and the worst thing was that when he had the chance to bank a solid result – in race two – he whacked Reynolds off the road and copped a penalty.
The irony was that it was the two leading Mustangs taking themselves out of the race.
---
4. Nick Percat
AT least there were glimpses of pace this weekend, one where both WAU cars were fairly adrift of front-running pace on Friday and Saturday. But 17th, 19th and 13th – when Chaz was well up inside the top-10 – weren't good and Nick remains last in points.. behind James Courtney, who has two Did Not Starts to his name..
---
5. Jack Le Brocq
GREAT pace again but JLB's strong run of top-10 finishes seen in Newcastle and the Grand Prix came to an end in Melbourne. 12th in Race 1 was solid, but Sunday was tougher and the 15 second penalty for turning Fraser around on Sunday afternoon for a spot at the back end of the field was a bit.. ugh.
---
6. Unnecessary Safety Car Leading to Full Super2
JUST when it was all going so well. Race Control got trigger happy in Race 2 of Super2 and called the Safety Car out for a car that was ultimately able to drive itself back to the lane.
The result was entirely predictable, as the field launched into a restart and went full Super2, with Brad Vaughan fenced out of a solid position (even with his penalty) and parked up after contact from behind by Bates. Unfortunate and probably unnecessary.
---
7. LED Numbers: Fine, but…
THE LED numbers are nice, and they do work, but are they better in short races than actually ID'ing drivers? Feedback says no. Run them at Bathurst perhaps, but in an era of smaller numbers than ever, and lots of teams with two identical cars, we need to find more ways of IDing drivers, not less. Pass.
---
8. Needs More Racing, less knockout qualifying.
Qualifying was hot, but the races weren't long enough for big strategy plays to happen. GT summed it up nicely in the broadcast on Sunday – we're a racing championship, not a practice or qualifying one.
Also, didn't the end of the Knockout qualy session just fall totally flat? Be rid of that, run 1x 10 minute session for each race and add another race, or make the current ones longer.
---
9. Did everyone get TV time?
It was a mighty long telecast over three days, with some eagle-eyed viewers noting that not necessarily everyone had a fair shake of the sauce bottle when it came to TV time, rightly or wrongly… you decide..
---
10. Brown and Brodie Missing the Race Two Victory Lane
Imagine putting in a peerless performance, then not driving straight on to victory lane. So much effort and emphasis was placed on earning a massive result, they didn't familiarise themselves with the post-race procedure in the briefing notes… You'd want to say sorry to Coke!
---
OTHER NOTS
New car teething dramas
Gear Selector Tower Mounts breaking on different cars. It's a busy lap in Perth with a lot of shifts in a short lap and not a lot of time between them – and clearly they found the breaking point of that particular control component.
---
A true mixed bag
It's hard to read a lot into the form, with many competitors mailing in a true mixed bag of results from the event. How on earth do you classify them?
Here's how our notes had them:
Cam Waters: 22nd – Not. 8th and 6th – not not.
Will Davison: 8th, 6th, 7th – not Newcastle terrible, but not DJR's potential
Mark Winterbottom: 18th, 18th, 19th – probably not worthy
James Golding: 14th, 11th, 11th – finished fourth in Newcastle, can do better, but wasn't terrible
Thomas Randle: 9th, 23rd, and mechanical DNF – hot and not
Scott Pye: 20th, 17th, 10th
…and so on
---
TWEET
Jimmy haaaad, annn absolute…
It's love
Frosty 600
Full Super2
We did it, we finally did it!
The trend is over, but Chad sure did just Jinx Tasmania, didn't he..
---
MEME
Supercars got $2 off because their font got smeared
There sure were some swears broadcast over the weekend…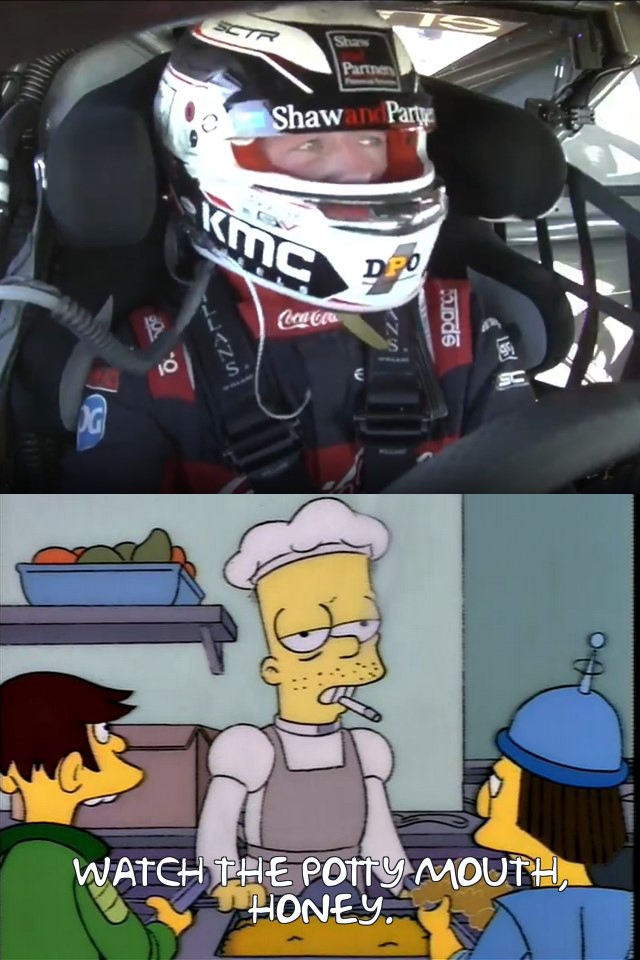 What?
Putting this in at the end, in the hope Ed doesn't notice it…