'Gelignite' Jack Murray's Birthday Card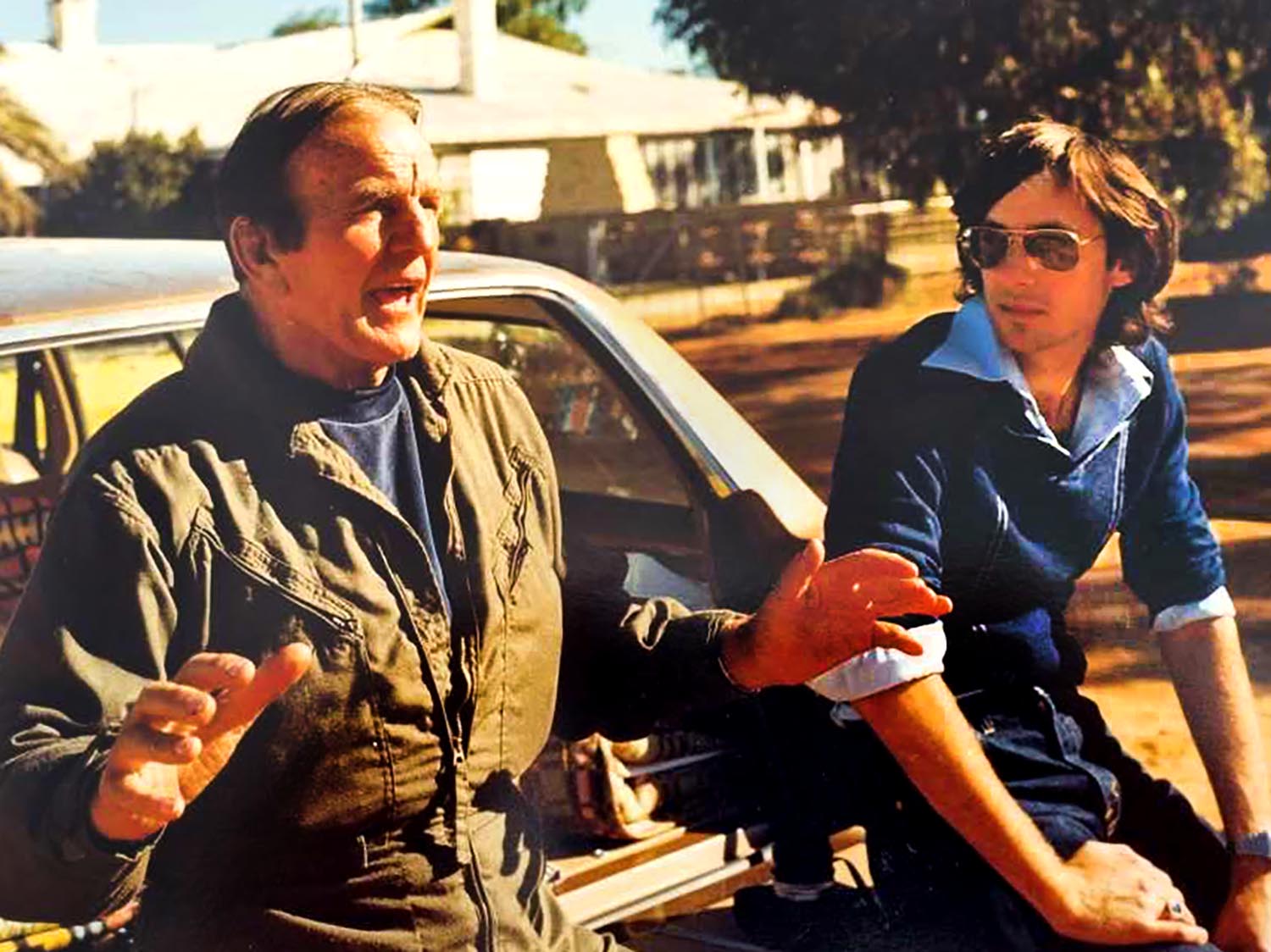 'Gelignite' Jack Murray is an Aussie icon, and it's not every day you get a birthday card signed by the great man – however, that's exactly what happened to Aussie motoring and motorsport journalism legend DAVID SEGAL, as he recounts for TRT…
---
Lead Image: Jack Murray and the Author, as referenced in the story. From the Author's collection.
---
My Aunty Mona sent me a card for my 10th birthday. Nothing unusual about that, she sent one every year when I was a youngster.
What was unusual is that this card contained a personalised birthday message and autograph from the legendary Australian rally driver and raconteur 'Gelignite' Jack Murray, who ran the local garage in Bondi, Sydney, where Aunt Mona lived.
Twelve years later, I found myself sitting next to Jack on the tailgate of a Holden wagon, at Curnamona Station in remote outback South Australia.
Truth be told, when I was that naïve 10 year old, I had no idea who 'Gelignite' Jack Murray was. I had to ask my parents.
John Eric Murray – known to all as Jack and later 'Gelignite' Jack – was initially a racing driver, competing from around 1933 in hillclimbs, sprints and circuit races with considerable success.
But it was in Trials that the larrikin Jack really made his name and became something of a national celebrity.
Contesting the legendary REDEX Reliability Trials, which took competitors deep into the untamed Australian interior in 1953, 1954 and 1955, Jack and co-driver Bill (no relation) Murray were always front runners and together won the '54 event outright in their 1948 Ford V8, dubbed the 'Grey Ghost' because of its home painted undercoat colour.
And it was during this victorious campaign in 1954 that Jack earned his memorable nickname.
Jack had packed a box of gelignite in the Grey Ghost in case they needed to clear obstacles along the REDEX route. And being the larrikin he was, he couldn't help but occasionally detonate a stick or two of the explosives enroute, to liven up proceedings!
In his later years, Jack had developed a close friendship with another Australian rallying legend, the one-time motoring journalist Evan Green. The pair would travel Australia, exploring, testing cars, oils, tyres and anything else, enjoying adventures that led to a wealth of anecdotes.
By 1980 Evan – "Good Evans" as Jack called him – was PR boss at General Motors and arranged for a small group of motoring media to go on a five-day trip into the Australian outback, to launch the new range of WB-model Holden commercial vehicles.
Special guest on that launch was none other than my 10th birthday card correspondent, 'Gelignite' Jack Murray.
The second or third night out, around a campfire at the remote Curnamona Station – which Jack and Evan had visited many times and were greeted by the owners like family – Jack entertained us with stories of daring do, crashes, encounters with wildlife and locals, and a myriad of other tales, well into the night.
Early next morning Jack and I shared that Holden wagon tailgate and chatted quietly, during which I revealed the back story of the birthday card and my Aunt Mona, whom he said he remembered.
After a few minutes, Jack disappeared and then casually strolled back from a distant paddock, with a wry grin on his face. As he reached us once more there was an almighty explosion, as a dead Acacia tree flew through the air, propelled by a stick of gelignite!
Happy with his work, Jack got on with his day, no doubt plotting the next bit of mischief.
We headed out for an extended drive in the WBs, swapping regularly between the various utes and panel vans that made up the launch fleet.
Late afternoon I found myself in the driver's seat of a panel van, paired up with John Parry, long-time Motoring Editor of The Weekly Times, terrific bloke, and a skilled wheelman. Some way into the journey, on a corrugated dirt road that would take us to Arkaroola for the night, I could feel something rolling around on the floor, under my feet.
Given the road conditions and speed we were travelling, I couldn't readily see what it was, so I asked John to get rid of it. He reached down and came up holding a stick of gelignite!
Jack had been in this panel van earlier and accidentally left a memento behind!
Fortunately, working on a rural publication, John knew that gelignite was inert and needed a basting cap to detonate, but I was still nervous as we completed the leg to the next rest stop and returned the stick to Jack.
Great memories of a less authoritative time.
If you had told me, as a 10-year-old, that I would get to meet the great man, let alone witness the antics for which he was rightly famous, I wouldn't have believed you …
---
Looking for more classic Gelignite Jack Murray reading? Check out our earlier feature on his "pantless dance" at the Australian Grand Prix…