Bumper Porsche field for Bathurst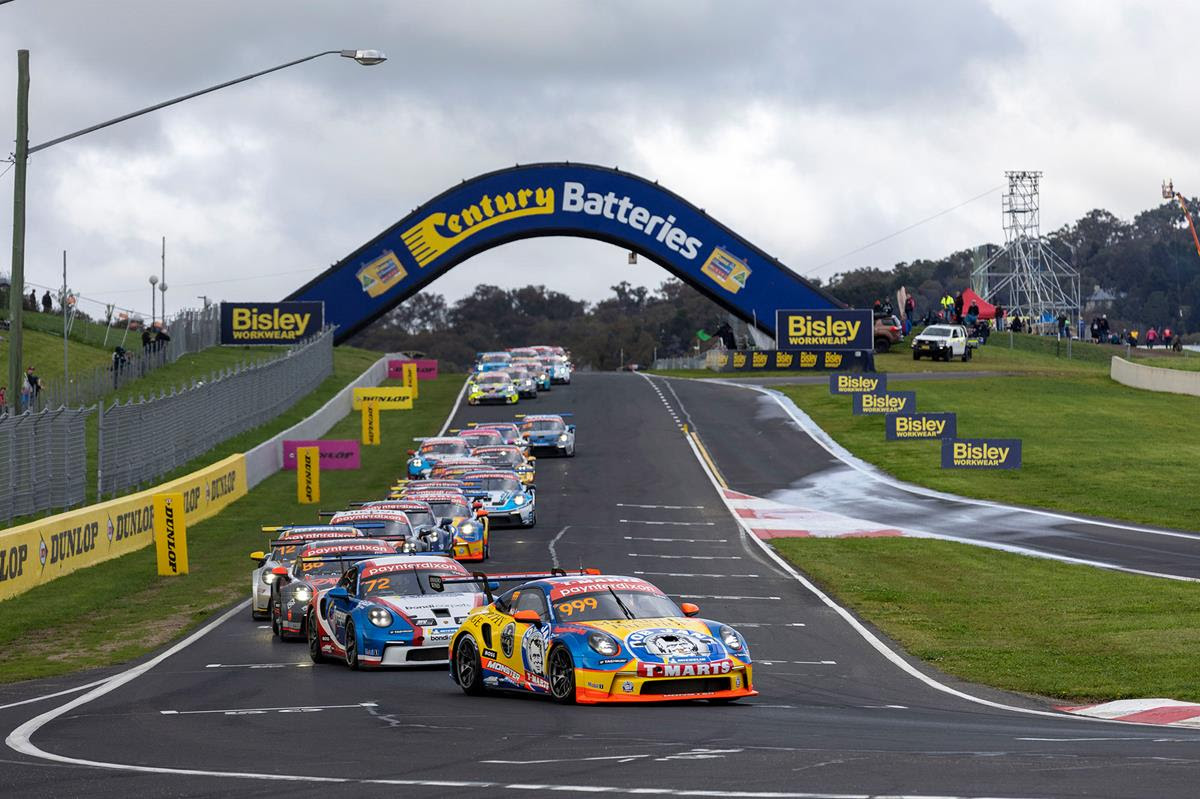 A RECORD SIX Porsche Carrera Cup Champions with nine titles in four different series will headline a 30-strong field entered for Round 6 of the 2023 Porsche Paynter Dixon Carrera Cup Australia Championship at Mount Panorama. 
The Bathurst grid is the most broadly accomplished Carrera Cup Australia grid in the series' history and one of the most deeply stacked with talent of any Porsche series globally this year.
For the first time in the series 20-year history, four former Carrera Cup Australia Champions will be represented on the grid.
They will be joined by drivers who have won the Porsche Carrera Cup Asia, Great Britain, and Benelux (Belgium/Netherlands/Luxemburg).
Between them, the Bathurst grid has claimed 180 Carrera Cup race wins globally.
The return of 2022 champion Harri Joins to the grid will see the Queenslander join 2004 Australian champion Alex Davison, 2005 champion Fabian Coulthard and 2017 champion David Wall on what will be one of the most stacked Carrera Cup grids in series history.
Meanwhile, the addition of three-time Porsche Carrera Cup Asia Champion Chris van der Drift, who will deputise for Callum Hedge in the Team Porsche NZ / EBM entry, adds further one-make Porsche success to the field.
Van der Drift won the Asian title in 2015, 2017 and 2018 to become one of the region's most successful Porsche racers and currently sits third in the 2023 title battle with a round to go.
EMA Motorsport has secured the services of 22-year-old young star Harry King for a Bathurst cameo, the British ace having claimed the 2020 Carrera Cup GB title and the 2022 Benelux title before claiming three wins and third position in this year's Porsche Mobil 1 Supercup.
King has won 29 Carrera Cup races in his career to date, including Supercup race wins at Monaco, Monza and Hungary this year.
The record-setting Aussie attack includes four former champions and an enormous strike rate of success in the local championship.
Harri Jones' returns to the series battle-hardened following duel campaigns in the Porsche Mobil 1 Supercup and Porsche Carrera Cup Germany Championships in Europe this year and will race for his own team, Jones Motorsport, at Bathurst.
Davison will return for Scott Taylor Motorsport, while Coulthard will drive his familiar BWT Porsche Centre Melbourne entry and Wall his own Monochrome-backed entry for Wall Racing.
The four drivers alone account for 85 race victories and 28 round wins between them across two decades of one-make Porsche racing in Australia.
In total, the Bathurst field accounts for wins in more than 30 percent of all Carrera Cup Australia races ever held, with 12 former race winners currently entered.
The championship heads to Bathurst having featured five winners from the past five rounds, just the fourth time in series history that has occurred.
Following Jackson Walls' win by countback at the Formula 1 Australian Grand Prix, Dale Wood, Alex Davison, Callum Hedge and Dylan O'Keeffe have claimed victories overall this year.
The SP Tools Pro-Am fight is equally compelling though current leader Sam Shahin faces a race against time to get to Bathurst.
His The Bend Motorsport Park-backed 992 GT3 Cup Car remains under repair following the race-ending crash at Sandown, when he was collected by a flying Nick McBride, who in turn had been hit by another car.
Shahin leads Sandown winner Dean Cook by 33 points with Adrian Flack a further 37 points back. Rodney Jane is only 17 points behind the top three heading to Bathurst.
The Porsche Paynter Dixon Carrera Cup Australia field hits the track on Thursday for practice 1 at 8:55am, the 50-minute session the sole hit out before qualifying later that afternoon at 3:45pm.
Race 1 will commence at 2:20pm on Friday afternoon over 15 laps, doubling as the Enduro Cup race for the weekend.
Race 2 starts at 3:15pm on Saturday, with the final 9-lap sprint the curtain raiser to this year's Repco Bathurst 1000 at 9:30am on Sunday.
All sessions will be broadcast live on Fox Sports and Kayo Sport, while all three races will also be broadcast live and free on the Seven Network around Australia.
ENTRY LIST:
No.
Class
Car #
Sponsor Name
Driver
1
Pro
2
Wall Racing / MOUTAI
Luke
King
2
Pro
3
Porsche Centre Melbourne / BWT
Fabian
Coulthard
3
Pro
5
TekworkX Motorsport
Thomas
Maxwell
4
Pro-Am
7
Miles Advisory Partners
Tim
Miles
5
Pro
8
Hallmarc/ Team MPC
Nick
McBride
6
Pro-Am
9
Hallmarc/ Team MPC
Marc
Cini
7
Pro
11
Objective Racing
Jackson
Walls
8
Pro
12
Jones Motorsport
Harri
Jones
9
Pro-Am
13
The Bend Motorsport Park
Sam
Shahin
10
Pro-Am
14
ID Land / Team MPC
Matthew
Belford
11
Pro
17
Team Porsche New Zealand / EBM
Chris
Van Der Drift
12
Pro
19
EMA Motorsport
Harry
King
13
Pro-Am
20
Agas National
Adrian
Flack
14
Pro-Am
22
Dexion / RAM Motorsport
Dean
Cook
15
Pro-Am
23
TekworkX Motorsport
Daniel
Stutterd
16
Pro
28
Hall Finance / Insurance Solutions
Bayley
Hall
17
Pro
32
Porsche Centre Melbourne / BWT
Courtney
Prince
18
Pro
38
Wall Racing
David
Wall
19
Pro
72
TekworkX Motorsport / Tyrepower
Max
Vidau
20
Pro
74
EMA Motorsport
Garnet
Patterson
21
Pro
76
VCM Performance / HP Tuners
Christian
Pancione
22
Pro-Am
77
Sonic Motor Racing Services / Bob Jane T Marts
Rodney
Jane
23
Pro-Am
86
Wall Racing
Drew
Hall
24
Pro
88
Dexion / RAM Motorsport
Dylan
O'Keeffe
25
Pro
99
Earl Bamber Motorsport
David
Russell
26
Pro
101
Local Legends
Ryder
Quinn
27
Pro
222
Scott Taylor Motorsport
Alex
Davison
28
Pro
777
Sonic Motor Racing Services / Bob Jane T Marts / Bremtech
Simon
Fallon
29
Pro
992
Ranbuild
Dale
Wood
30
Pro
999
Sonic Motor Racing Services / Bob Jane T Marts / Pitbox
Angelo
Mouzouris