Dylan does it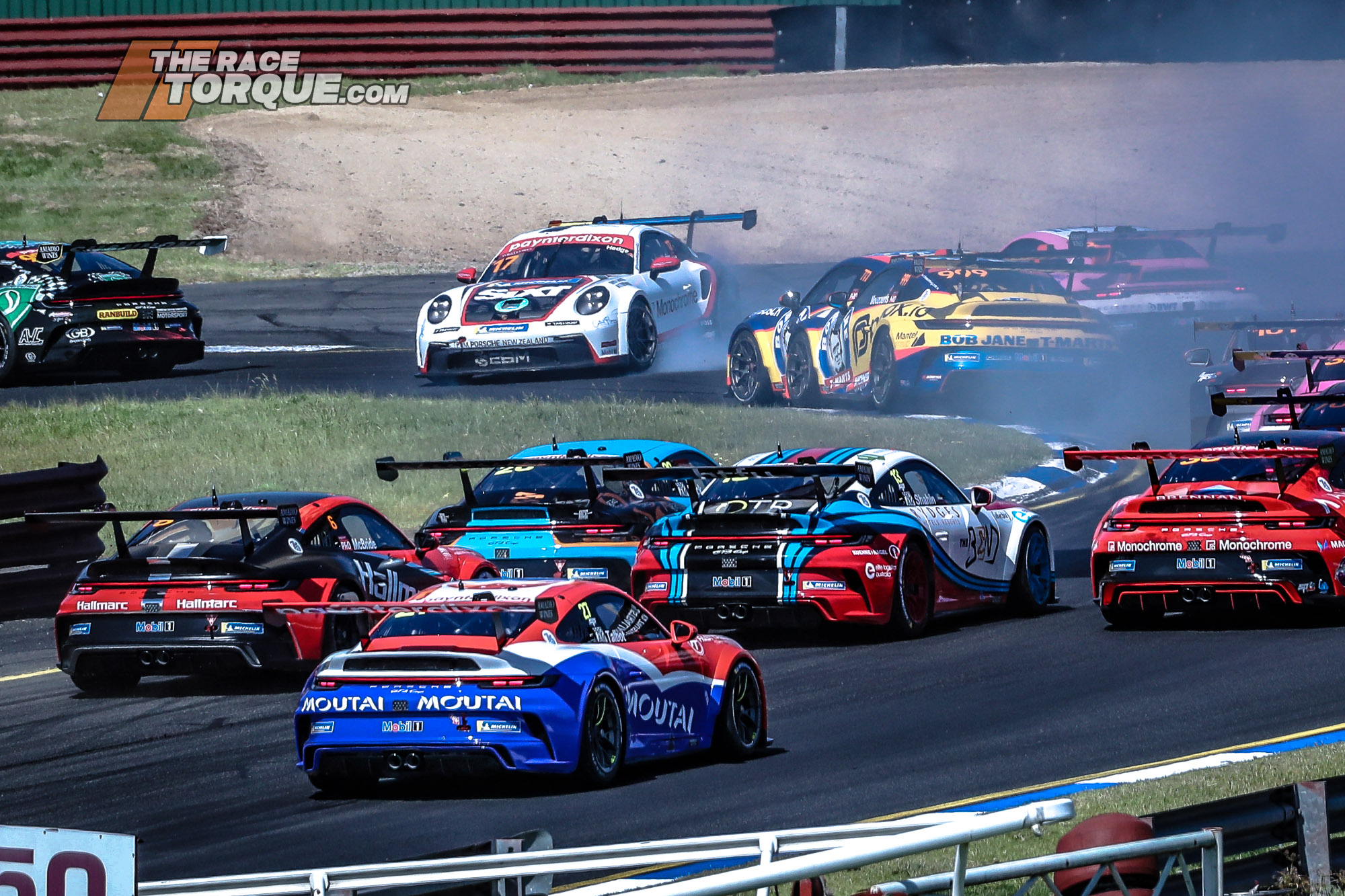 DYLAN O'KEEFFE and Dean Cook have delivered a Sandown double to GWR Australia and RAM Motorsport, claiming the Equity-One Pro and SP Tools Pro-Am class round wins following a dramatic decider at Sandown Raceway today.
O'Keeffe claimed a second win from three starts this weekend in a lights-to-flag performance in Race 3, taking his second-ever Carrera Cup round win and his first since the 2018 event in Darwin.
He's also the fifth different round winner from five rounds so far this season.
The SP Tools Pro-Am race win went to Rodney Jane, who avoided drama at the start to lead Dean Cook home for the win, the latter claiming the round overall in a double-punch for the GWR squad.
The final sprint race was a dramatic affair that saw a multi-car incident at the start that was triggered by a slow-starting Callum Hedge spinning following contact from behind from Fabian Coulthard.
That then sent the field scrambling as they checked up with multiple cars involved in a turn one crash that saw Nick McBride's Porsche Centre Melbourne / Hallmarc entry tipped onto its side and into the path of a Sam Shahin, who was an innocent player trying to take evasive action.
The incident removed four cars from the equation with Christian Pancione, Nick McBride, Adrian Flack and Sam Shahin all non-finishers.
A lengthy Safety Car set up a dash to the flag for the remainder of the field with O'Keeffe leading the outright pack and Jane in front in Pro-Am.
Both were able to hold on despite close challenges from behind, O'Keeffe claiming the win in the race and round over Bayley Hall and Dale Wood.
Those three also completed the round podium, Hall on the rostrum for the first time in his still young Michelin Junior career and Wood back in the Champagne for the first time since Darwin back in June.
In Pro-Am, Jane's race win ensured he would finish third overall for the round, while former class champion Liam Talbot was Mr. Consistency and claimed second overall as he super-subbed for Luke King in the Moutai Racing entry from Wall Racing.
Cook's win was the fourth of his career and the second of his season, backing up his Darwin success.
Sandown marked the first time the Sydney-based GWR squad had claimed both round wins in a single Carrera Cup weekend.
With five rounds in the Porsche Paynter Dixon Carrera Cup Australia Championship now complete, Kiwi Callum Hedge takes a commanding 116-point Equity-One Pro class lead over Jackson Walls heading to Mount Panorama in three weeks time.
Dale Wood now sits third in the championship with Max Vidau fourth and O'Keeffe now fifth thanks to his strong weekend.
Provisionally, Sam Shahin remains the leader in the SP Tools Pro-Am race with a 33 point advantage over Dean Cook, with Adrian Flack in third.
The next round of the Porsche Paynter Dixon Carrera Cup Australia Championship resumes in three weeks at the Repco Bathurst 1000 at Mount Panorama.