Power Rankings: Sandown 490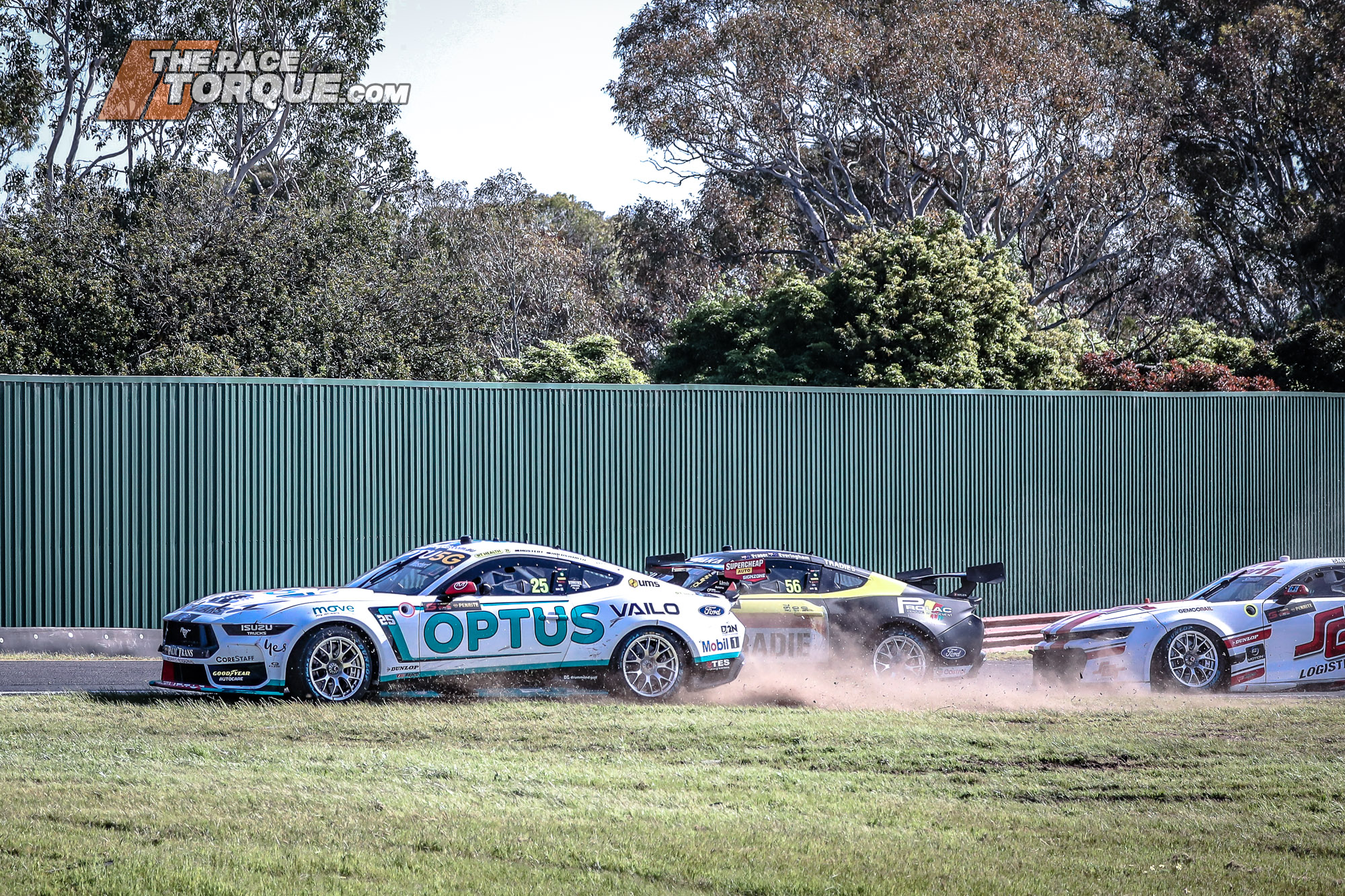 Welcome to the Power Rankings, celebrating all things Hot, Not and What from a big weekend at the return of the Sandown 500.
---
ABOUT THE RANKINGS: The TRT Power Rankings are compiled by your nominations from social media and edited by the TRT editorial team. They're designed to give a balanced, as fair as possible critical overview of those things that excelled and those things that struggled, at each event. It's (mostly) a democracy, and what you nominate generates the order, so have your say next event via our social media channels, @theracetorque on Facebook, Twitter and Insta. Look for the call out each evening and get commenting!
---
HOT
1. The Sandown 500 Returns
Well then, that was large. Was it the biggest crowd ever at Sandown? No, but it was in the conversation for the largest attendance in modern times. Whether it was the good weather, no footy finals clashes, no FTA TV, great promotion or otherwise, Supercars is far from dead, and Sandown continues to offer the best views for punters in Australian motorsport. What does the future hold, will there be a 50th Sandown 500 in 2024? Time will tell, but let's be happy we've had a 49th, and it was champagne Sandown at that.
---
2. The Race to the Finish
Red Bull versus Coke. Mr Sunday against Brodie, Brown bowling a wide for SvG to make the podium. We have to pay thanks to Cam Hill's floppy suspension and parking in the Dandy Road bunker for bringing that race to life. Good sport, bring on Bathurst.
---
3. Red Bull Ampol Racing
The return of Mr Sunday! Feeney has now won on the Sunday at the Adelaide 500, Wanneroo, Symmons Plains, Hidden Valley and Sandown, and unless there is a thorough catastrophe, Bathurst is currently set down for a Sunday. As it transpires, the GOAT has lost none of his GOATness, and turned in a quality drive in his stints to set up the day for car 88. Jamie now has five Sandown 500 crowns and three in succession, while Feeney is now the youngest Sandown champ after claiming his maiden enduro under extreme pressure. On the other side of the garage, SvG made a mess of qualifying, copped a huge spray from Greg Murphy (see: elsewhere in these rankings), then drove like SvG to claim third, despite numerous things going against the car he shared with Richie Stanaway. It was a lean three race stretch for Triple Eight, but they brought up their 250th win in style at their 20th birthday bash.
---
4. Erebus Motorsport
The weekend started with the first front-row lockout in the Sandown 500 since 1998, and were at the front of the field throughout 158 laps. Second for Brodie Kostecki/David Russell, and fourth for Will Brown/Jack Perkins is a solid day at the races. This team just keeps on keeping on, and with only three events left in 2023, championships are genuinely on the table.
---
5. Kevin Estre
How many international drives have rolled up to Supercars in a co-driving capacity with limited miles and done that well? There's a reason by Estre is a hired gun Porsche factory prototype driver, with sixth outright alongside fellow rookie Matt Payne providing the top result on the day for the Blue Oval.
---
6. Heimgartner/Wood
Qualified 15th, but did Brad Jones Racing things in the race to be the first non-caffeinated car home in fifth. Now for redemption at the Mountain.
---
7. Reliability
After the doom and gloom emanating from within the sport in the lead up to the event, wholesale non-finishes were not a factor. There were only two cars not circulating at the finish: the Tander/Reynolds Mustang, which was fenced after a dodgy wheel nut let go, and the Hill/Robotham Chevy, which suffered a damper bolt failure. The Mountain is a different kettle of fish, but test one was successfully passed.
---
8. Toyota 86s
The opener from the Toyota 86s was just about as good as it gets. The race-long battle had everyone's attention – quite how Clay Richards salvaged the win after being tipped off at Dandenong Road Corner is going to form the basis of an X Files reboot. The final season for this model car is peak motorsport.
---
9. Melbourne Weather
Two weekends in a row of quality weather should probably move this entry to WHAT. Remember last year when it rained so much that the park and view was boned mid-event? Funnily enough, the skids from all of the bogged Jeeps on the Friday at that meet remain baked into the Dandenong Road spectator area outfield. We'll take sunshine any day, that was mint…
---
10. Penrite Moffat Livery, Dementia Australia Cause, & This Act of Kindness
---
FURTHER HOTS
TV Things
Firstly: Larko. Also: The drone needs to be compulsory for all telecasts, everywhere. Furthermore: Greg Murphy did not hold back.
---
V8 Superutes
A solid bounce back for the class after tears at The Bend. Ryal Harris's save over the top of Rothman's Rise was an all-time classic, while his win over Aaron Borg in race two by 0.04sec was simply mega. Borg won the weekend from Adam Marjoram and Jimmy Vernon after four entertaining races.
---
Super 2/3
How is Ryan Wood preparing to step up to the big-time next year? By smashing the field of course in race one, while Cooper Murray came out on top when things went full Super2 on Sunday (see: NOT).
Also, is Cam McLeod the new Kai Allen? Qualified sixth, and was set for sixth until he became a late-race NOT in the opener, and a victim of the Sunday race. Despite not claiming as much of the attention, Jobe Stewart has been quietly accumulating points in his march to the Super3 title.
---
Carrera Cup
Dylan O'Keeffe was supreme in winning race one after Callum Hedge crept at the start, while he went within one corner of claiming the Saturday arvo enduro, when Hedge dived past at the last turn in a brilliant move that was a highlight of the weekend. Bayley Hall also had a breakout weekend, finishing second overall, while it was also announced that the young gun will be headed Stateside later this year. Hedge meanwhile booked his ticket to the Porsche Junior Shootout in Europe – watch the names in this series, they are genuinely going places.
---
NASCAR
Jett Johnson pedalled around the NAPA Auto Parts NASCAR, which is something we just love to see.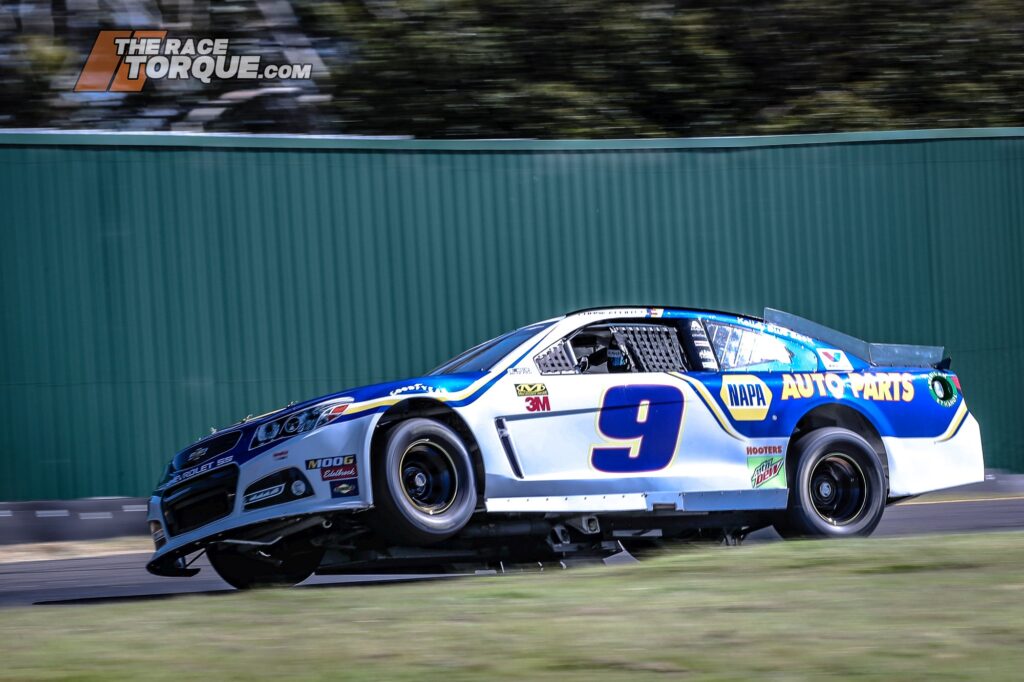 ---
Speed Dating
Early favourite in the V8 media awards.
---
Drivers & Sponsor goodwill
When Chris Pither couldn't find a Cup Car to run in Carrera Cup at Sandown, he and major backer Coke decided to instead channel their funds to Valentino Astuti and MW Motorsport for the reigning Australian Formula Ford Champion's Supercars debut, which is a thoroughly decent thing to do. Well done to Bowser Bean, Coke and Caltex – who came on board to join the fun – for getting behind a youngster when their own driver couldn't get on track.
---
WHAT
WHAT
---
Water Hazard
Sandown's week has gone: Shannons SpeedSeries, horse racing on Wednesday, Sandown 500, so the grounds team didn't have a lot of time to tidy up outfield sections of the facility. Friday morning was spent tending to the horse track, when this bad boy sprung a leak…
---
Found: One Caravan
From time to time, Sandown is used for caravan shows. This Jayco has been sitting under the stairs next to the media centre for a considerable amount of time. Does somebody want to claim it?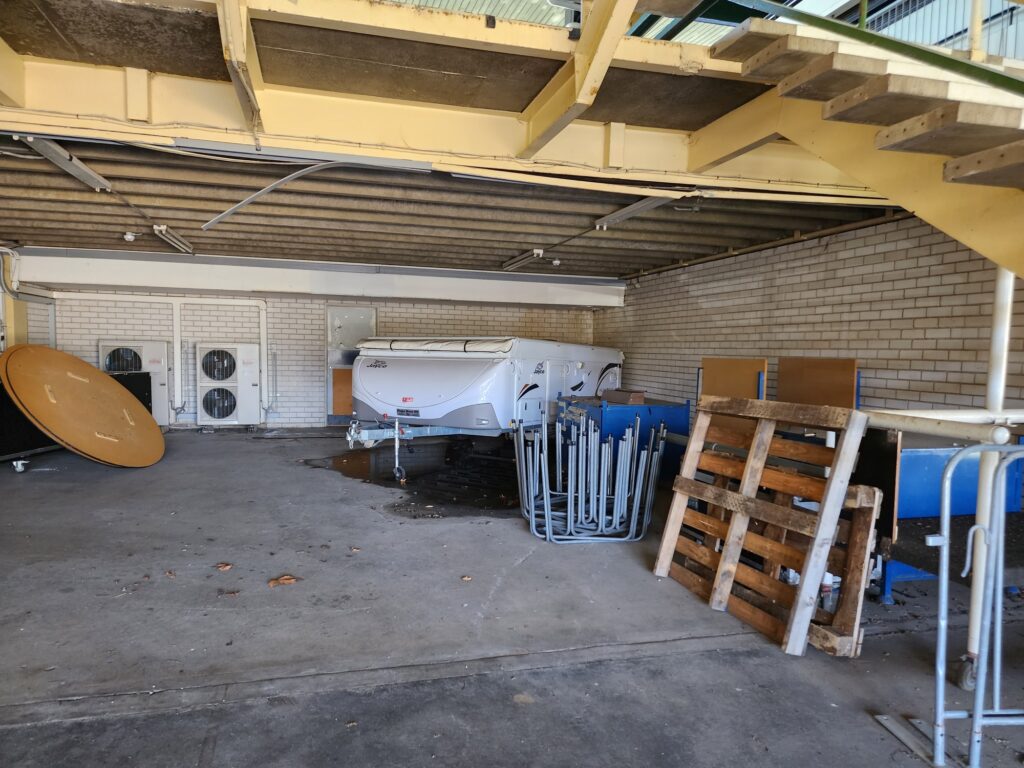 ---
Are you allowed to drink alcohol here on a technicality?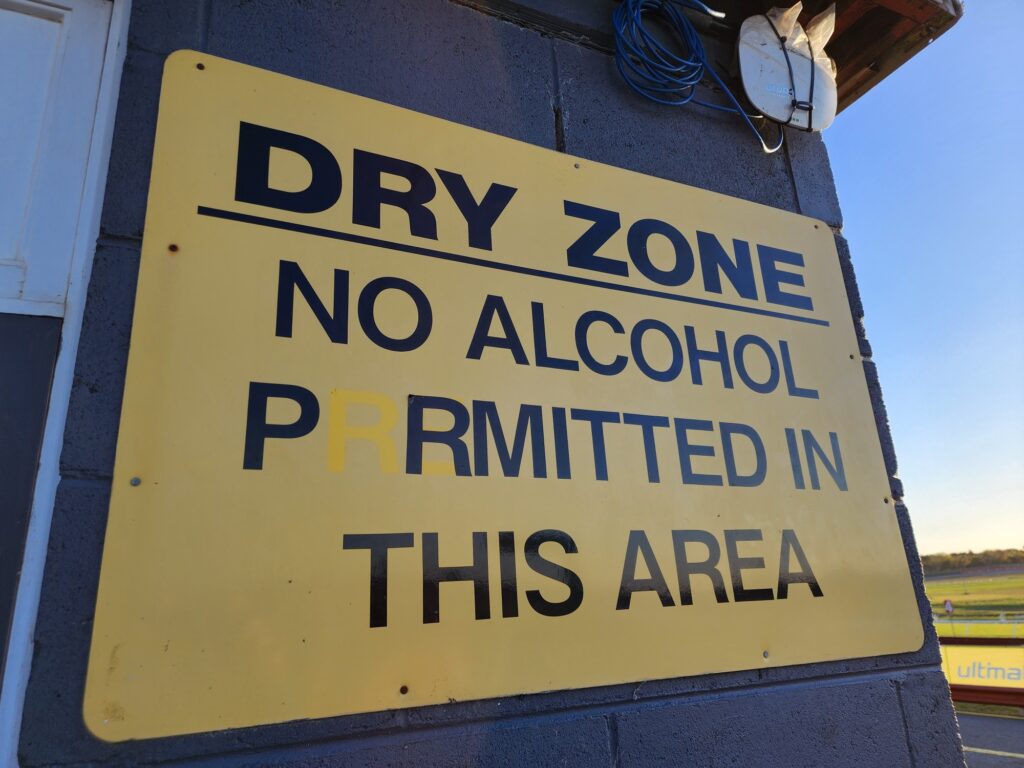 ---
Just Chaz Things
---
Pink eye?
---
Also, Sandown doesn't like what they did to the horse track…
---
NOT
1. Walkinshaw Andretti United
Ugh. Put it in the bin, forget about it, and have a hard reset for Bathurst. Kicked the weekend off by not reading the rule book, installing the wrong drop gears, and being disqualified from practice. Started Sunday 16th and 24th, with various dramas conspiring to place the pair 22nd and 23rd at the finish. A NOT in any book.
---
2. Start Time
Nothing, ever, in the history of the world, raises the ire of the Supercars fanbase (nor the Power Rankings, for that matter) than a time certain finish. Ever. Sandown is a unique case in that it runs up to a hard time cut off due to the noise curfew, with thanks to the fact suburban houses exist 60m past the guardrail on the back straight. Obviously, losing 15min thanks to Super2 fence repairs for the second straight year, and a pair of safety cars, cost the race three laps. Maybe start a little earlier next time?
---
3. Sprint Races MIA
Right, people power managed to bring back the Sandown 500; what are the chances we could petition to get the sprint races reinstated? Saturday was flat. Substituting the sprints with a shootout didn't really work – shootouts are must-watch viewing at places where there are true consequences – think Bathurst, Gold Coast, Adelaide, Newcastle – tracks where going balls to the wall can provide a payoff, or a wadded-up race car. The relatively wide-open spaces of Sandown do not.
If not a sprint race or two, how about a 250k Dunlop Series enduro? Or a GT enduro? Or a two-driver Porsche pro-am? Lots of options to make an otherwise quite long day more palatable for punters.
---
4. Garth's Crash
Rather terrifying – in hindsight, GT was fortunate to make the ARMCO and the wall on the left. It was a big shame as the combination with David Reynolds was hot to trot, with the Grove setup a strong one, as proven by the sister car, which finished sixth.
---
5. Tickford Racing
Ugh, again. After banging into each other in practice, the team cars finished 12th, 13th, 22nd and 25th, with the lead cars of Waters/Moffat and Randle/Jacobson having the toughest races. We haven't seen a car drop-kicked out of a race by an errant wheel since 2005, but here in 2023, it happened to Moff when Garth's wheel knocked off his wing. You couldn't write this stuff…
---
6. Security
They've done it again! The security employed at the circuit remains undefeated as the most disconnected with common sense on the Australian motorsport tour, whether it was from personal judgement or direction from above. Everyone had their own tale to tell, but as an example, on Sunday morning, officials and crews were not allowed to enter, but for some reason, media were, which undoubtedly upset all and sundry locked out. Sandown's dummy grid and paddock layout will forever be a NOT, but when combined with Sandown security, it's a cluster fit for the Guinness Book of Records.
---
7. Going Full Super2
After a season of typically not going full Super2, on Sunday Super2 absolutely went full Super2. Baffling TV direction cutting away from a three-wide battle to look at Tickford's Kate Harrington also one of the more ill-timed pit lane reaction shots of the year…
---
8. Pay TV Only
Channel 7 chose the state government-backed event in Darwin over the Sandown 500 – is it somewhat of a miss by the free-to-air broadcaster not to show the Bathurst build-up event on a day otherwise lacking sport? Yes, it probably was.
---
9. Phone and Internet Reception
It was pretty awful across the board, seemingly with Telstra being the worst. In the social media age, it's imperative that punters be able to convey their awesome trackside experience to their friends – word of mouth is the absolute best free advertising you can get.
But, no dice. From a media perspective, it similarly makes life difficult to spread the good word, which wasn't helped by zero WiFi in the media centre. Fail. Surely Supercars as an entity is large enough now to hit up the main Telco's for some temporary boosters at each event. Make it contra, whack some ads on the big screen coverage and tell the media and away you go. Good PR for all concerned.
---
10. No Co-Driver Light
Surely this isn't hard. Partial credit for the cars having to run the driver's names in largeish letters on the tops of the doors. That credit immediately removed by Supercars not bothering to include them in the first place, only jumping on it very late in the piece (as the weekend had started). Co-drivers are people too, dammit.
---
OTHER NOTS
Ignoring Chequered Flags
Did one competitor ignore the chequered flag twice in one day? The second caused consternation when said competitor came belting around a corner to be confronted by officials cleaning up a mess on a track that was supposed to be open. They aren't paid enough to deal with that…
---
No Printed Program
We get that the financials don't stack up for many events, but for the Sandown 500? Digital editions just aren't the same.
---
Shootout Tunes
Multiple friends of TRT noted that they didn't entirely enjoy the ongoing DJ set in the shootout, which drowned out the commentary. As it transpires, race fans want to know what's happening on the racetrack.
Refer also to our previous entries about the big screen coverage, which remains half-baked at best.
---
Porsche Race 3 Start
Expensive.
---
Quiet Exhausts
It's a Sandown thing, and in an effort to play the game by the local residents, noise restrictions are heavily policed, which is entirely fine. But did anyone else miss the Supercup-spec exhausts on the Carrera Cup cars?
---
Cameron McLeod
Running out of fuel in the 40min race one, and Sunday didn't last further than four turn.
---
Super 2/3 Practice Red Flags
Numerous minor offs disrupted play on Friday.
---
Jackson Walls
Costly DNF in race two, a tough break.
---
Practice Whoopsies
---
Racer Industries Kablammo
---
Carnage
It appears the most disruptive shunt for the weekend may have been between punters trying to leave the car park on Saturday night…
---
TWEET
Craill Cookies: Attaboy!
Agreed
Driver changes
Yeehaw!
Life's a Beach
HOT
We're all here for Tweetin' Scotty
Whack!
Ugh
---
MEME
Kind of like GT's off…
Heightism is a thing, and Supercars.com are guilty of it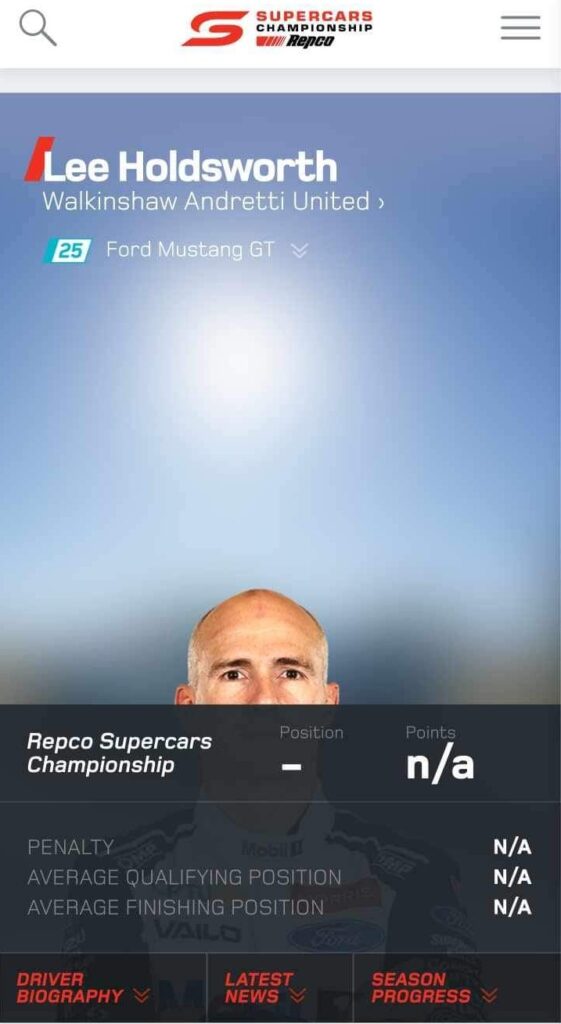 ---