Hot Petronas Wildcard Revealed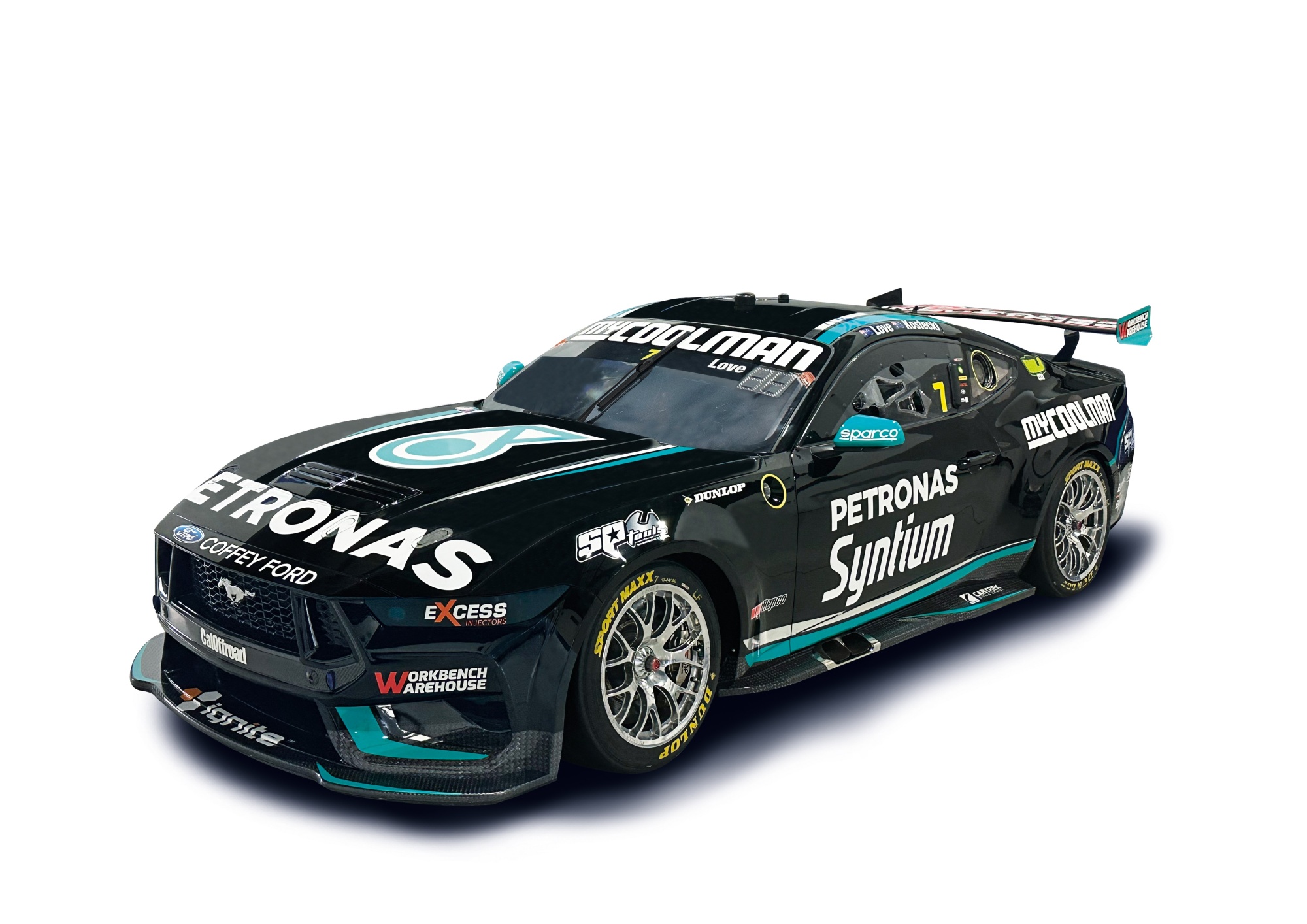 The Blanchard Racing Team (BRT) Supercars endurance wildcard Ford Mustang of Aaron Love and Jake Kostecki will sport a spectacular PETRONAS livery at the upcoming Bathurst 1000.
Moving on from the Racer Industries theme that debuted at the Sandown 500, the PETRONAS livery draws inspiration from the similar colour scheme employed by the Mercedes-AMG PETRONAS Formula One Team.
The PETRONAS brand's involvement in Supercars in Australia dates back to 2019 when team Co-Principal Tim Blanchard introduced the look as a wildcard entry in Western Australia, and later in Super2 competition.
Over the past five years, the Blanchard family-owned CoolDrive Auto Parts has partnered with PETRONAS Lubricants International (Australia) to supply the leading brand's products to mechanical workshops throughout Australia.
PETRONAS Syntium range leverages 20 years of experience earned in Formula One, culminating in the Mercedes-AMG PETRONAS Formula One Team claiming a remarkable eight World Constructors' Championships and seven driver's championships since 2014.
Through the technical partnership with the Mercedes-AMG PETRONAS Formula One Team, PETRONAS Lubricants delivers cutting-edge Fluid Technology Solutions™ that powers the team in all races. With a proven track record for technical excellence and innovation in advanced lubricants technology, PETRONAS Lubricants leverages its track-to-road learnings and experience for the benefit of the every day road users.
The full PETRONAS Lubricants range encompasses a diverse offering of high-performance engine oils, greases and transmission fluids suitable for most vehicles in various sizes.
A key feature of PETRONAS Syntium is its ability to control the heat, protect critical engine parts, reduce wear and maintain optimal performance, allowing cars to convert the maximum amount of fuel energy into power for efficient and cleaner motoring.
"For BRT, having PETRONAS on the grid at the Bathurst 1000 is an exciting prospect," said Blanchard.
 
"It truly validates our Super2 program – not only have we been able to develop Aaron and prove his skills by participating in the main game for this wildcard campaign, our PETRONAS partnership also steps up to the next level.
 
"PETRONAS has an incredible legacy in motorsport, and without a doubt, the livery will be a standout on Mount Panorama.
 
"Both Aaron and Jake put in a solid effort at Sandown, and with that experience under their belts, they should be in a position to have a great run at Bathurst."
 
For PETRONAS Lubricants, the opportunity to be represented in Australia's premier motor race by two up-and-coming stars is a significant opportunity.
 
"Bathurst is an incredible platform for PETRONAS Lubricants International (Australia) to showcase our unwavering association with motorsports and is a testament to our commitment to our long-standing partner CoolDrive Auto Parts," said Amarpreet Singh Ahuja, CEO of PETRONAS Lubricants International Australia Pty Ltd.
 
Following on from the entry's initial race at Sandown, the car will once again carry support from myCOOLMAN.
 
The Bathurst 1000 starts with practice on Thursday, October 5th, with the crown jewel 161-lap race set for Sunday, October 8th.