Cameron Shoots for Gold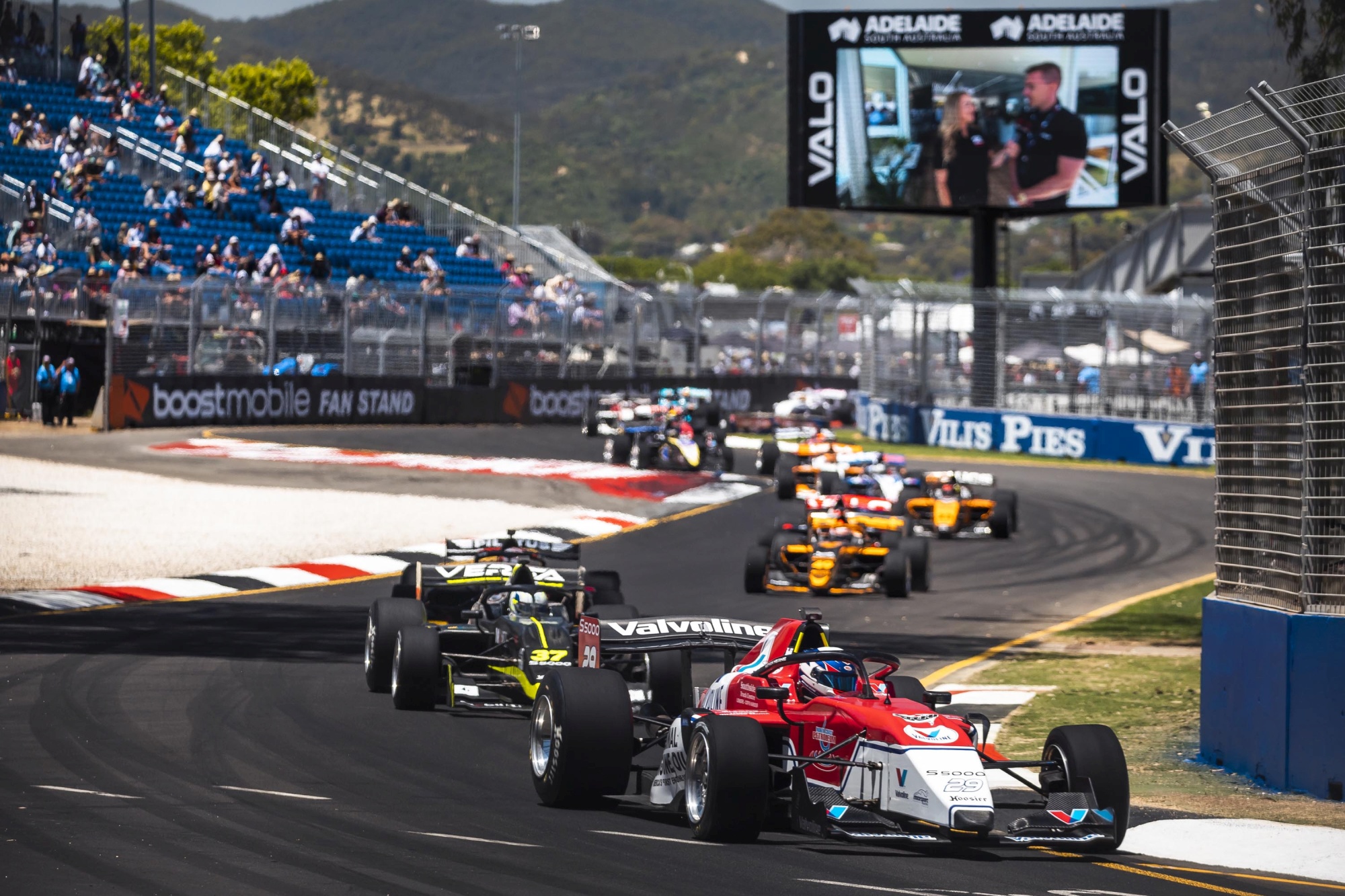 AARON CAMERON will look to seal his name into the record books when he looks to claim the S5000 Australian Drivers' Championship this weekend at the VAILO Adelaide 500. 
Meanwhile, a racy field including a returning international and a new rising star will battle for the Tasman Cup across three races on the Adelaide streets.
Former Formula 1 driver Roberto Mehri will return to the grid this weekend to drive the 88Racing / ACM Finance #88 car prepared by Adelaide-based Team BRM, adding international firepower back to the S5000 grid.
He'll be joined at the Adelaide squad by 18-year-old Formula Ford graduate, Kobi Williams this weekend.
Williams' made his S5000 debut at the Supercheap Auto Bathurst International last weekend, performing demonstration laps in the 88Racing-supported car.
The prominent return of Nathan Herne from US duties adds to the impressive attack from Team Valvoline GRM which includes Cameron shooting for the team's first Gold Star award.
The 23-year-old from Melbourne holds an 84-point lead over Cooper Webster in the fight to claim the Gold Star this year which while not insurmountable, is a comfortable lead to defend across the three races this weekend.
Webster, who is fresh from winning the final round and sealing second overall in the British GB4 championship recently, finished second – behind Cameron – in Adelaide last year so will be looking to redress that balance this weekend.
Along with title contender Cameron and the returning Herne, the GRM fleet includes Jordan Boys – who will do double duties in Super2 this weekend – and Nic Carroll.
Young South Australian racer Sebastien Amadio returns to the grid this weekend, as does Ben Bargwanna.
The Hangcha-backed driver will trade one famous street circuit for another this weekend as he travels back to Australia from competing at the iconic Macau Grand Prix in his Peugeot TCR car.
The home-town stocks are also bolstered by Nippy's Versa Motorsport driver Blake Purdie, and Team BRMs Mark Rosser.
The S5000 Australian Drivers Championship will complete three races this weekend at the VAILO Adelaide 500.
The field will practice twice on Thursday, with qualifying and the first race on Friday. Two further races – one each Saturday and Sunday – complete the weekend in Adelaide.
Practice two, qualifying and all three races will be shown live on Fox Sports 506 and Kayo Sports this weekend.
ENTRY LIST – S5000 Australian Drivers' Championship, VAILO Adelaide 500
| | | | | | | |
| --- | --- | --- | --- | --- | --- | --- |
| Car # | SPONSOR | DRIVER | STATE | VEHICLE | CC | COLOUR |
| 2 | The Fuzzies Game Team BRM | Mark Rosser | SA | S5000 | 5200 | Yellow/Blue |
| 8 | Team 88 / Team BRM | Kobi Williams | VIC | S5000 | 5200 | Black/Red |
| 18 | Team Valvoline GRM | Aaron Cameron | VIC | S5000 | 5200 | Red/White |
| 22 | Amadio Wines | Sebastien Amadio | SA | S5000 | 5200 | White/Red |
| 29 | Team Valvoline GRM | Nathan Herne | NSW | S5000 | S200 | Red |
| 37 | Versa Motorsport | Cooper Webster | VIC | S5000 | 5200 | Black/Yellow |
| 48 | Nippy's Versa Motorsport | Blake Purdie | SA | S5000 | 5200 | Orange/White |
| 49 | Team Valvoline GRM | Jordan Boys | VIC | S5000 | 5200 | Black/Orange |
| 71 | Hangcha Racing | Ben Bargwanna | VIC | S5000 | 5200 | Blue |
| 88 | Team 88 / Team BRM | Roberto Merhi | ESP | S5000 | 5200 | White |
| 96 | Crown Windows / Hogan Prestige Cars | Nic Carroll | VIC | S5000 | 5200 | Blue/Yellow |