How to make Motorsport TV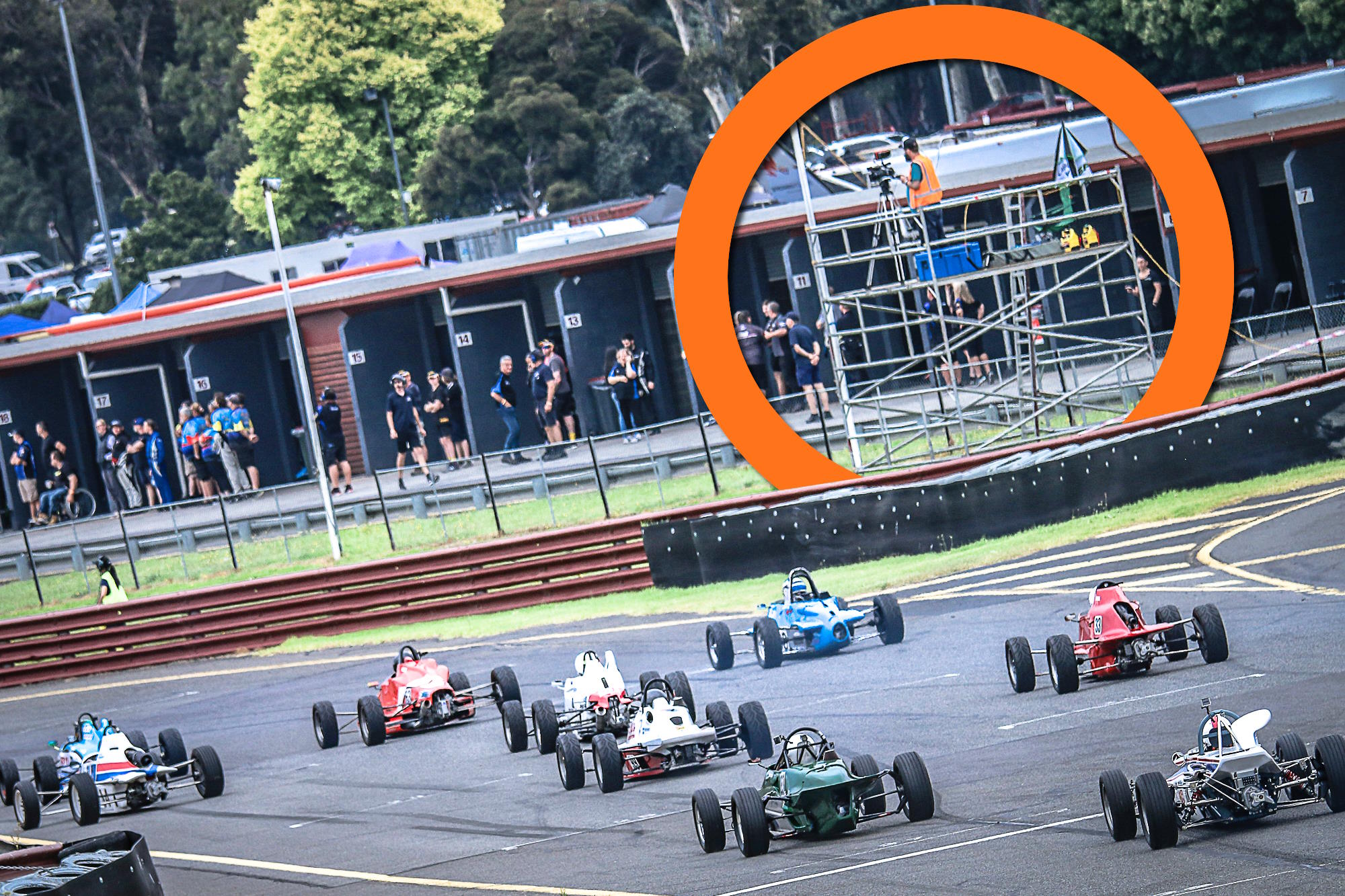 Have you ever wondered how the pictures from the racetrack arrive on your screen? As it transpires, there is a lot more to it than meets the eye.
---
Even casual fans of motorsport would have stumbled across the incredible array of content that is produced by the team at Blend Line TV, which focuses on broadcasting a wide range of grassroots motorsport from around the country.
From circuit racing state championships to historics, hillclimbs, khanacrosses, offroad, rally and more, Blend Line has been there and shot that.
Take, for instance, the time Robby Gordan's Stadium Supertrucks dropped by Sydney Motorsport Park for a made-for-TV appearance.
They've broadcast from Bathurst, while this year, Blend Line has stepped up to cover Asia's Lamborghini Super Trofeo series and Motorsport Australia's Shannons Trophy Series for streaming on 7+, while on Friday it was announced that the latest event they will be covering is this November's World Water Ski Racing Championships from Gosford.
It's an overnight success story over a decade in the making, with the company churning out a high-quality product on a budget.
---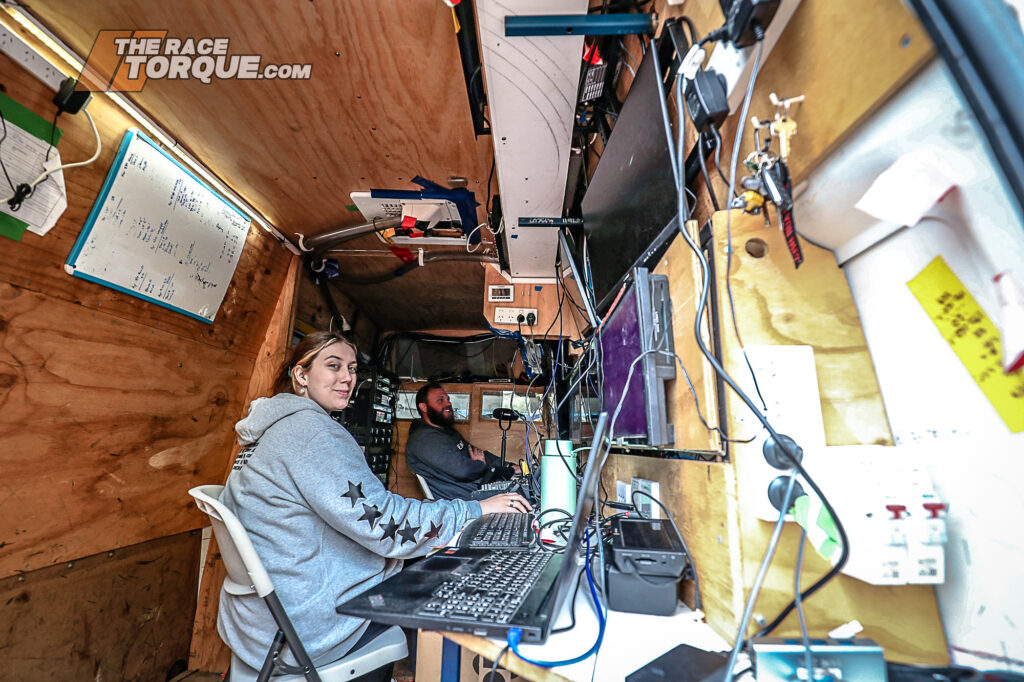 In the Beginning
Meet Dan Beckinsale, the driving force behind Blend Line TV, and a man truly passionate about motorsport.
At the back end of 2012, Dan was working in the publishing industry and was tasked with creating video content for the then-new Performance Garage title, with his first assignment covering the exploits of noted New South Wales production car competitor Tony Virag.
At Sydney Motorsport Park, Dan collected the footage from some of the in-car cameras, and in his spare time, edited together the full race, which was placed on YouTube, where the concept took off.
A deal was quickly struck with the category to capture the subsequent races at Wakefield Park and Winton on a Pentax DSLR and a handful of GoPros, with the service snowballing from there, with launch categories extending from Production Cars to include HQ Holdens and Sports Sedans.
The underlying story of Blend Line TV is one of progress, not only in technology but also in the development of professional broadcasting.
In the beginning, a fleet of camera operators were sent out into the field and left to their own devices, filming whatever they saw fit, there were no communications and no central direction, with Dan having to piece together a narrative in the edit suite.
The first major step for the production came in 2014 when the individual operators were armed with radios, with Dan providing direction from afar, describing the battle packs that needed to be filmed.
"When we started, all of the cameras recorded to internal hard drives, it was still almost as slow as getting it off a VCR," said Dan.
"I remember when I would come home from a state round in New South Wales or Victoria, and I would have to spend two or three days downloading the cameras to get the footage off them, slowly with USB1 technology as it rendered into the editing software.
"It was always a fun game, because when we first started, I was hiring five or six cameras to get the job done, and they all needed to get back to the hire place on Monday afternoon, so we would have two or three computers downloading content – we would be trying to do it on our laptops as we were driving down the Hume.
"Whereas now, we have fibre optics running straight into the van, and we're live – even post-producing is easy with SD cards – you can download those in minutes."
Blend Line TV was initially broadcast through community TV outlets, which were mystifyingly shut down by the Federal Government, a move that forced innovating into the online space.
The company's first live broadcast came in 2016 with a test event at Sydney Motorsport Park, which led to the official launch at Phillip Island for the Improved Production Nationals that year.
"At the Island, we did a five-camera live broadcast with two additional cameras for a post-produced show, because we didn't have enough space on the switcher," said Dan.
"We used 300 metres of fibre optics and a heap of wireless links around the circuit, but now that we know how you actually do it… looking back now, we have no idea how we made that work!"
---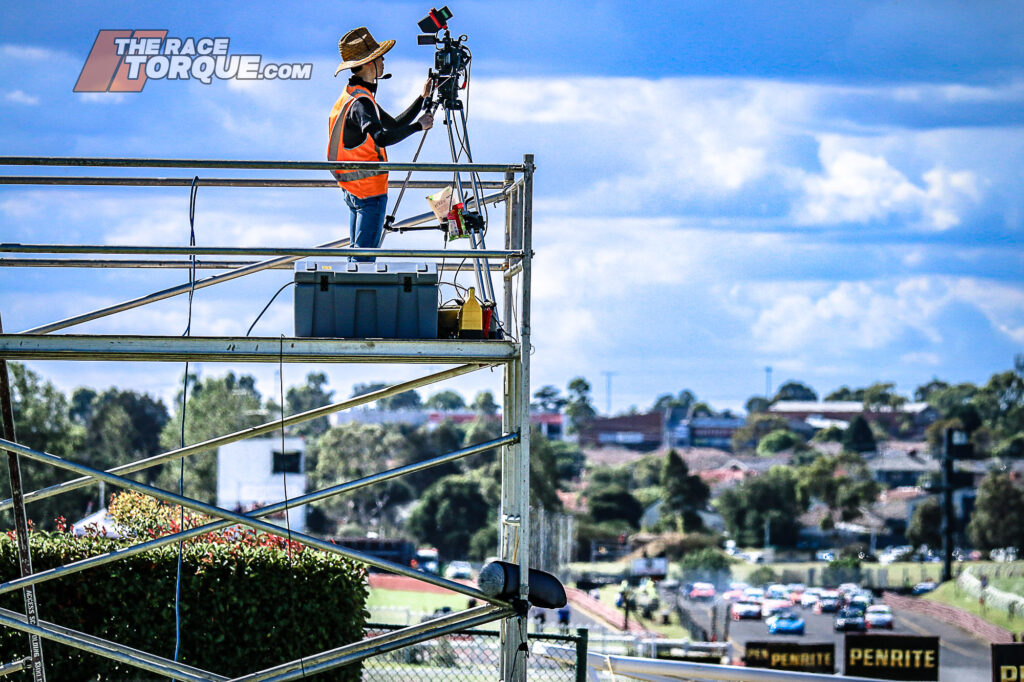 Enabling Growth
For Dan, 90 per cent of his role is in the planning of broadcasts, keeping good relationships and clear communications with customers and the race circuits.
A drive for constant improvement is also paying dividends – for the last two years, the Blend Line Facebook page has received over 25 million video views, a number which is growing.
Behind the scenes, the busy racing season has seen the company acquire a trailer, which can be deployed separately to the Blend Line van, enabling two events to be broadcast concurrently.
For example, this allowed the dual broadcasts in August of a Trophy Series event at Queensland Raceway and the Winton Historic meet, which saw 22 people employed across the country.
The biggest single shoot to date for Blend Line was the Trophy Series meet at The Bend, which featured 11 trackside cameras, one remote camera in the pits, plus post-produced packages, with the total crew count reaching 16.
While Blend Line has successfully broadcast live in-car cameras in the past, and has the capability to show drone footage, an underlying constraint is budget.
"Most of our reasoning for viewers not seeing certain things in broadcasts is more of budget limitation, rather than a limitation of we can't technically achieve it," noted Dan.
"I would imagine we are running at about 1/8th to 1/10th the budget of the SpeedSeries, to put it in those sort of terms, that shows you where we are in the market.
"For instance, the van is an evolution of the progress we have experienced to date; it's been through that many iterations, it's not funny.
"Version one of the van was when we did the 2016 or '17 Muscle Car Masters, when we had the truck split up so we could do the commentary on one side, and broadcast on the other, with the idea being that it is hard to setup a commentary box at a race circuit.
"The thing we didn't think about was air conditioning, so we almost killed Darren (Smith) and Garry (O'Brien) on the first broadcast because we locked them in this tiny little room and got them to commentate for eight hours!
"But the van has been through that many evolutionary iterations as we've built it up and down and left and right depending on the workflow for any given event."
A moment of consternation came on the journey from Sydney to the Lamborghini Super Trofeo event at The Bend back in June this year, when the van blew a turbo on the Hay Plains.
Roadside, the entire production setup was stripped back to a bare shell so that the show could stay on the road to South Australia.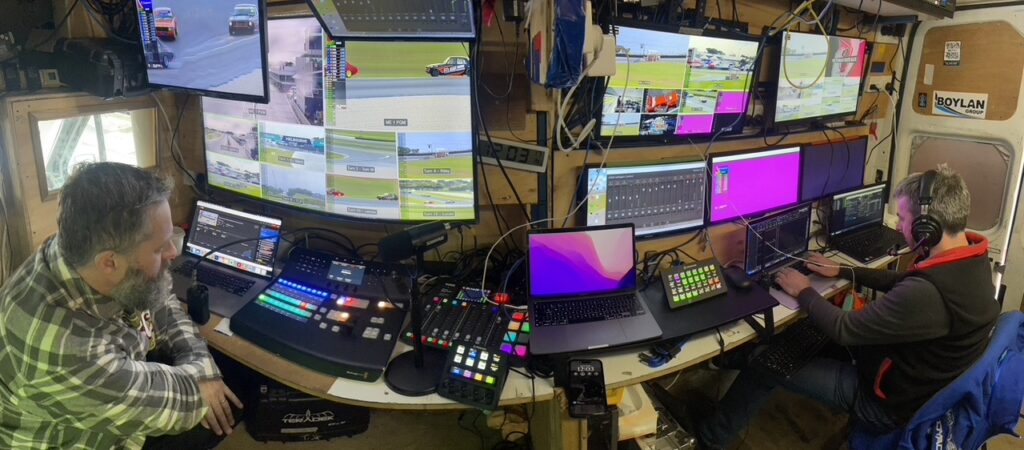 ---
Technically Speaking
Prepping for a broadcast typically kicks off well in advance of race day.
For the recent Calder Park Vic State Race event, packing the van started on the Friday prior, with final equipment testing carried out over the weekend and on Monday.
As typical with Victorian events, Tuesday was a travel day, with the setup and fibre optic cable roll commencing on Wednesday.
Early on Thursday morning, scaffolds were set up.
While some venues come complete with existing elevated platforms, or in the case of Phillip Island, some incredible arrangements can be provided by MotoGP or the World Superbikes at certain times of the year, elsewhere, Blend Line makes their own arrangements.
"The reason we use scaffolded positions is just to be able to get clear sight lines of the track; in certain areas, you can be very limited due to the terrain or obstacles," said Dan.
"Because we don't have budget for a heap of positions, it's smarter to spend some of the budget on scaffolds than more camera angles that might not be able to see as much anyways."
The remainder of Thursday is spent rolling cables or testing lines – some venues have in-circuit infrastructure that can be used, such as Sydney Motorsport Park, which is well equipped, while both Winton and Phillip Island have a level of permanent cabling in place.
For instance, Phillip Island used to require a 4.2km long rollout, but it is now down to 2km, although obstacles such as bridges add to the wiring challenge.
While Calder Park is relatively compact, it still requires 2km of cable.
The commentary box is set up on Thursday evening or Friday morning, with Friday turning into a testing day, when all main lines are documented, to ensure easy access to redundancies in case anything goes wrong.
Testing all of the camera positions is a two-man job, one in the van and the other on the camera, with the full transfer of video and audio now achieved through the fibre optics.
UHF radios are now considered a backup system, as all talk back to the camera operators comes via the fibre setup.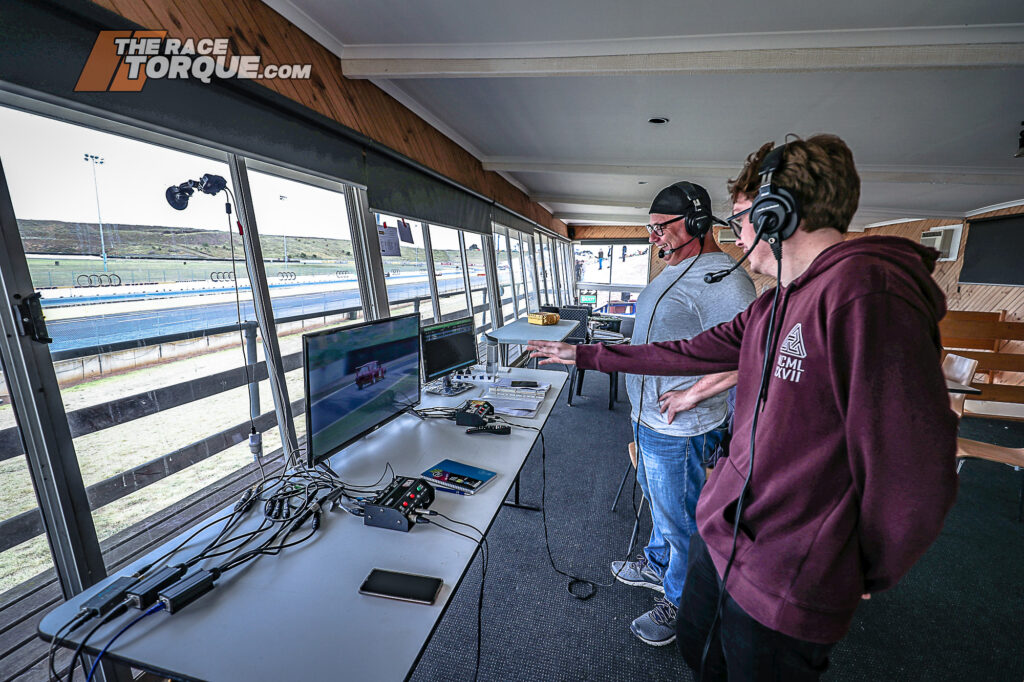 Commentary box checks are carried out for audio and vision, with a video feed from a GoPro located at the desk setup to the van showing that the talking heads are in position and ready to roll.
A recent innovation is that each of the commentators has an individual talkback loop to the van, while the commentators are also patched into the full sound mix from the broadcast so that they can hear lock ups and other noises made on track.
A feed is also provided to the circuit PA, with this levelled out, ready to flick the switch on race day.
Raw data from the timing room is fed into a Blend Line computer to generate live onscreen graphics, a service developed in-house by Shane Rogers and Trav Mason over the course of a couple of years.
The timing data is also provided to the commentary box.
"Something else we do for Vic State Race is run a copy of the live broadcast into the venue, but also a private line channel to race control that has the director's feed on it," said Dan.
"What we can do there is on request via the (talk) back channel from race control, we can provide medical, judicial, whoever, dedicated replays of incidents just for them, and also focus on things like car recoveries or tyre wall repairs in real-time.
"It helps out with the smooth running of the race meeting, but we can do that off-channel, which, combined with listening to race control on the radio, also helps us figure out how much downtime there might be between races."
The feed from every camera comes into a recording disc to facilitate replays, even if the camera isn't live broadcasting at the time of an incident, while hard drives networked into the mixing desk allow for the play-in of pre-recorded packages.
Other inputs like live in-car cameras, wireless pit cameras, and drones, are also possibilities.
Ultimately, the images are pushed out into the world by various wired and mobile data methods.
---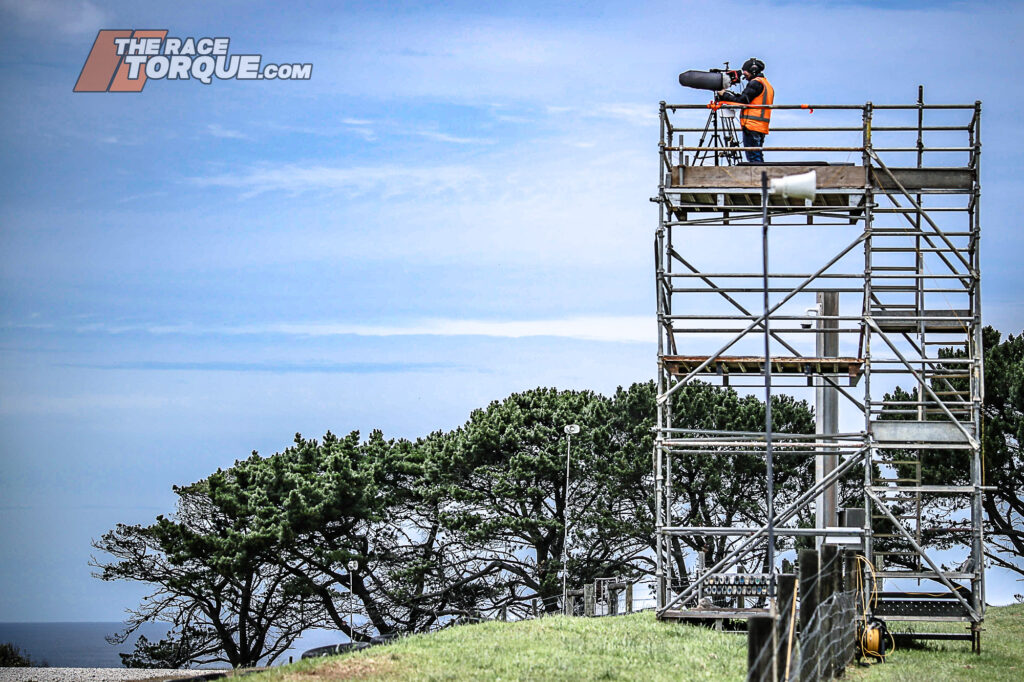 Controlling the Uncontrollable
The beauty of live TV is that there are no second chances.
While repeated visits to venues may bring an understanding of the setup required, there is a range of inputs that can't be controlled, such as the weather.
However, the team are always trackside early to ensure that everything is ready – a ploy that has paid dividends over time.
"Probably one of the wildest moments that nobody would have ever noticed how close to disaster we were, we rocked up to Sandown on the Saturday morning and couldn't get any cameras lit," recalled Dan.
"We tested them all on Friday evening… then we went and looked at the cable to turn one and the cable to the final corner, and we found that overnight that the maintenance at the track had decided to mow the lawn, and two of our fibre optics had been shredded to bits.
"So, 15 minutes before track closure, we were out there rolling fibre lines so we could get the broadcast up, or else there would be no vision that day."
Then there was the time a wombat chewed through a fibre optic cable overnight at Morgan Park in Queensland, with a "Fibre the Wombat" mascot subsequently finding residence in the Blend Line van…
---
"Grassroots motorsport produces some of the best racing you can watch"
While the objective of Blend Line TV is to progress the promotion of grassroots motorsport, as a production house, it continues to provide a learning environment for people to develop real-life skills that can be taken into the commercial TV world.
"When I started this, I had no idea how any of this came together, I started the whole business because I wanted to be a motorsport commentator, and the only way to get your commentary out there was to be commentating things," noted Dan.
"In the end, I've moved into owning a broadcast company, I really enjoy the operational side of things, and frankly, there are so many really good commentators across the country, especially young ones who deserve the opportunity to learn and grow.
"The same goes for camera operators, production staff and more, they all need somewhere to learn the ropes… Blend Line is developing a reputation in the industry for how we broadcast, and we've grown as a company.
"I've got guys like Travis Lewis-Phillips, who is my full-time employee, he's been with us for two years now, but he was with us for four years prior to that while he was going through uni as a freelancer, and we've been lucky enough to turn that into a fulltime role, because there is enough work there.
"Hopefully, next year, we are looking to get a couple more full-time people into it, which will help us grow, but we're proud of the people who have worked with us in the past and now continue their professional journey in the industry.
"One of the things that I've noticed during this whole journey is that Australia has such a high expectation from fans and competitors of the quality of broadcast at this level.
"I think it is because the Supercars product is so truly world-class, and it shows when you look at the coverage from lower levels of the sport in North America or Europe, and it's nowhere near the quality we are able to produce here."
Want to watch more? Head over to the Blend Line TV YouTube page and give it a like.
Also, keep your eyes peeled for our very own TRT TV guide, which lists upcoming live broadcasts.