Power Rankings: Tasmania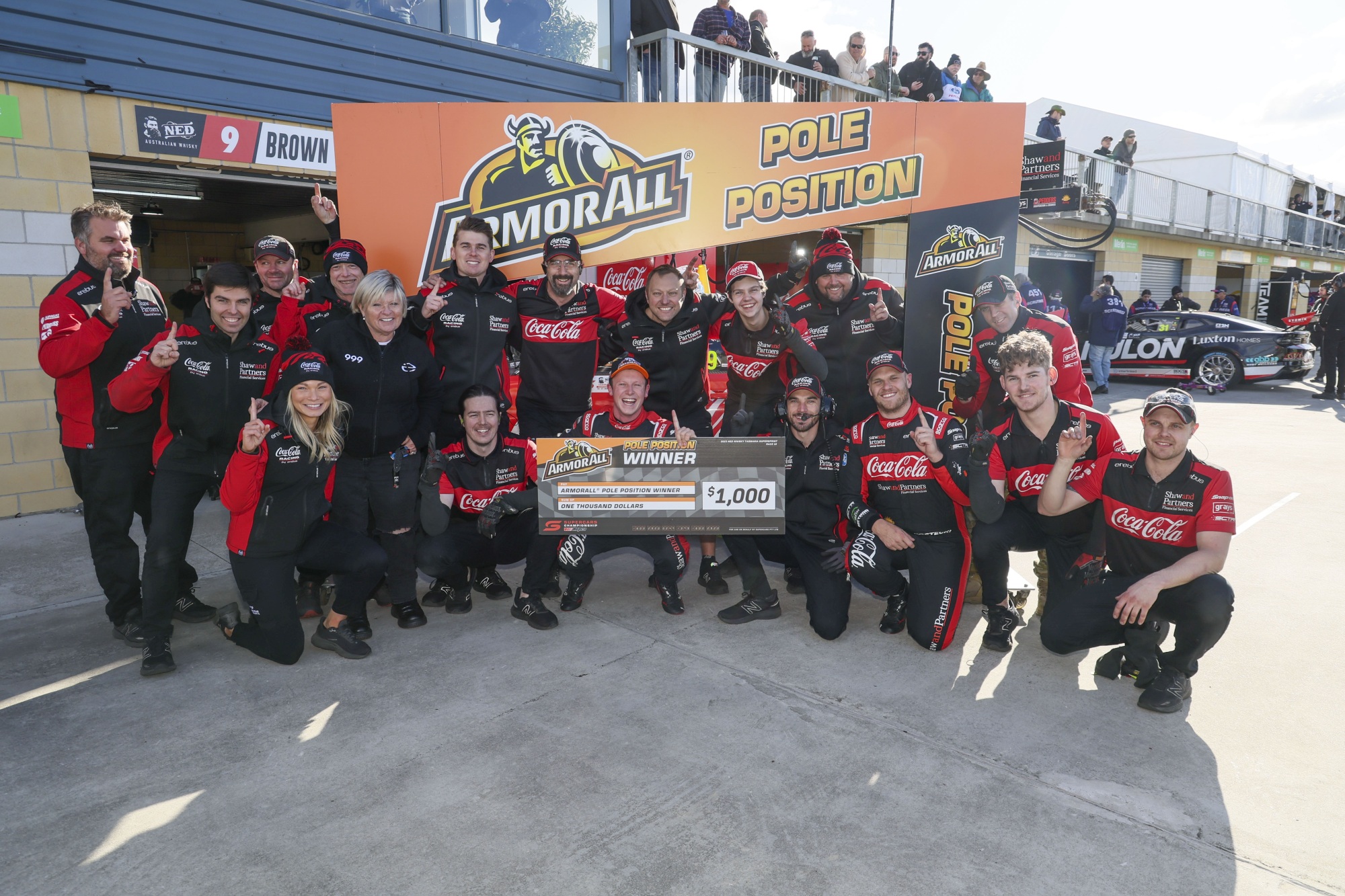 Young blokes in Camaros are so hot right now…
Fortunately, there were also plenty of NOTS and WHATS from a big weekend at Symmons Plains to pad out this edition of the Power Rankings.
So strap in, put on your gloves and beanie, this is going to be a wild ride…
---
ABOUT THE RANKINGS: The TRT Power Rankings are compiled by your nominations from social media and edited by the TRT editorial team. They're designed to give a balanced, as fair as possible critical overview of those things that excelled and those things that struggled, at each event. It's (mostly) a democracy, and what you nominate generates the order, so have your say next event via our social media channels, @theracetorque on Facebook, Twitter and Insta. Look for the call out each evening and get commenting!
---
HOT
1. Will Brown/Brodie Kostecki/Erebus
Now at the 43% mark of the 2023 Repco Supercars season, the wheels have not yet fallen off the Erebus wagon: these guys are dominating, and it appears to a trend that's going to roll on into the future.
Will Brown scored the Saturday pole, Brodie Kostecki both of them on Sunday.
Will won the opening race, while Brodie was forced into the fence.
Brodie and Will finished second and third in race two, and then finished first and third in the finale.
It was a Triple Eightesque result from a venue T8 has typically owned in the past.
Furthermore, they are getting the job done with an air of fun – the camaraderie is out there for all to see.
Not every team on the pit lane would have their non-polesitting pilot participate in the post-qualifying photo, but it's certainly the case with the Coca-Cola racers, as per the above image.
One-two in the points, first in the team's title, Team Coke is legit.
A++.
---
2. Formula Ford
Holy smokes. That was brilliant.
Making a one-off appearance on the Supercars program, the junior open wheelers kicked off the weekend with a wonderful initiative when ex-drivers caught up with the current crop.
Race one was brilliant, and there was a mega single-lap dash in the second, while the third race was the class at its very best.
Terrifying to watch, but completely on brand for a class that was once sent off to the motorsport farm and continues to get threatened by reinvention.
Fortunately, the class has never deviated from the wonderful brand of racing that it has always provided.
---
3. Broc Feeney
After being caught up with Mostert at the start of race one, he started race two from second, and after initially dropping back, the Triple Eight crew called an ace strategy with an overcut to claim a decisive victory.
Mr Sunday, the anti-George Russell, has arrived with four wins in five events.
Backed up with second in the third race – Broc is stringing together a solid season.
---
4. Truck Assist Racing
Back in the day, that would have been an ok weekend for Stone Brothers Racing.
For starters, Cameron Hill has never been to Symmons Plains before. In anything.
Jack Le Brocq is something of an ace around the Tassie Pork Chop, with the pair's results from the weekend reading:
Qualifying
Race 1: JLB 2nd, Hill 7th
Race 2: Hill 4th, JLB 5th
Race 3: JLB 4th, Hill 7th
Racing
Race 1: JLB 7th, Hill 8th
Race 2: JLB 8th, Hill 11th
Race 3: JLB 5th, Hill 11th
Ok, race pace wasn't necessarily there, except for the finale, where Le Brocq was right in the pocket of the Kostecki/SVG battle, and was on for a podium if they made one slip.
This is a little team that can, with the Gen3 level playing field working to their advantage.
---
5. Qualifying Chaos
As advocates for madness, we are entirely here for the qualifying shenanigans for the second race.
With the entire field looking to slipstream each other, the jam-packed field had pundits shaking their heads… and it was brilliant theatre.
Where else are you going to have Cameron Waters clatter into BOTH of the DJR in separate sessions at turn six, as they spoiled each others laps.
Once again, the two qualifying runs spat out some mixed-up results, which is all we can ask from a qualifying session.
---
6. Porsche Sprint Challenge / Ronan Murphy
Frankly, a bunch of young, relatively inexperienced blokes, trying to make a point put on some brilliant races with some entertaining battles and mega car control.
For the second event in a row, the junior Porsches were just great.
Marco Giltrap is a certified star of the future, as he claimed overall weekend honours, Oscar Targett was great, Zac Stichbury, Harrison Goodman, Tom McLennan and co were all in the mix.
Plus, there was son-of-a-gun Ronan Murphy with his first victory on these shores in only his second race event here.
Watch this category, 2023 is going to be huge…
---
7. SVG Going Places
The long-awaited confirmation that Shane van Gisbergen is heading to NASCAR on Friday is kind of a massive deal for Supercars.
Here at The Race Torque, we ran a rule over his prospects, and he could not be in a better position to take advantage of the opportunity.
If he wins, his extensive fanbase will be stoked. Also, if he wins, people who don't like him will be stoked, because he will probably be poached for a full-time drive.
On track this weekend, he lacked qualifying pace, the race two smash is a major points hit, but his ability to carve through the pack in the other races to nab a third and a fourth shows that Gen3 cars can be pretty racy.
---
8. Andre Heimgartner
A close second in the opening race, which was a mega comeback after a lacklustre Perth round.
Sadly, the Sunday running didn't replicate the Saturday effort.
It was Andre's 100th Supercar round, and we would suggest that his best is yet to come…
---
9. Cam Waters
A leading light for the Ford camp, and came within a corner of claiming a race one podium.
Fourth, fourth and seventh for the event relative to the rest of the Blue Oval runners was solid.
It was about this time last year Cam went on a tear – fingers crossed he does it again.
---
10. The Changing of the Guard
Feeney, Brown and Brodie – having the young guns take control can only be a good thing for the sport.
---
BONUS HOTS
Race One Underdogs
Positions five through ten on the results sheet read Scott Pye, Tim Slade, Jack Le Brocq, Cameron Hill, Nick Percat, Thomas Randle. You can't be upset about that…
---
People Power
More compact qualifying simply made sense, especially as it added to the madness.
Also on the people power topic, the Tassie crowd was genuinely good, the best it's been there for several years, despite the negative temperatures.
---
Premiair Hire
Like the Truck Assist Pair, this is another under-the-radar squad that is stringing together some results.
Slade was sixth and seventh in the openers, while Golding chimed in with a top-ten of his own.
---
Aussie Racing Cars Race 2
Hot. The Aussie Racers turned on more of their typical contests over the weekend.
---
Scott Pye
Hot: finishing fifth in race one.
Not: qualified in last for the very next race.
---
Nick Percat
Two top-tens from first two races, but sadly nowhere in the finale after his brake pedal pad fell off.
---
The Rooftop Podium
---
WHAT
Your Mum and Dad must be very proud
NED Whiskeys is a very Australian unit of measurement
In scenes from The Fast and Furious, Cam Waters is living life a quarter mile at a time, non-stop plucking gears…
---
NOT
1. "Parity"
Whether there is parity between Ford and Chevy, or the Ford camp has dropped the ball, the scorecard after four events reads:
Chevrolet 10/12 poles
Chevrolet 11/12 wins, with the other lost on a technicality
Chevrolet 30/36 podiums
As has been the case all season long, the Ford crew didn't help its own cause on track in Tassie.
Ford could have wound up with both of the Sunday poles if it weren't for Waters clattering into both of the DJR cars in successive sessions.
In the races, Chaz Mostert and David Reynolds were in the wars, while as broken down by Larko during Sunday's telecast, on Saturday, Waters lost 1.4sec on his pit stop and missed the podium by 0.6sec after being passed at the last corner.
From the Blue Oval perspective, Ryan Walkinshaw offered some insight, below.
To be fair, if Erebus and Triple Eight were benched, Ford and the best of the rest would be a close-run thing.
For the sake of the sport and half of its fanbase, there needs to be two competitive marques. If that is achieved via further technical changes, the teams getting their act together, or both, fingers crossed the Darwin results are more balanced.
---
2. The Cold
In news that is probably not really news to anyone, May 19-21 in Tasmania is actually bloody cold.
There's probably a reason that the event has bounced around the calendar, typically in the warmer months… at least it gave the commentators some fodder, which was unpacked in most sentences uttered throughout the broadcast.
It also gave social media something to talk about.
Be thankful that the next event is in Darwin, where it will be 32 degrees, just like it has been every day in June since the dinosaurs raced there.
---
3. SVG in Qualifying
Since Saturday in Perth, qualifying has been Shane van Gisbergen's Achilles heel.
Ninth for race one, 11th for race two and ninth for race three really isn't good enough, especially when the title-leading Coke lads are consistently up the front.
The first race qualifying result was blamed on slowing down for a yellow flag, an explanation that didn't carry over to Sunday.
Starting back in the muck ultimately unravelled SVG at the start of race two when he hooked up with David Reynolds, and proceeded to knock down the earth bank.
Full marks though to the Triple Eight crew for resurrecting an otherwise unrepairable Gen3 wreck.
If he started up the front, we wouldn't see which way he went…
---
4. James Courtney Practice Off
It's forever an issue on short tracks with drivers looking to make a space/catch a slipstream, James Courtney's practice off was ugly.
Slow cars wobbling around on race line is a hard NOT (in this case Reynolds), however, the offroad ability of the Mustang is HOT.
---
5. Race 1 Dog's Breakfast
There were some messy scenes at the start of the Saturday race.
First, James Courtney's season continued to go full James Courtney, when he pioneered a path to the fence for SVG to follow in the next race.
More chaos followed shortly afterwards at the hairpin, with Brodie Kostecki finishing in the wall, while Broc Feeney and Chaz Mostert tangled in the turf on the inside of the track.
That wad up vastly delayed first and second in the standings, with Brodie finishing the day with a reduced title lead of 74 points.
---
6. DJR in Qualifying
A better weekend in some aspects, but messy in others – race pace is abundant, but the cars started too far back to utilise it.
After topping Q1 for race one, Will Davison started 16th for the opener, while Anton De Pasquale battled technical issues and started 22nd.
Will started race two from a weekend high of 7th, while Anton started 19th, which improved to 17th for the finale, with Will back in 24th, after the duo suffered the chrome horn of Cam Waters in the different sessions.
Race results improved somewhat:
Race 1: Will 11th, Anton 13th
Race 2: Will 5th, Anton 14th
Race 3: Anton 9th, Will 13th
---
7. Sunday Schedule
There wasn't a lot happing to round out the weekend… the decision to put the Tassie Tin Tops on as the only race between the two Supercars shows was mystifying, at best. As cool as those cars are, the racing was lacklustre and surely a Formula Ford or Aussie car thrill-a-minute fest would have been much better for the TV audience and especially the punters at the circuit. A very, very strange piece of scheduling and as one unnamed member of the media said at the time 'You can almost see the TV ratings plunging off the cliff'.
---
8. Further Scheduling Issues
Sub-optimal coincidence from footy (with Hawthorn "playing" West Coast just up the road) and car racing, which surely worked against both…
Having said that, with 9,135 attending the footy at UTas Stadium, this might be the only time outside of the Australian Grand Prix that a Supercars race has drawn more paying punters than a footy game on at the same time in the same city..
---
9. Courtney Vs BJR in Race 3
---
10. Formula Ford Biffo
As brilliant and terrifying the Formula Fords were, the safety car appearances in the latter two races were somewhat inevitable, but a shame nonetheless.
---
TWEET
The headcount in Tasmania was immense
Mis-matched set of tyres
Things you don't typically think about…
Golden
A good low cut, but missed the edges. Four stars.
Drive into the smoke!
Move over Inspector Seb…
Final thoughts
---
MEME