Bumper TCR Word Tour Field Set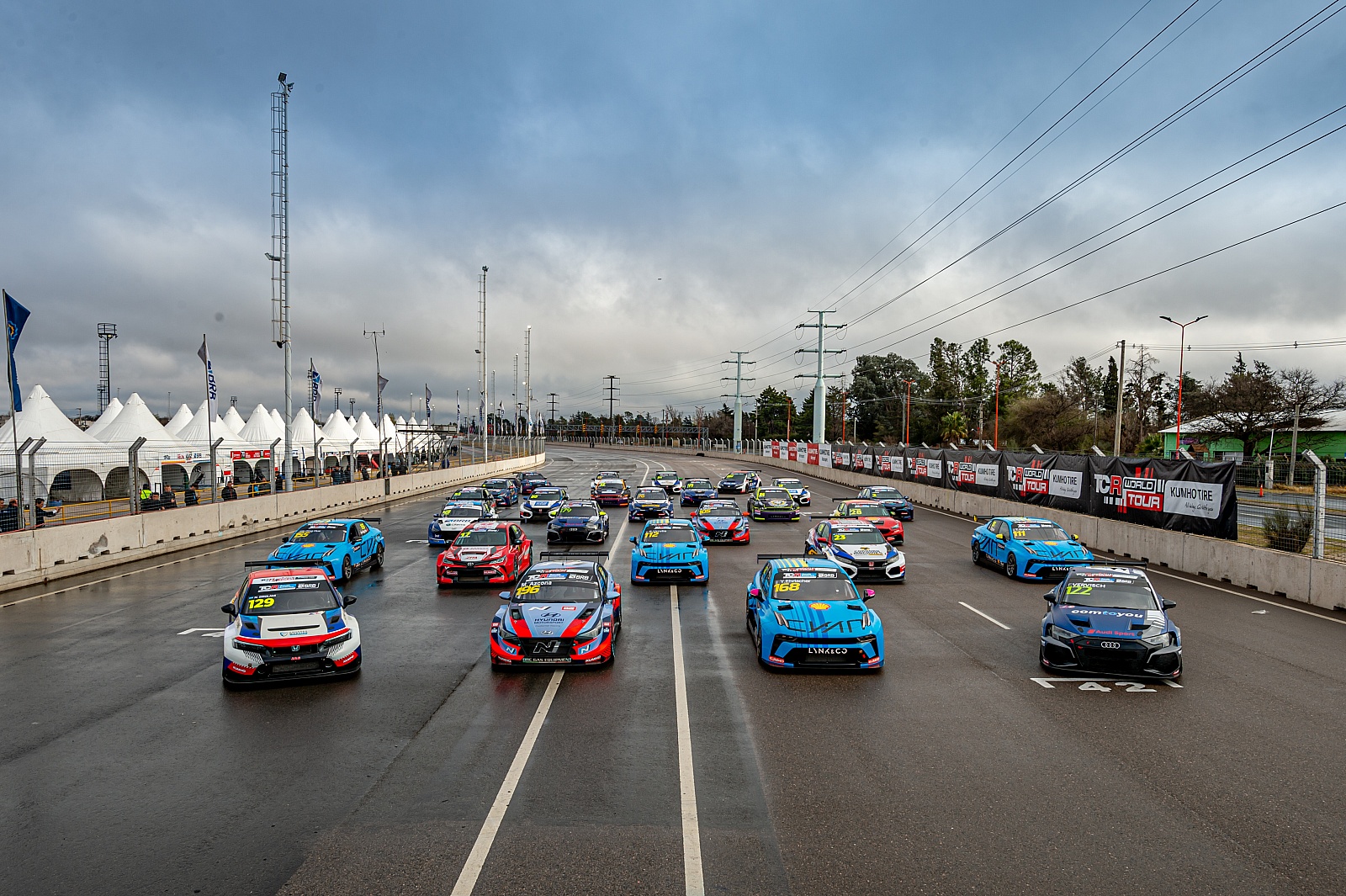 AN entry list including six manufacturers and drivers from ten countries has been unveiled for the return of International Touring Car competition to Australian soil this week. 
A 25-strong grid has been locked in for Race Sydney, which doubles as Round 6 of the Supercheap Auto TCR Australia and the first of two Australian rounds of the Kumho TCR World Tour.
Six different brands – Honda, Peugeot, Audi, Cupra, Hyundai and Lynk & Co – will compete across three races at Sydney Motorsport Park on November 3-4, commencing under lights on Friday night at the Western Sydney venue.
It's the largest field of TCR cars ever to have been assembled on Australian soil.
The top 9 drivers in the Kumho TCR World Tour championship race are entered with the series entering its final stanza; rounds in Sydney, Bathurst and the famous street circuit in Macau to decide the inaugural title.
The entry list includes two former FIA World Touring Car Champions, three FIA World Touring Car Cup winners, two Supercheap Auto TCR Australia champions and more than 150 wins in domestic and international TCR competition.
The international visitors include a two-car Hyundai team entered by BRC Hyundai N Squadra Corse with drivers, Norbert Michelisz and Mikel Azcona.
Cyan Racing Lynk & Co will bring a fleet of four cars Down Under, former World Champion Thed Björk and Yann Ehrlacher to be joined by Santiago Urrutia and Ma Qing Ha.
The experienced Audi Sport Comtoyou squad will field Audi RS3 LMS TCRs for former World Touring Car Champion Rob Huff and Frederic Vervisch.
Honda will field a Civic Type-R TCR for Argentinian Nestor Girolami, while Frenchman Jimmy Clairet will drive a Bargwanna Motorsport / Hangcha Forklifts-backed Peugeot 308 TCR in Sydney, with brother Teddy to take over at Mount Panorama a week later.
While none of the international drivers have previously raced at Sydney Motorsport Park, Huff, Vervisch (in the Bathurst 12 Hour) and Teddy Clairet (in Supercheap Auto TCR Australia last year) have experience at Mount Panorama.
The Australian attack is headlined by defending champion Tony D'Alberto, who will debut a brand-new Honda Civic TCR at Sydney Motorsport Park, and 2019 champion Will Brown aboard his Liqui Moly Audi.
Meanwhile, current Supercheap Auto TCR Australia leader Bailey Sweeny will look to build his narrow lead over teammate Josh Buchan and Valvoline GRM's Aaron Cameron, all the while matching himself against the factory Hyundai pilots from overseas.
Race Sydney doubles as the penultimate round of the Supercheap Auto TCR Australia series, with an intense title battle set to go down to the wire at Mount Panorama a week later.
The grid will be bolstered by a third Honda entry from Wall Racing: Will Harris to join brother Brad in a pair of Exclusive Switchboards-supported cars within the D'Alberto-led stable.
British driver Tom Oliphant will have the unique honour of representing the Aussie TCR series against a host of internationals and former Touring Car rivals in the UK as he fronts in his locally run Lynk & Co entry.
Cars have begun to arrive in Australia this week, fresh from the most recent Kumho TCR World Tour round in South America.
They will arrive in their containers at Sydney Motorsport Park early this week ahead of on-track action commencing at Race Sydney on Friday afternoon.
Race Sydney tickets are available from motorsportickets.com.au.
The event will be broadcast on Stan Sport and the Nine Network around Australia.
ENTRY LIST – RACE SYDNEY
Supercheap Auto TCR Australia, Round 6
Kumho TCR World Tour
| | | | | | | | |
| --- | --- | --- | --- | --- | --- | --- | --- |
| Car # | SPONSOR | DRIVER | STATE | VEHICLE | MODEL | CC | COLOUR |
| 1 | Honda Wall Racing | Tony D'Alberto | VIC | Honda | Civic FL5 TCR | 1998 | Red/White |
| 4 | Hangcha Forklifts | Jimmy Clairet | FRA | Peugeot | 308 TCR | 1800 | Blue/Red/White |
| 9 | MPC Team LIQUI MOLY | Will Brown | QLD | Audi | RS3 LMS TCR | 1984 | White/Blue/Red |
| 14 | Purple Sector | Lachlan Mineeff | NSW | Audi | RS3 LMS SEQ | 1998 | Orange |
| 15 | Carl Cox Motorspport | Michael Clemente | VIC | Cupra | Leon Competicion TCR | 1998 | Black/Red |
| 18 | Team Valvoline GRM | Aaron Cameron | VIC | Peugeot | 308 TCR | 1600 | Red |
| 22 | Challenge Motorsport | Iain McDougall | VIC | Audi | RS3 LMS SEQ | 1984 | Red/Silver |
| 30 | HMO Customer Racing | Josh Buchan | NSW | Hyundai | Elantra N Sedan | 1999 | Blue/Orange |
| 33 | Schaeffler GRM | Jordan Cox | NSW | Peugeot | 308 TCR | 1600 | Green/White |
| 41 | Valvoline Racing GRM | Kody Garland | NSW | Peugeot | 308 TCR | 1800 | Red |
| 71 | Burson Auto Parts Racing | Ben Bargwanna | VIC | Peugeot | 308 TCR | 1600 | Blue/Red/White |
| TBC | Exclusive Switchboards / Wall Racing | Will Harris | NSW | Honda | Civic FK7 TCR | 1998 | Aquamarine |
| 74 | Exclusive Switchboards / Wall Racing | Brad Harris | NSW | Honda | Civic FK7 TCR | 1998 | Aquamarine |
| 105 | BRC Hyundai N Squadra Corse | Norbert Michelisz | HUN | Hyundai | Elantra N Sedan | 1999 | Blue/Red |
| 110 | Team Soutar Motorsport | Zac Soutar | VIC | Audi | RS3 LMS TCR | 1998 | Black/Yellow |
| 111 | Cyan Racing Lynk & Co | Thed Bjork | SWE | Lynk & Co | CO 03 FL TCR | 1750 | Blue |
| 112 | Cyan Racing Lynk & Co | Santiago Urrutia | URU | Lynk & Co | CO 03 FL TCR | 1750 | Blue |
| 115 | Autoglym / Ashley Seward Motorsport | Tom Oliphant | UK | Lynk & Co | CO 03 TCR | 1750 | White/Red/Green |
| 122 | Audi Sport Comtoyou | Frederic Vervisch | BEL | Audi | RS3 LMS TCR | 1984 | Blue/Silver |
| 129 | Honda Wall Racing | Nestor Girolami | ARG | Honda | Civic FL5 TCR | 1998 | Red/White |
| 130 | HMO Customer Racing | Bailey Sweeny | NSW | Hyundai | i30N TCR | 1999 | Blue/Orange |
| 155 | Cyan Racing Lynk & Co | Ma Qing Hua | CHN | Lynk & Co | CO 03 FL TCR | 1750 | Blue |
| 168 | Cyan Racing Lynk & Co | Yann Ehrlacher | FRA | Lynk & Co | CO 03 FL TCR | 1750 | Blue |
| 179 | Audi Sport Comtoyou | Rob Huff | GBR | Audi | RS3 LMS TCR | 1984 | Blue/Silver |
| 196 | BRC Hyundai N Squadra Corse | Mikel Azcona | ESP | Hyundai | Elantra N Sedan | 1999 | Blue/Red |