Caltex Power Rankings: Gold Coast 500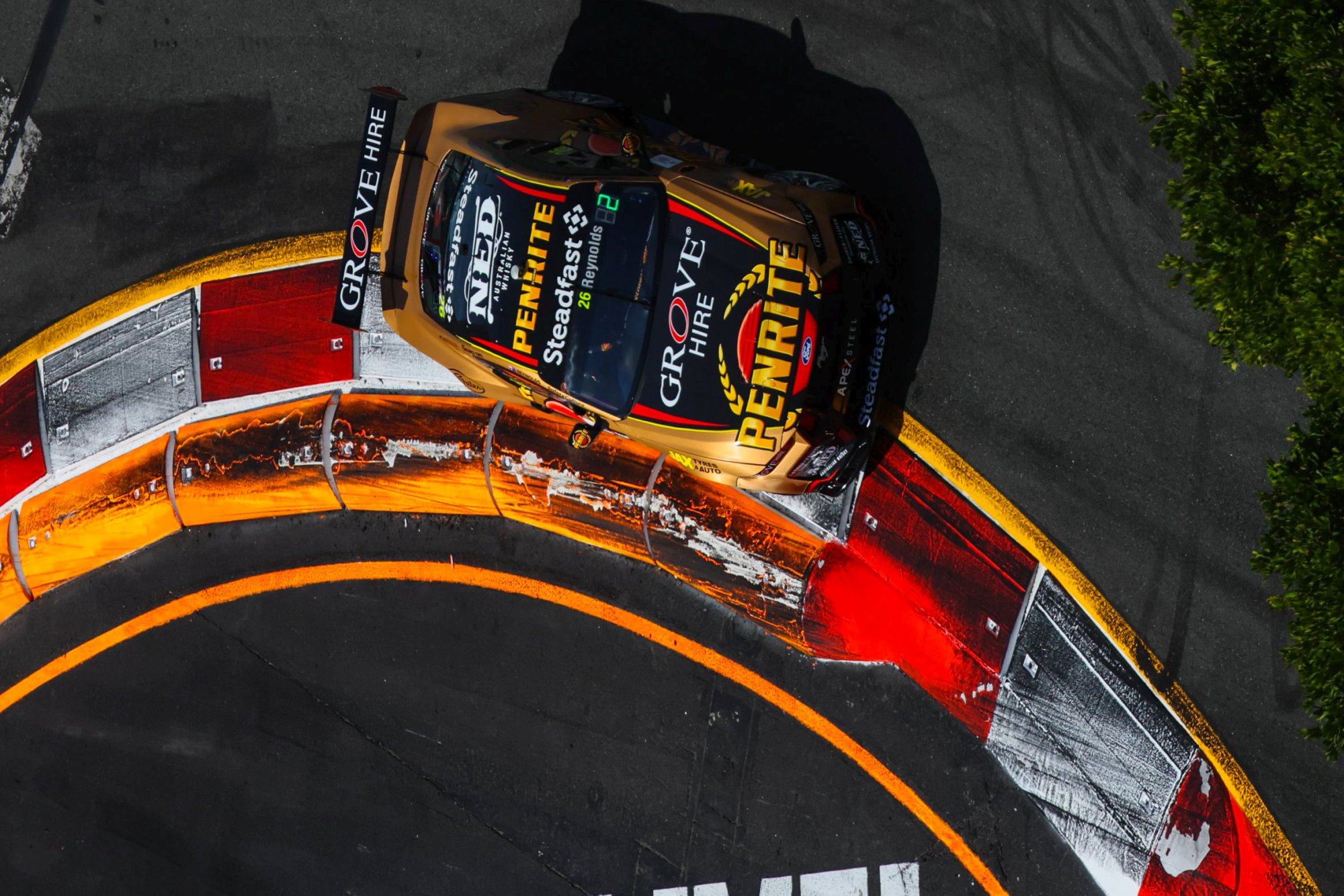 After 500km of racing around the concrete canyon of the Surfers Paradise, a grand total of 0.3834sec split Ford from Chevrolet. And that is much more like the Supercars we all love. Here is our deep dive into the HOTs, NOTs and WHATs that transpired in the concrete canyon, in our Power Rankings Fuelled by Caltex.
---
ABOUT THE RANKINGS: The TRT Power Rankings are compiled by your nominations from social media and edited by the TRT editorial team. They're designed to give a balanced, as fair as possible critical overview of those things that excelled and those things that struggled, at each event. It's (mostly) a democracy, and what you nominate generates the order, so have your say next event via our social media channels, @theracetorque on Facebook, Twitter and Insta. Look for the call out each evening and get commenting!
---
HOT
1. Race One Finish
The opener simmered along – there were comers and goers, but all told, it wasn't really deserving of a hot until the finish cranked it up to ten, with SvG doing SvG things as he homed in on Cam Waters in the closing laps. Shane is a ruthless winning machine, Cam was willing to hang it all out there to claim a win after a season of pure frustration.
The final lap was a corker, Waters went 130% full send through the back chicane and gapped the Red Bull enough to claim the superior surfboard. The fastest middle sector time of the race was proof positive of how big of a send it was. Meanwhile, the post-race emotion from Tickford crew was there for all to see.
Less than two-tenths of a second in it between Blue Oval and Bow Tie after 250km of green flag racing on one of our most challenging circuits – that's what we signed up for.
---
2. Race Two Finish
Hold onto your hollyhocks, Sunday was another cracking battle to the death!
Firstly, David Reynolds got the better of Brodie Kostecki in the pit strategy plays, with the duo subsequently trading the lead. Then the safety car entered the playing arena, and a four-lap sprint was setup to decide it all. Brodie wore out David's rear bumper, and David wore out the apron on the inside of the turn two chicane.
The margin was nearly identical to the opener – more, more, more please!
---
3. Cameron Waters
First and third in a massive weekend. The outpouring from the entire team on Saturday demonstrates the slog that the squad have endured in recent times.
---
4. David Reynolds
Newcastle 2018 to now is a massively long time between drinks. In the modern era that at times can lack characters, the sport is a better thing when Crazy Dave is up and about. Despite being in a lame-duck situation at Groves before departing for Team Charlie, he's still as determined as ever.
---
5. Parity in our lifetime?
It took until the 28th of October, but Ford finally entered the conversation. Even the most ardent Chevy fan could surely admit that the scoreboard was lopsided – from the 24 races contested this year up to Saturday, 22 were won by Bow Ties, with the outliers being a double-disqualification-induced gift for Waters in the season opener, and Anton De Pasquale's Townsville success, which was thanks to a Saturday DNF and a significant tyre advantage. Come Bathurst, the pre-event protestations from the Ford camp were loud yet got shot down, with the marque subsequently soundly flogged on The Mountain. Following that, another parity review trigger was met, with the kitchen sink seemingly thrown at a solution – this wasn't a little undertray haircut like the old days; the Fords received a new front end and completely new rear wing. And as if they just started trying, they actually jagged a pair of slender wins. No doubt there will be further plays in the wind tunnel and on the transient dyno, but finally, Ford has proper scores on the board, and a reason not to walk away from the sport.
---
6. Shane & Brodie, plus, we have a decider on our hands!
While the two title protagonists never crossed each other on the track, they both spent spells parked at the head of the field in the thick of the action.
Erebus have the upper hand on Triple Eight in both the driver and team points by 131 and 170 points, respectively – there's a lot still to play out in Adelaide, which has its fair share of concrete and consequences…
---
7. The Madness of Surfers Paradise
Here's a racetrack where the fastest way around the circuit is to hit the wall a few times in a lap, but you can't hit it too much, because that will slow you down, and if you don't hit the fence enough, you're not putting in an effort. It's a genuine oddity that brings motorsport to the people, like, within literal reach. Long may it continue.
---
8. The Event & Boost Mobile
It was as if the negativity of 2023 failed to reach the Gold Coast – the event was BIG. Huge crowds trackside, great party atmosphere, after 30 years, this race is far from being over. Hat tip too to Boost Mobile, who once again activated, and they activated hard. They know who their target market is, and they tipped a lot into the event. It's probably a decent blueprint for companies who want to go hard at promoting in the motorsport space – once you've paid your sponsorship bill, keep piling money on top of that to make everyone know you're serious.
---
9. Matt Payne
Fourth on Sunday was a PB and a solid backup from a Saturday ninth. Placed second and third in the shootouts, at a track where shootouts are particularly difficult. Was a factor throughout as the Penrite squad found their stride.
---
10. Courtney and Payne
Bloody spectacular. Home viewers were led to believe that there was a gentleman's agreement in place to stop this from happening, however, Payne was ultimately pinged 5sec for breaking an actual rule. Still, everyone raced on, and it's the type of thing that can only happen in Surfers Paradise.
---
FURTHER HOTS
Successful Pit Exit Merges
Holy smokes, that is cool.
---
Thomas Randle
Fourth and seventh for the weekend. Solid.
---
V8 SuperUtes
It was like the V8 Utes of old. For example, race two outside of the first lap fracas was thoroughly nuts; if it's possible for a category that isn't Super2 to go Super2, that was it. Ultimately, the title went right down to the wire in the fourth and final race, with Ryal Harris claiming three wins for the event, while Aaron Borg did just enough to claim the crown over Adam Marjoram with a points margin of nothing. Forceful attack and smart defence got the job done in the final rundown.
---
Sports Sedans
Made amends for a tough Bathurst event with some spectacular sights and sounds that brought back memories of the early 1990s, when these cars were a staple on the GC undercard. How good is Cameron McLeod? He put the cat amongst the pigeons with a MARC Cars version of a Sports Sedan, which in fairness, isn't nearly as insane as some of the other big bangers on show. And how about Tony Ricciardello wrapping up national title number 12? That is a ludicrous stat. All told, the class was a perfect soundtrack to the concrete canyon, which is what the crowds needed.
---
Bayley Hall
Everyone loves a good hometown hero story, with GC lad Bayley Hall surviving the Sunday races to claim the victories and become the seventh different winner of a round in the Porsche Carrera Cup this season.
---
Sienna Crompton Cameo
Asking the hard questions on behalf of Dunlop.
---
WHAT
Ladies and Gentlemen, Daffid Reynolds
---
A further solid what lodgement from Daffid…
---
Sunday's Shootout
We deadest struggled to find the appropriate classification for that one… great drama, wonky driving. For instance, Will Brown was a NOT, Brodie Kostecki was HOT, and chaos is dependent on which side of the fence you are parked.
---
One way to prolong the life of Sandown is to move the circuit to the Gold Coast…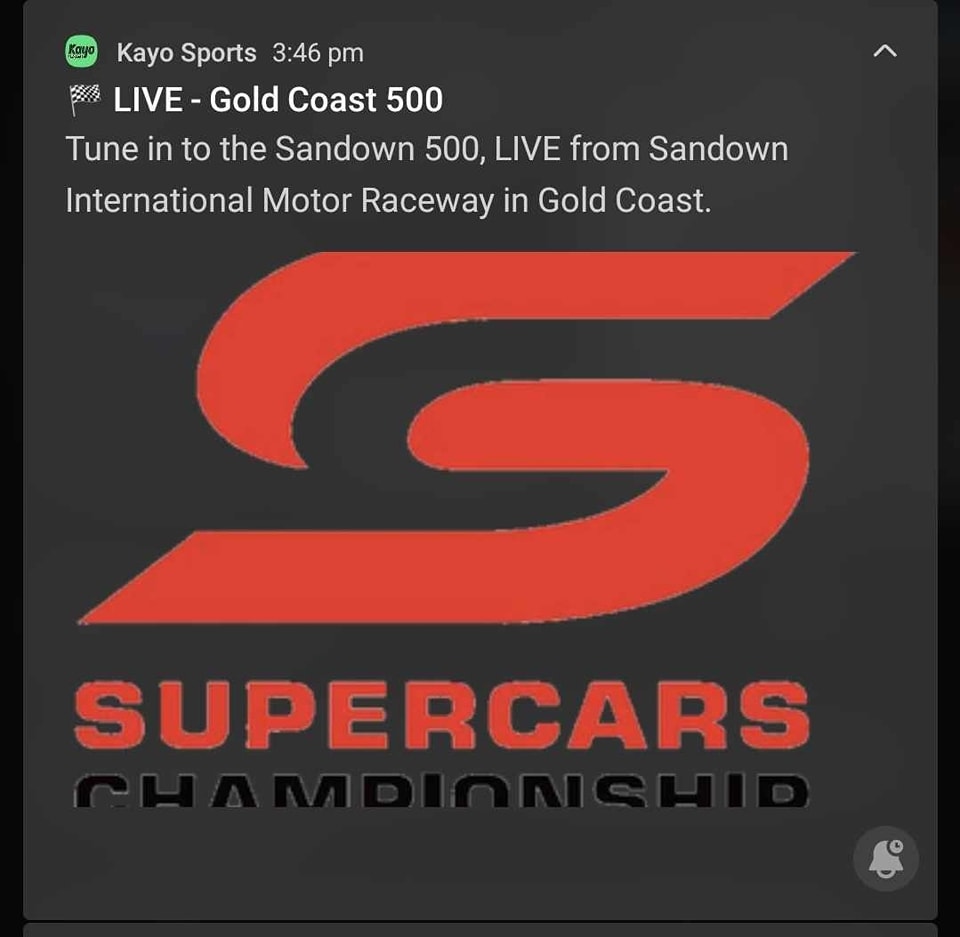 ---
Trickford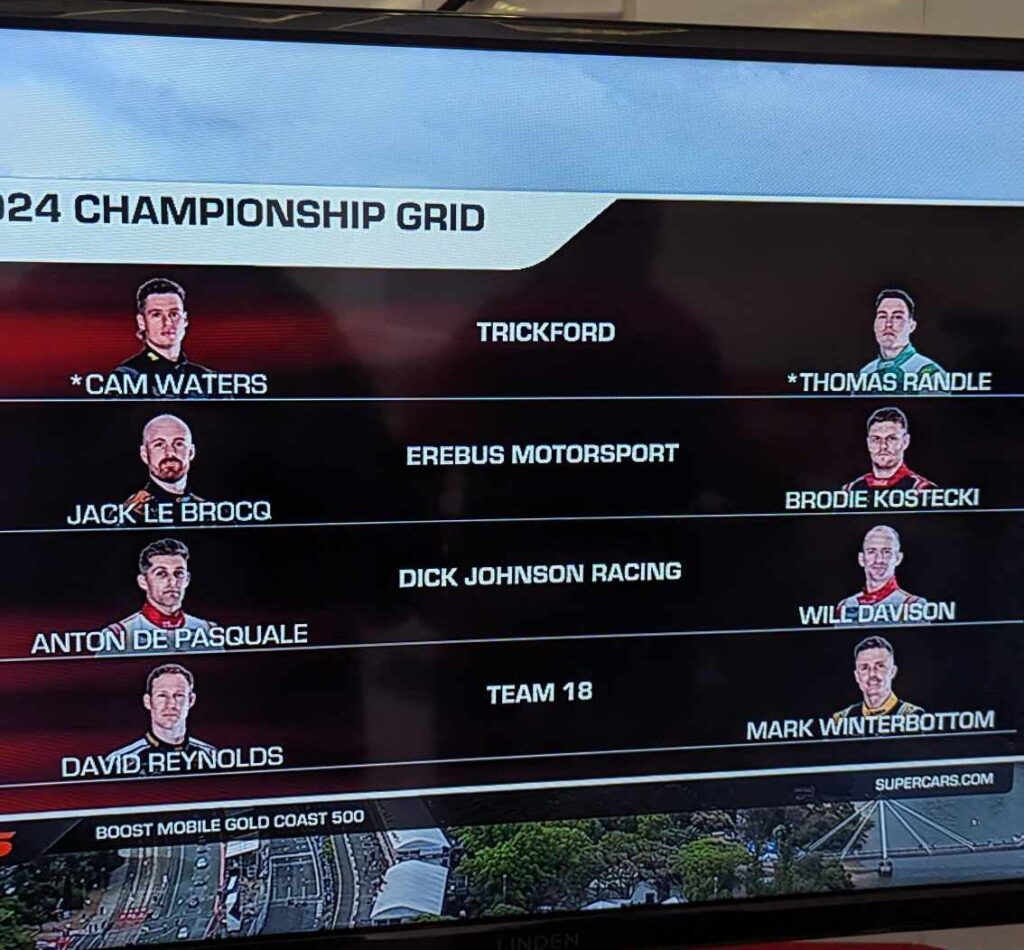 ---
NOT
1. Kerbs
Track limits continue to grind the gears of motorsport, worldwide.
The organisers are damned if they do and damned if they don't. Keep last year's tyre stacks, and wind up with a repeat of the massive all-in mega pile-up, or simply rely on hidden sensors, with the bulk of the field receiving a penalty, or at least a bad sportsmanship flag. Clearly, that's not a perfect outcome; perhaps having a transparent scoreboard of kerb strikes would engage the masses better?
There needs to be a solution that brings respect to the track boundaries, however, wholesale lap deletions clearly aren't ideal.
Got any good ideas on the matter? Genuinely, hit us up on the socials @theracetorque with your thoughts.
Finally, the consequence-free chicane setup also paved the way for liberties to be taken from drivers, which saved up kerb strike credits, blowing through the corners penalty-free when required. Being able to tactically attack or defend by gaining a clear advantage by skipping the chicanes is less than optimal.
---
2. One class short
Supercars, Carrera Cup, V8 SuperUtes, Sports Sedans – it wasn't exactly a bumper program, with significant downtime and entertainment sessions scheduled throughout the event. Entertainment sessions are fine, especially for the small portions of fans who have access to the entertainment, but as a concept, they struggle to engage people the whole way around the 2.9km circuit like races do. Some people liked the idea of the made-for-TV motorkhana skid fest, but a majority didn't. Bring back the jumpy trucks, fill up the schedule, and this won't be a NOT for the third year in a row in 2024.
---
3. Golding and Pye
What on earth was that all about? Ugly, and a tough end to a strong weekend for Scott Pye.
---
4. Broc Feeney and Will Brown
Eighth and 14th was an inconspicuous weekend for Broc, while Will's pair of 11ths were less than his best. These two still have an important role to play in determining the team's title, which remains up for grabs.
---
5. Shell V-Power Racing
Remember when this team sat on the podium last time out at Bathurst? Results of 13th, 15th, 16th and 21st were not on the podium.
---
6. Sunday Lap 1 Turn 4 Stacks on the Mill
Tim Slade and James Courtney, crashed, JC for the second time on Sunday, while Macauley Jones and Jack Smith were collateral damage when they came into intra-team BJR contact for the second time in two events. A messy start to proceedings.
---
7. Porsche Biffo
Harry Jones sadly kicked things off, and his weekend never really got any better. Race one turned into a very scrappy affair before things truly teed off in the Sunday feature race, which was finished off with a red flag-inducing wad up at turn 11.
---
8. James Courtney Qualifying
Fenced.
---
9. Brodie Saturday Shootout kerb strike
Costly, especially when every point is now starting to become critical.
---
10. Friday Weather
Quite where the weather on Friday slotted into the "Beautiful one day, perfect the next" Queensland catchphrase, we're not sure. Wet and genuinely Melbourne cold, it wasn't a good ad for beach life, especially with a staunch audience in the house.
---
OTHER NOTS
Ute R2 start prang
Flashbacks to the V8 Utes of old.
---
Tow Truck
Did a Shell V-Power car nearly clean up the tow truck that was scrambled to collect the Scott Pye wreck?
---
Opening Practice Steering Woes
Ugh. From the Tickford camp, Declan Fraser and Thomas Randle suffered power steering tears at the start of practice one and never really got going, ditto David Reynolds, who had a high-pressure power steering hose spectacularly blow out. It was an inauspicious start to the weekend, which was compounded when Fraser was also parked up in session two, as Tickford temporarily trialled their 2024 contraction plans while rectifying the drama for Saturday.
---
JLB's Engine
A costly race-one Chevy failure, with Jack dropping to tenth in the points amidst a tight battle at the back of the top-ten.
---
Big screen awol
Picture this: the race is reaching its crescendo, two cars closing in for the lead of the race. You are sitting trackside, glued to the big screen in your area. Suddenly, the screen is filled with a full-screen graphic reading "LAST LAP". Sadly, that's a reality that is not-worthy.
---
Kerb falling apart
The opening Supercars practice session was cut short when the turn two kerb was blown apart. Yuck.
---
People Freaking Out About CL Being on Track
For Friday's practice sessions, Craig Lowndes was sent on assignment to the two chicanes, where he was positioned in the access areas for each, which, with the trickery of television framing, kind of looked like he was standing on the dancefloor. The internet subsequently blew up, but rest assured, CL was never in any danger.
---
TWEET
Motorsport is Dangerous
---
Our lives have regressed since this moment in time…
---
Loctite can also be used to fix stuff
---
Cuteness alert
---
An observation
---
Tough gig
---
Agreed
---
There he is!
---
No Jacques, No!
---
A dog's breakfast
---
MEME