Bathurst 1000: Wednesday Notebook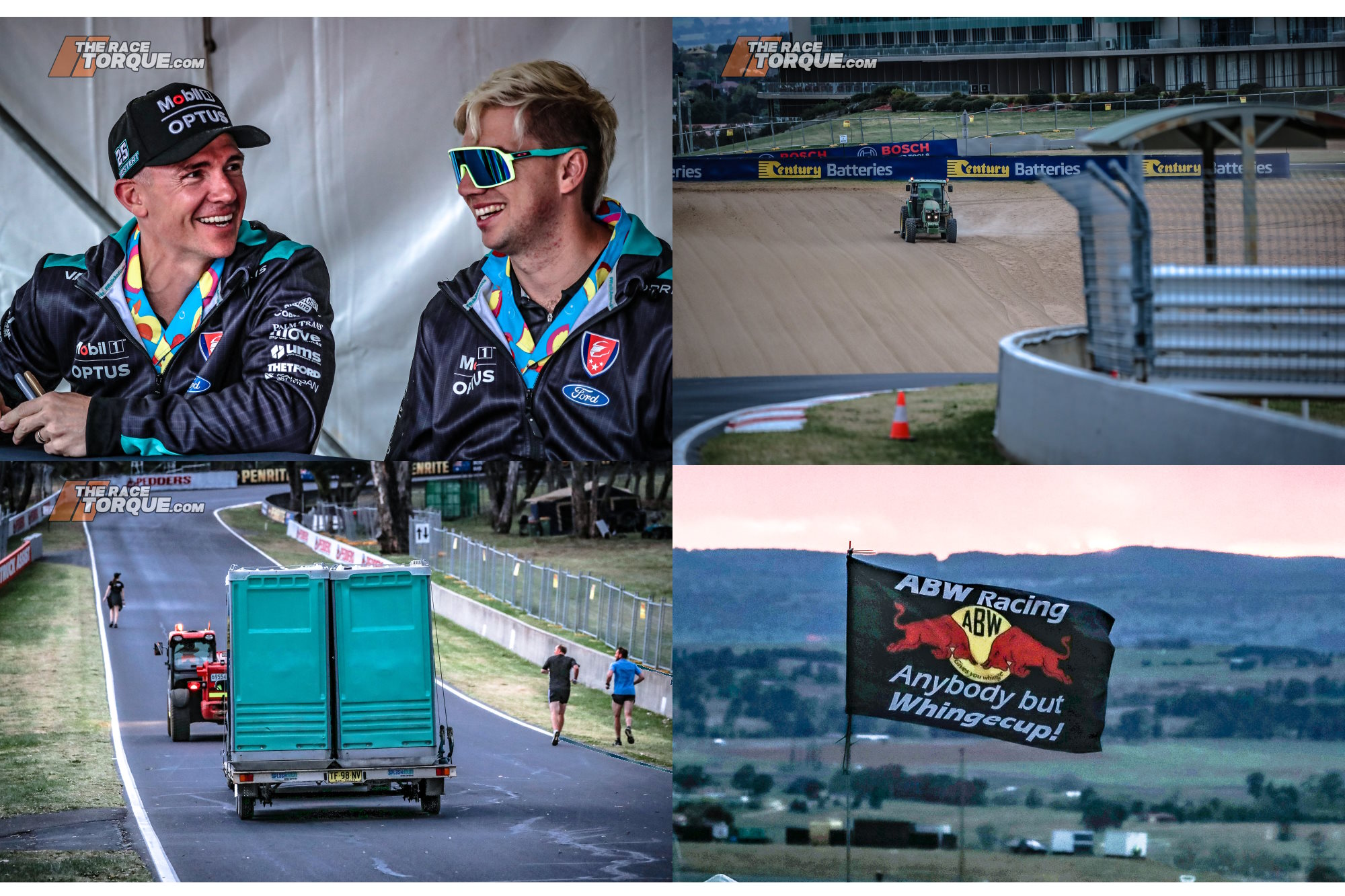 It's here and we're back. Stay tuned this week for all of the behind-the-scenes bits and pieces that we find in our travels from the build-up to The Great Race.
Seen something yourself? Hit us up on the Socials @theracetorque – we would love to make this a true community project.
Otherwise, have yourself a great week – we wish you a very special Bogan Christmas, and hope your favourite team wins themselves the ultimate prize at the big dance.
---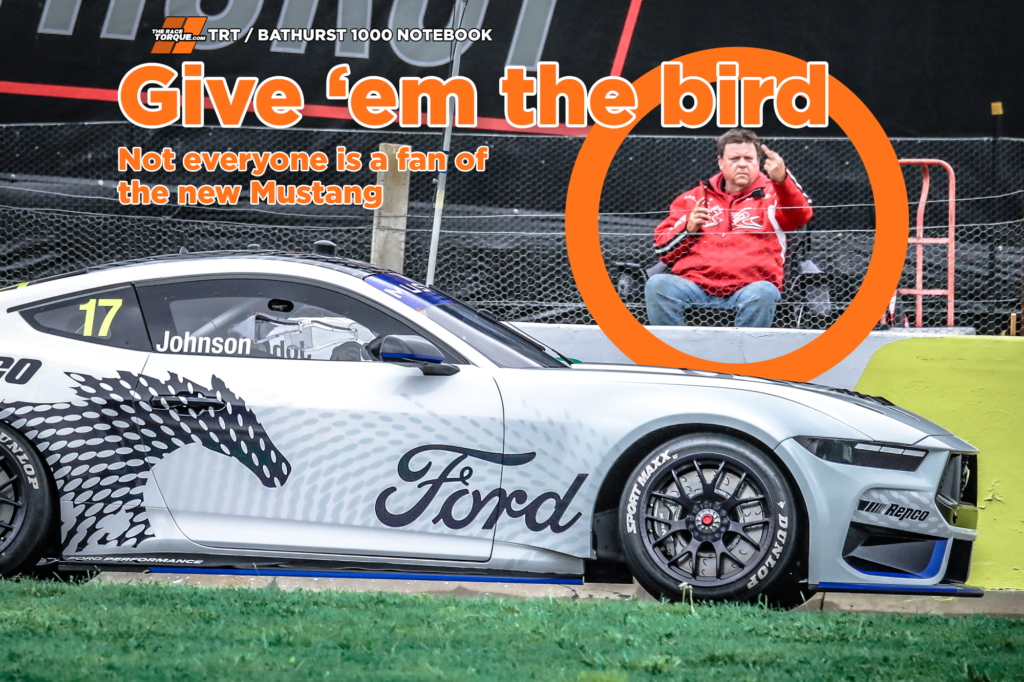 Memory Lane
Want some extra content? Here are the recent instalments of TRT's Bathurst 1000 Notebook.
2022
Wednesday | Thursday | Friday | Saturday
2021
Monday | Tuesday | Wednesday | Thursday | Friday | Saturday
---
Wet 'n Wild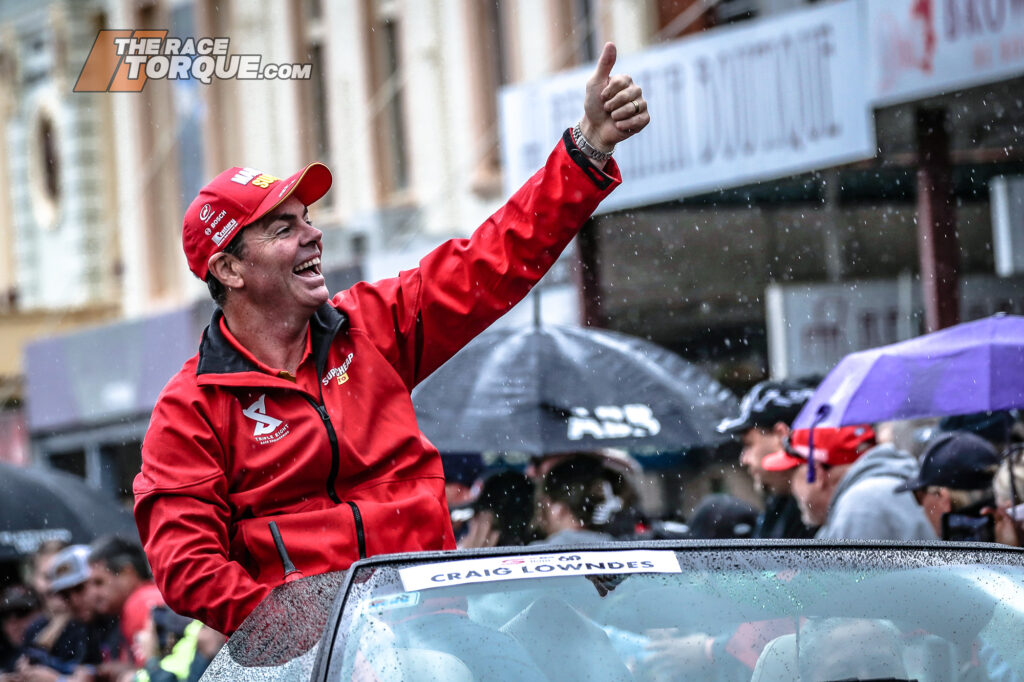 Another year, another soaking during the driver's parade, which once again drenched the thousands of punters who lined the city streets, but also saw many of the fairweather racers shelter in their cars from the rain. Nice sideshows included a display of historic police cars, and also a FREE sausage sizzle from the Mount Panorama Lions Club, which was incredibly well received.
---
Meanwhile, back at the circuit…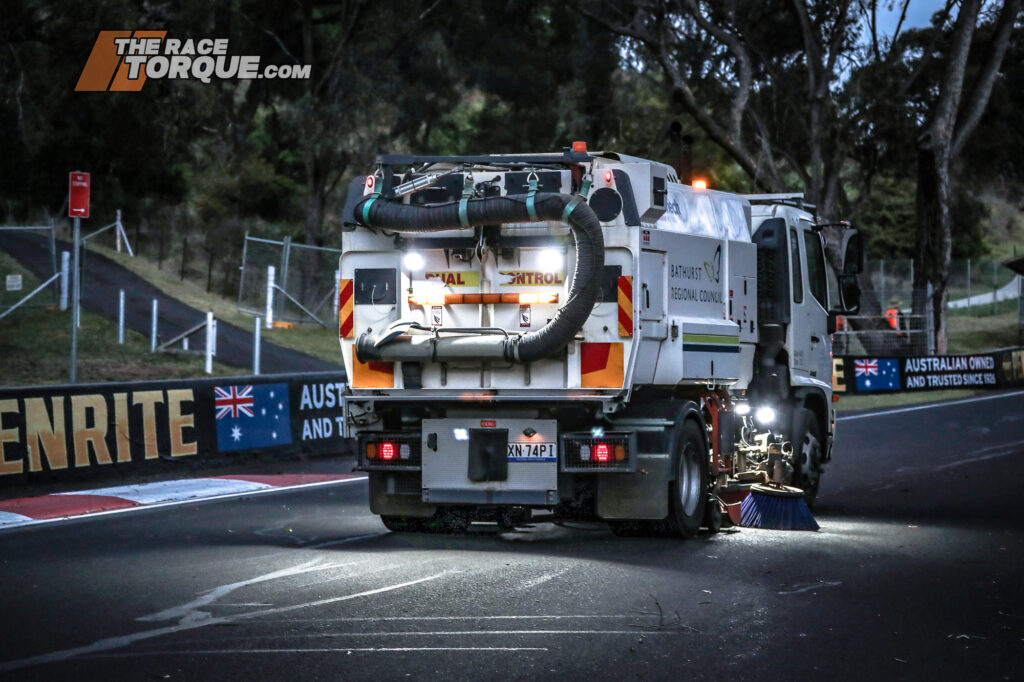 The Bathurst City Council should be congratulated for all of the work that goes into presenting Australia's longest and largest race track for the country's premier race. Today, the finishing touches were applied around the grounds.
---
Welcome to Bathurst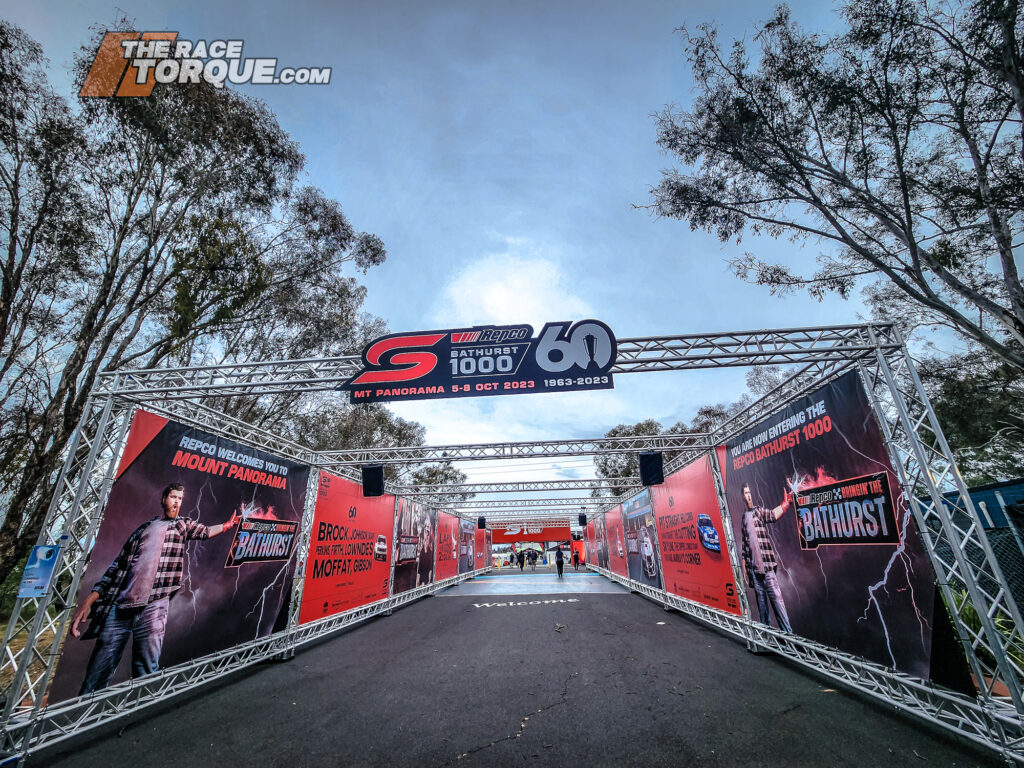 A rather impressive entranceway with stirring audio playing greets punters this year at the main Harris Park entry gates. Nice touch.
---
A prospective early TV Hot
This cable cam covering one side of the Chase to the other is likely to be bloody awesome… stay tuned.
---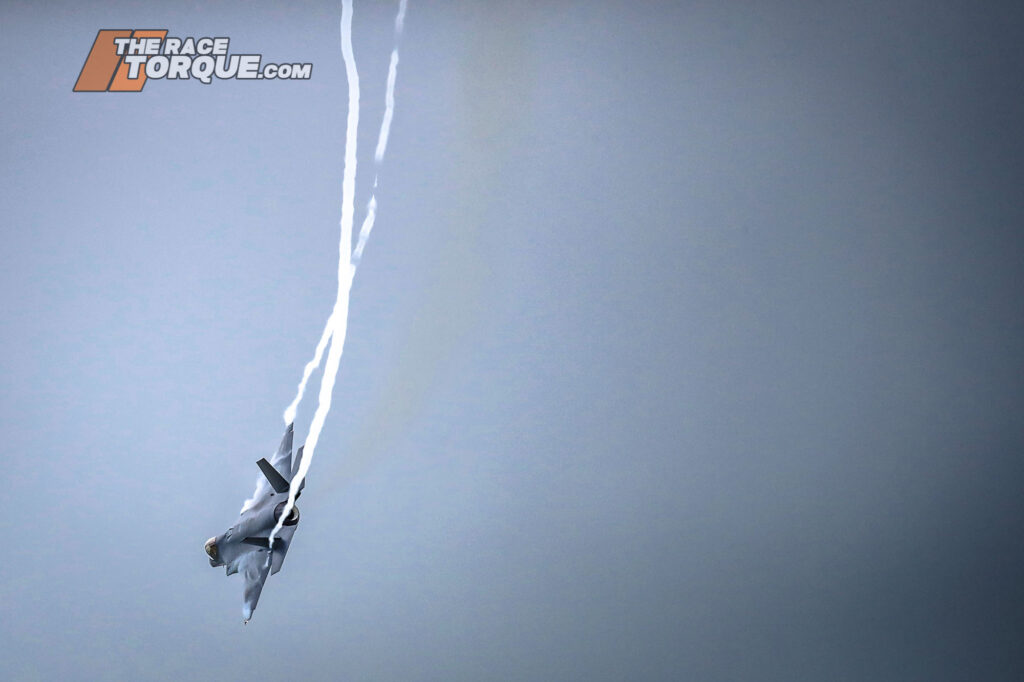 Set your Alarm
Impress your mates by not crapping your dacks when the F-35A buzzes the race track once again. Because it is literally a military operation, the scheduled arrival times for Sunday are 10:46am and 11:05am. You have been warned…
---
The Bathurst Airshow
Outside of the mega F-35A, there will be plenty to crane your neck skywards for. The Roullettes return on Saturday at 4:50pm and Sunday at 9:56am, while Matt Hall drops by on Saturday at 9:50am and 12:45pm, plus Sunday at 8:20am and 10:13am. Want more? Drop by the Defence Force display in Harris Park to try your hand at the F/A-18 Classic Hornet virtual reality simulator. The helicopter grand prix also takes the skies, with rides offered throughout the event – $90 per person on Thursday and Friday, $100 on Sunday, with race start seats selling for $400pp, or $450pp for the front seat. Although not specified on the Supercars website, we assume this is the front passenger seat, and you won't have to fly the chopper yourself.
---
TV Fun facts
Tomorrow morning at 7:25am local time, one of Australia's largest live TV productions launches a massive four days of coverage of the Great Race and everything around it. As is custom, we've stolen borrowed Editor Craill's copy of the Production Manual to find some juicy facts about the broadcast.
Did you know that:
The production manual lists 231 people as being involved in the broadcast.
14 people alone are responsible for finding, cutting and queueing replays so you don't miss anything
Eight large trucks (and several smaller ones) will be parked in the TV compound to service it all.
Four of those trucks are the multi-million dollar Outside Broadcast trucks that make all the pictures come to life.
22 separate scaffolds will be erected around Mount Panorama to hold the cameras and operators.
Setup for the broadcast began on 18 September, with the build of said structures.
There are more than 60 cameras around the circuit and in pit lane, not including the several hundred in-car cameras.
Five dedicated camera operators are listed as 'relief' personnel in case one of the full-timers needs a break. They're long days.
Legendary camera operator Ian 'Fish' O'Brien is approaching a half-century of covering the Great Race, and is still going strong. You will see his handiwork any time the director Brian Forshaw cuts to Camera 24 at Murray's Corner.
---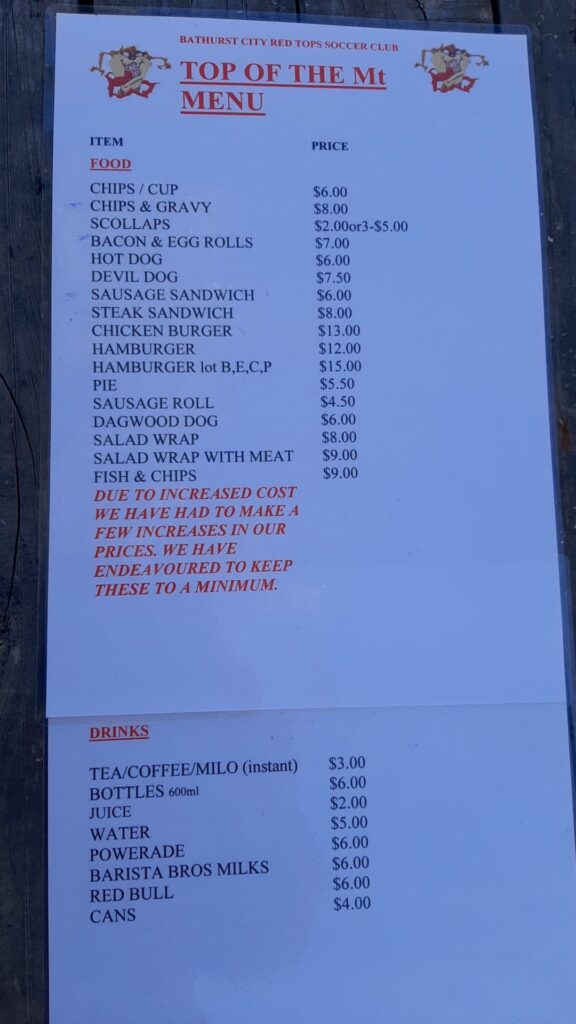 Best Eats on the Hill
The Bathurst City Red Tops continue to put on the best food service on Mount Panorama from their hut at McPhillamy Park. Here is the 2023 menu.
---
Spotted on Mountain Straight: Supercars Gen3 Aero Testing, or something far less sinister?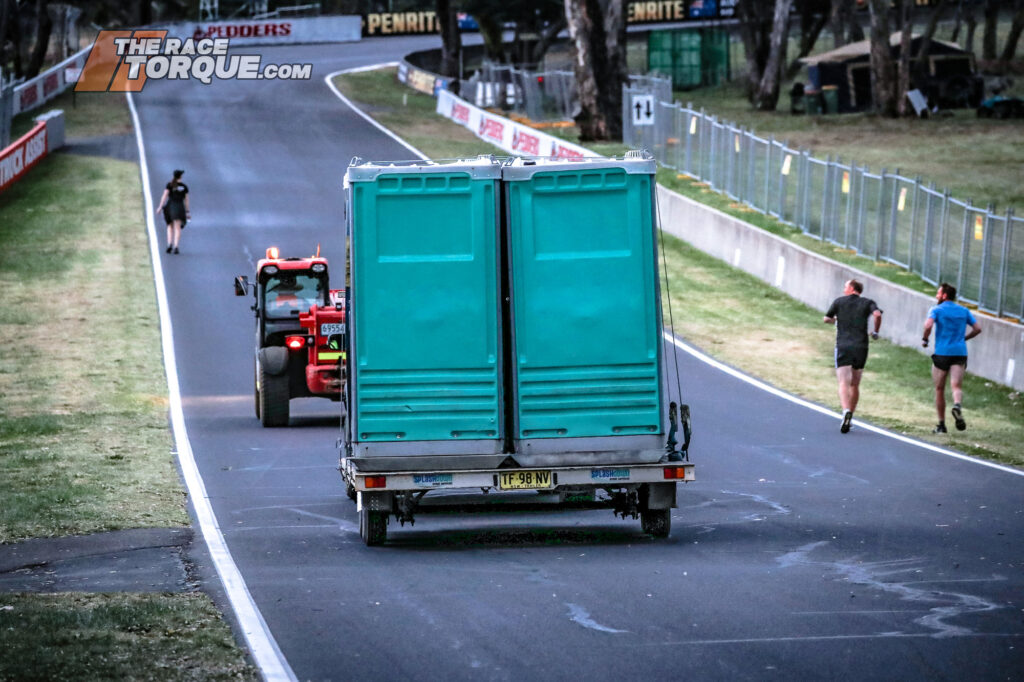 ---
Daily Monorail Update
Bathurst's most famous tourist attraction is in place for its second Bathurst 1000, and we're here to bring you everything you need to know about the infield's star attraction. Today, a toddler asks the question everyone has on the tip of their tongue…
---
Listen to race control without a scanner
Bathurstscan.com run a fantastic service, where they rebroadcast all of the Bathurst 1000 race control radio communications through the website. It is well worth a listen if you want to discover what is really happening throughout the event week.
---
Did this guy ever escape the car park from October 2022?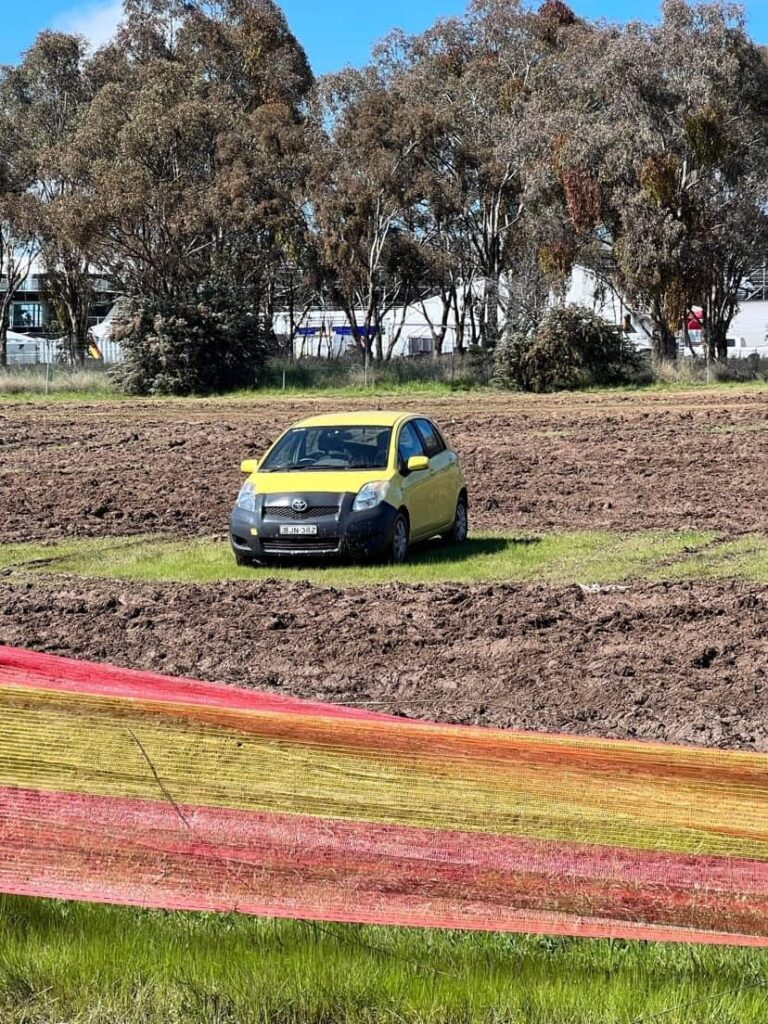 ---
Wildlife Alert
From the very same property that brought us Eddy the Echidna, The Cutting Mount Panorama has some fresh wildlife for 2023, with the above peacock sighting that dates back to last weekend. Go and give the property a like on Instagram; there are always plenty of good posts from life on The Mountain.
---
Bargain Basement Shopping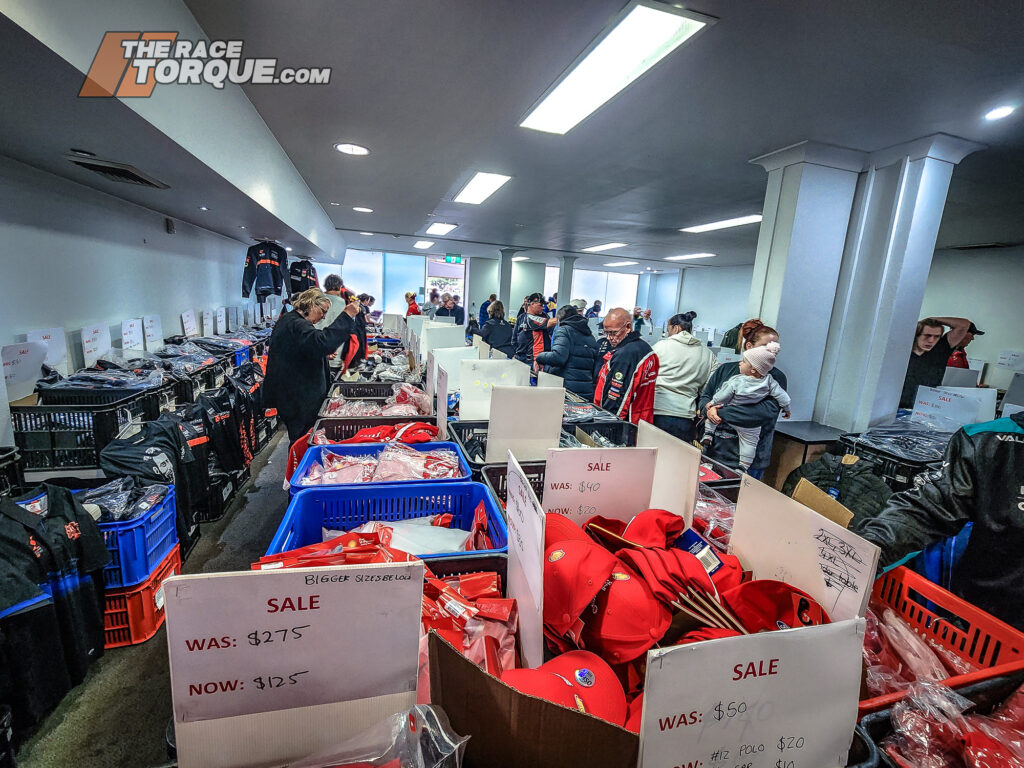 If you love wearing motorsport merch, but don't enjoy the typical price tag, an outlet store has broken out in downtown Bathurst on George Street. Today, during the Superfest, the queue was out the door and down the street, and they were shifting plenty of units.
---
Picture this: Living on Mount Panorama
On the subject of living on Mount Panorama, you can show off to your family and friends with a mailbox positioned on Conrod Straight. Remember: if you need to ask for the price, it's too much…
---
But there are so many options!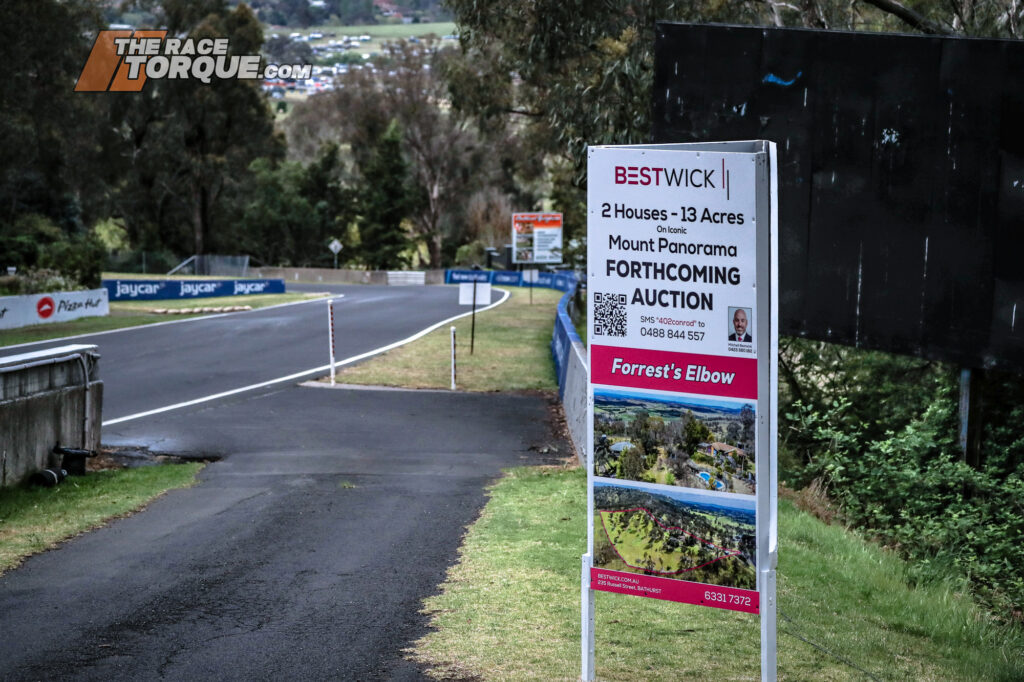 If Forrest's Elbow is more your style, there are a pair of houses also selling just up the hill.
Where would you prefer to live?
---
Weekend Forecast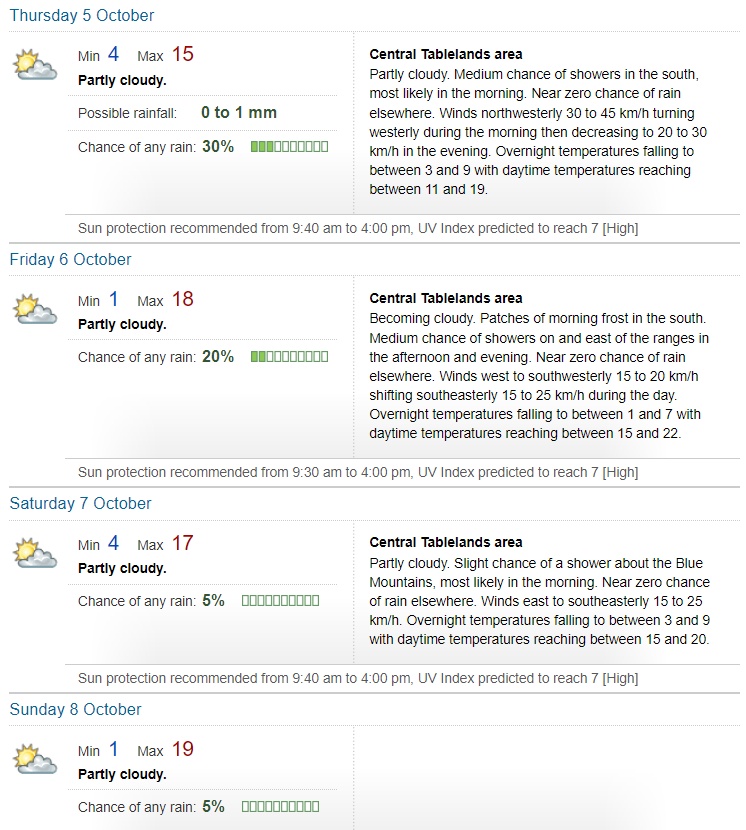 As we go to press, Bathurst's stocks of thermals have been depleted by 35,000 campers ahead of Saturday night… you have been warned.
---
Speaking of campers…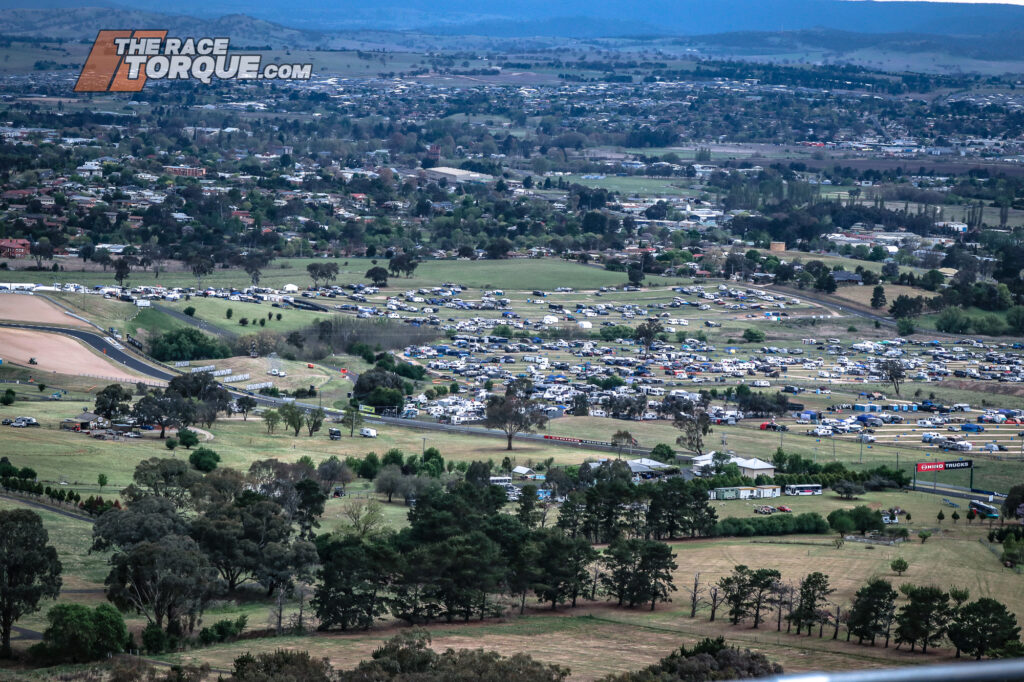 They have been on site since last weekend, with the vast campgrounds filling fast as of this morning.
---
Stake your claim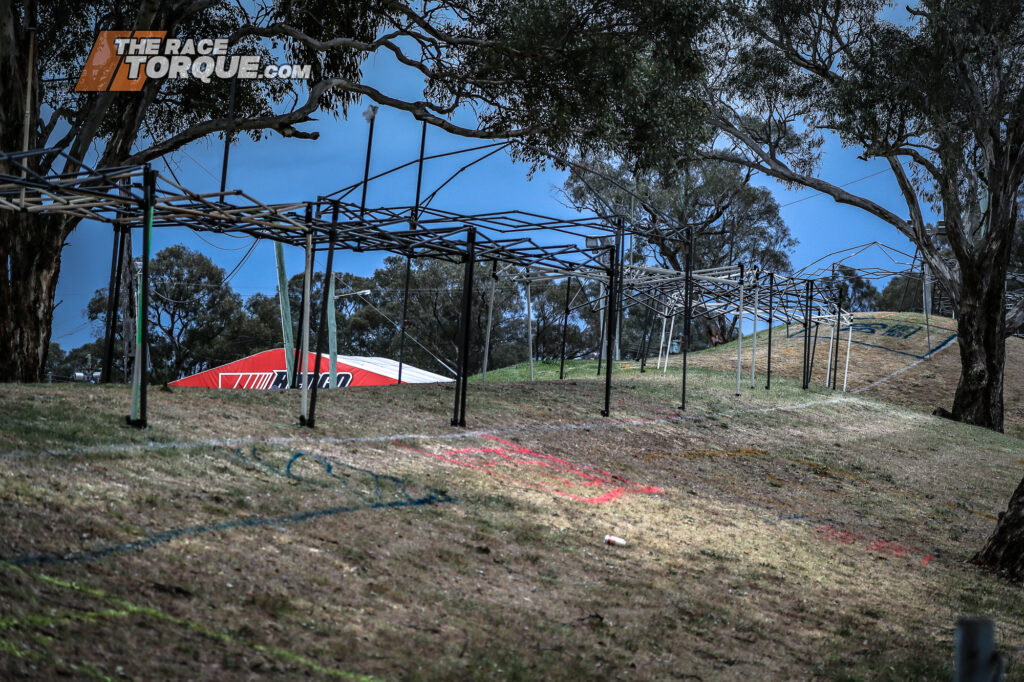 …however, some campers have been marking out their territory well in advance of race week. Incredible commitment.
---
If you've ever wondered what a photographer packs for Bathurst…
Some would be lighter, many would be much heavier…
---
FROM THE INTERNET…
Smugglers Guide: Update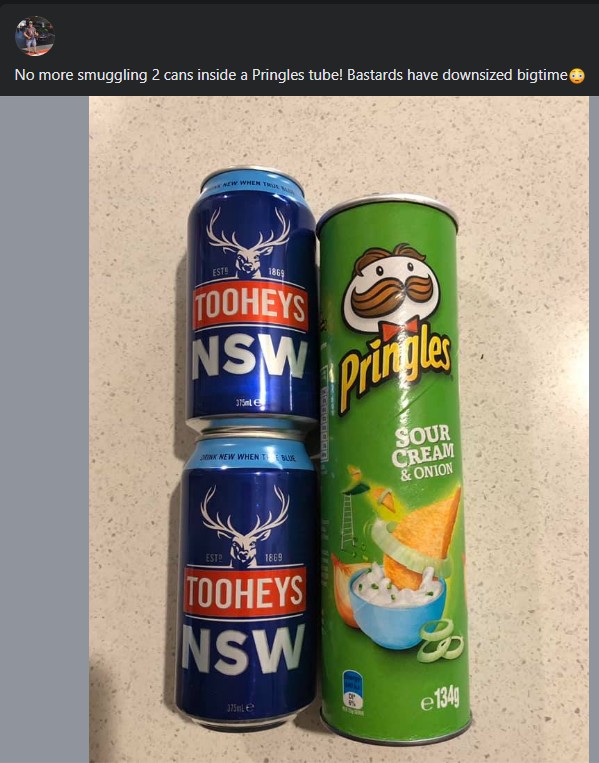 ---
HOT: But best served cold, WAU Reckless Brewery Beer made right here in Bathurst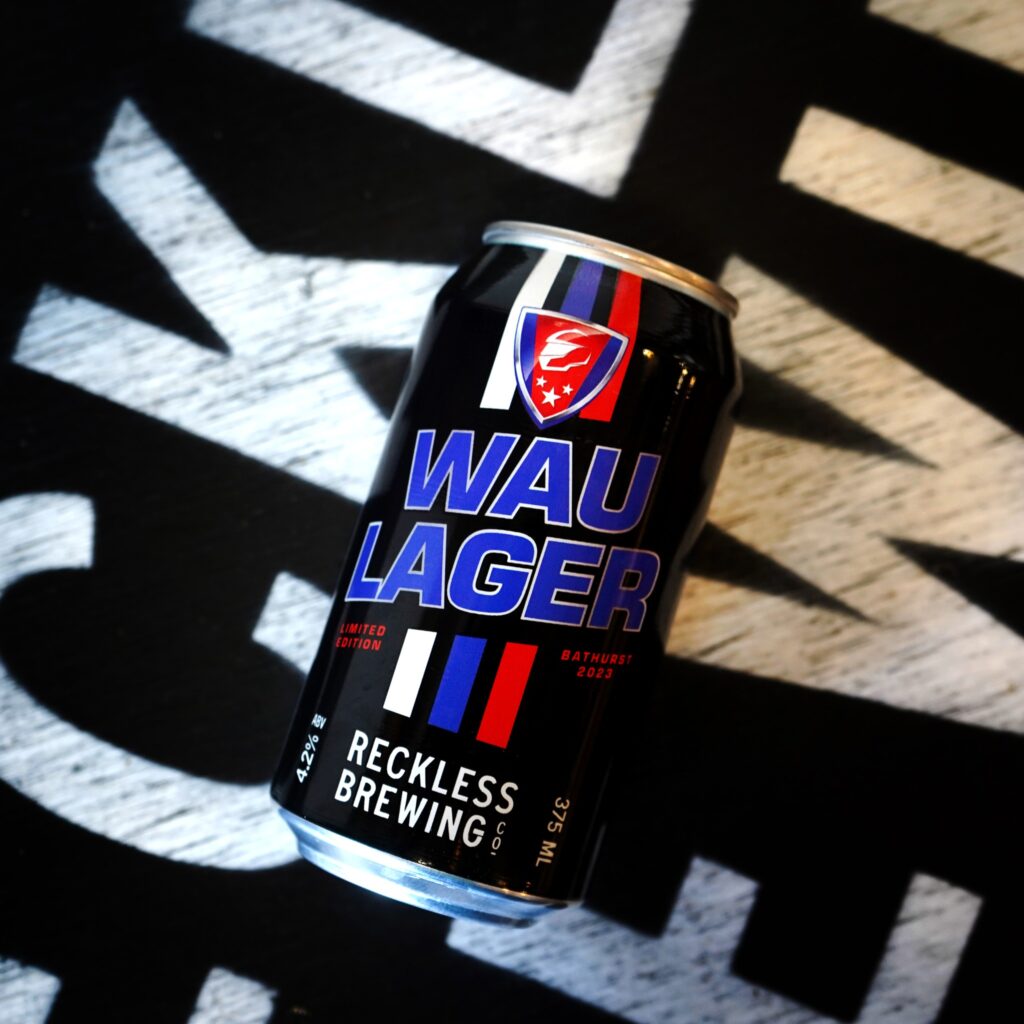 ---
Lads
---
Banter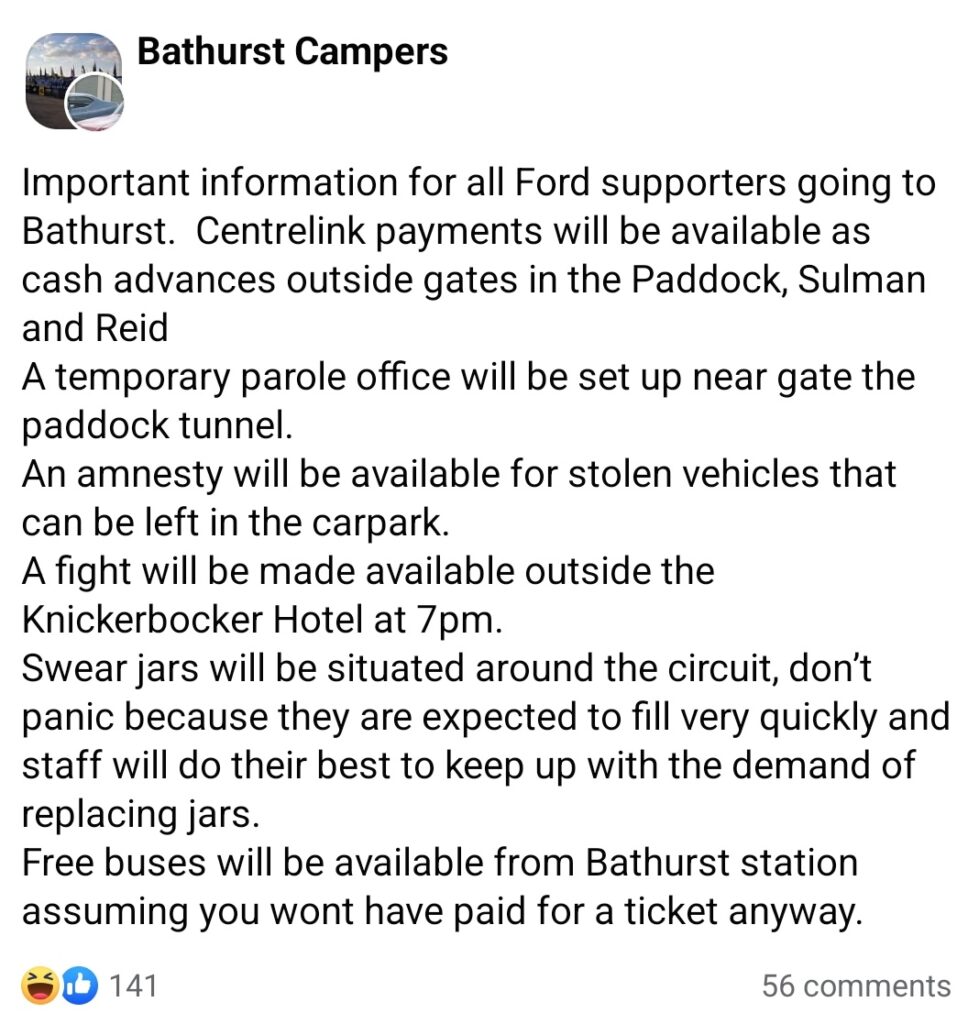 ---
"Big Boy Kostecki"
---
Can't decide
---
ICYMI: The Bathurst 1000 on TRT
Today:
Bathurst 1000: The Massive Preview Podcast
---
Race Week Lead Up:
Bathurst 1000: A Blockbuster on the Box, a tale of TV ratings
Bathurst 1000: Rating the Co-Driver Class
Bathurst 1000: The Great Race Preview
Bathurst 1000: The Wildcard Rollercoaster
Bathurst 1000: Bathurst City Guide
Bathurst 1000 Podcast: Thomas Randle Chat
Bathurst 1000 Podcast: Dave Russell Chat
Bathurst 1000: Your Road Trip Guide
---
HOT
Tomorrow we're on track at the best damn circuit in the world
---
NOT
No matter what happens, there will be too much banging on about parity
---
MEME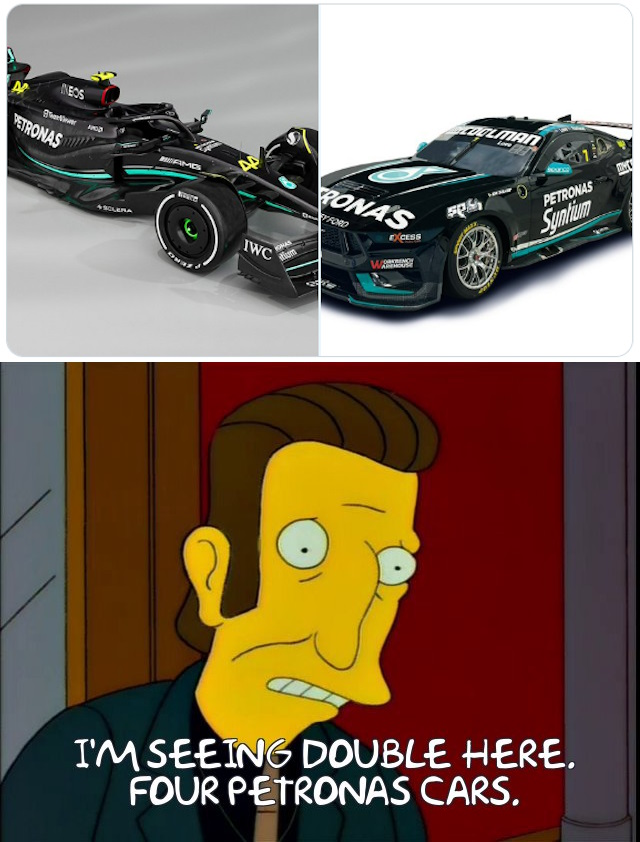 It's been a wild ride since Sandown…